Self-Stigma: When Mental Illness Stigma Comes From Within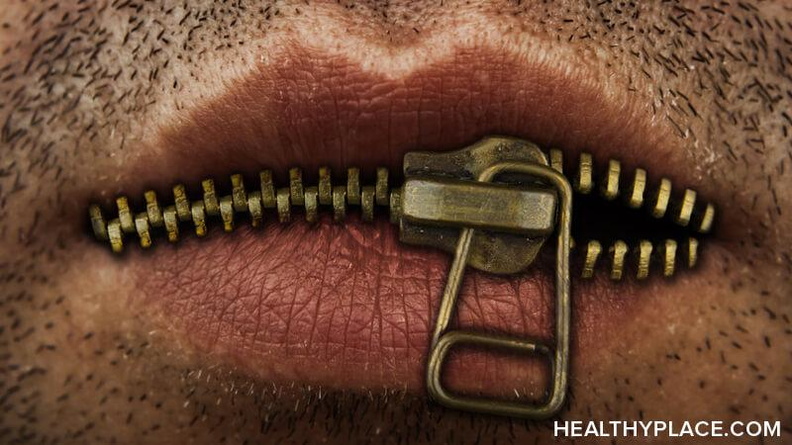 I recently participated in a wonderful panel called "Self-Stigma Solutions" alongside three people who live not only with mental illness but also with the mental health stigma that comes along for the ride - both external stigma and internal self-stigma. Each person shared the messages they heard, once diagnosed:
"your life is over"
"you'll never amount to anything now"
"you'll never have friends"
"you may as well just give up"
Society's Stigmatizing Messages Create Self-Stigma Within
Where did these messages come from? Sometimes family members, friends, even on a rare and sad occasion from professionals trying to present a "reality check" - and often, from themselves.
For how are we educated as to what happens after a mental illness diagnosis? How often are we exposed to success stories, to hope? And, with not enough evidence to refute the messages we receive from the media, and from some movies and books - we can sometimes reinforce those negative messages by what we tell ourselves.
And then we become victims not only of stigma, but of self-stigma.
Well - the people with me on that panel did not give up. They may have been down, but came back up. They not only refused to believe the stigma, they learned to change the messages they were giving themselves.
Yes, even with mental illness and all the stigma that comes with it, success is possible. One of my fellow panelists is now a lawyer, one a therapist, one a counselor - and all share their stories to help others living with mental illness, and their families.
Self-Stigma Interrupts Lives
My son Ben, who lives with schizophrenia but "doesn't like to talk about it", chooses very carefully whom he will tell that he has been in the hospital a number of times, and now takes medication daily to stay stable. Some friends are aware of this, but only after Ben feels comfortable enough to feel, as he tells me, "they won't go: oooooh, you have a mental illness . . . you're a freak . . . I can't be friends with a weirdo."
Ben's employer now knows about his schizophrenia because we had to reveal it when Ben relapsed last year - but, thankfully, it made no difference to this employer. We are very lucky, we know.
Ben had spent ten years feeling unemployable - which wasn't easy. After he stabilized, the road beyond self-stigma to self-belief took a long time. How do you answer when people say, "and what do you do?" when it's all you can do to stay out of the hospital?
I am often asked whether Ben feels stigmatized. Is that one reason he doesn't want to take meds? Does he fear friends will drop him, potential girlfriends will not bother, if they know about his diagnosis?
Sadly, yes. That is still true. And while we work in increase understanding, empathy and respect for those living with mental illness, one place we can begin is in looking for the stigma within ourselves.
How to Erase Self-Stigma Starting from Within
Consider the Source of Negative Messages (they may be ignorant of the facts) - as a family member, I know people don't understand Ben's illness, and often the fact that it is nobody's fault.
Hang On to the Positives (past success, others who believe in you) - Ben tells me he has learned to respond to fears by reminding himself "that was then and this is now"; he also reminds himself of the things he has done (volunteer work, going back to school, staying clean and sober, having his own money) instead of looking at useless "shoulds" as to where he could have been without the detour his life took. When we focus on strengths, there is less room for "can't."
Replacement Messages (e.g. eliminate the word "just" or "only" when you describe what you do: So you are "just" a volunteer at a warmline? No! You are a volunteer at a warmline. That's counseling, that is helping others, even if no paycheck is involved yet, or ever. This has value, real value. Use "My life has a new set of potentials" instead of "My life is over." "I'm having a problem" instead of "I can't."
Yes, this takes patience. Yes, it takes reframing your thoughts until they look like problems to be solved instead of obstacles that prevent. Yes, it takes work, and time. But as my fellow panelists now tell us with their stories, it helps to see these things:
potential
strength
patience
possibility
and then...to be patient, and recognize when expectations need to be revised, then celebrated.
APA Reference
Kaye, R. (2012, September 30). Self-Stigma: When Mental Illness Stigma Comes From Within, HealthyPlace. Retrieved on 2019, August 25 from https://www.healthyplace.com/blogs/mentalillnessinthefamily/2012/09/when-mental-illness-stigma-comes-from-within
Author: Randye Kaye
Wow Colette. I wish for you some more positive messages to replace that awful one. That psychiatrist . Yikes!
Lisa
Thank you so much for writing ...
Not only are you "not broken" you are beautiful and brave. As my son says: my past is my past and I am working hard on my present. Kudos!
Leave a reply