Saying Goodbye, with Hope, to 'Parenting a Child with Mental Illness'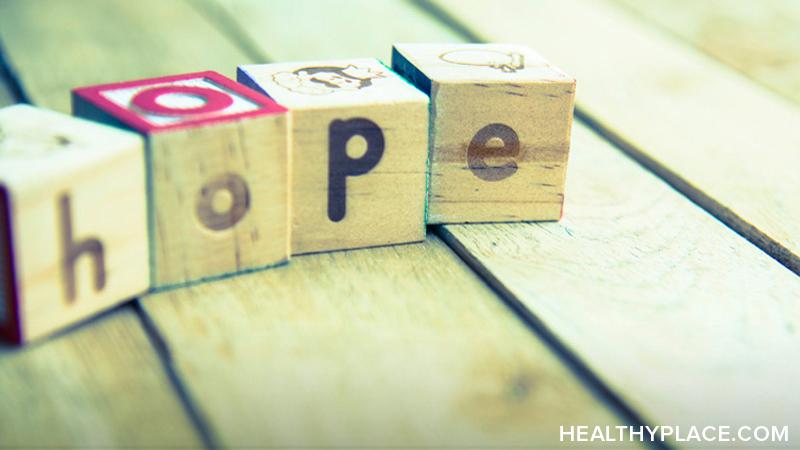 After nearly two years, I am officially closing the laptop on my blog at HealthyPlace. When I started, my son had just been diagnosed with disruptive mood dysregulation disorder (DMDD). Two years later, I have filled these pages with information on how we've parented a child with this relatively new diagnosis. I've delved into his attention-deficit/hyperactivity disorder (ADHD), too, and the ways we've tried to manage the ups and downs that come with it. I've learned a lot, and I hope others have, too.
Looking Back on Parenting a Child with Mental Illness
Writing is therapeutic. I know many therapists who prescribe journaling. There's even a trauma therapy called narrative exposure therapy.1 It involves telling one's story over and over until the memories are more manageable. I would cry and have flashbacks about my son's hospitalization for a long time. Each time I talk or write about it, it's easier. I definitely cry if we're in the emergency room again, but outside of that, I can manage the memories like any other and continue onward.
Raising a child with emotional and behavioral concerns is traumatic for everyone involved. Disruptive behaviors at school get our kids singled out, and self-harm or suicidal statements are painful. None of us want to see our children go through this, and yet we're sometimes just so angry at them, too. The destruction, the seemingly slow-as-molasses changes--it's all so frustrating.
Looking back, though, it really has gotten better. I receive so many comments, emails, and personal messages from parents spilling out their own narratives, and I've learned from them, too, that things get better. They don't get easy. Children don't get "cured" as they get older. The wisdom and growth of aging, though, has helped my son better manage. Lack of impulse control, for instance, is one of the most frustrating parts of my son's ADHD. It's so much better now, though. I'm less fearful my son's going to accidentally hurt himself. Now I'm just afraid he'll get himself in trouble.
Looking Forward
My son had a momentary meltdown when transitioning to middle school. Since that last outburst, though, he seems to have figured it out. He has a best friend who keeps him grounded. He's working towards As and Bs in classes. Yes, this requires intensive supports via his individualized education plan (IEP) at school. It requires continued mental health case management at home, regular psychiatry appointments, and skills workers. He'll be tested soon for autism spectrum disorder (ASD) because there's some thought from providers, including the mobile crisis team and even the dentist, that ASD may explain some behaviors. The ADHD and outbursts overshadowed so much that no one thought to look into it before.
We've learned to change expectations. "Normal" is an obsolete idea. No kid needs to be "normal", including mine. He's defining his own normal. If he's happy with it, then I am, too.
Thank You
Thank you to all the readers, commenters, and parents who've followed me. Thank you for the support as I learned lessons and then forwarded them. Thank you for helping me get through one of the hardest chapters in my life. Thank you to the parents in my social circle, some of whom know what my son experiences and some who don't. Thank you for treating him well. Life has not been easy for him. He's old enough to narrate his own life now, though, so I'll let him do that.
In the meantime, the most important thing to remember is to keep up the hope. If you let even the tiniest light go out, all is lost, and that's not helpful. Our children need us.
Source
American Psychological Association. Narrative Exposure Therapy (NET). Retrieved December 9, 2018.
APA Reference
David, M. (2018, December 10). Saying Goodbye, with Hope, to 'Parenting a Child with Mental Illness', HealthyPlace. Retrieved on 2023, December 3 from https://www.healthyplace.com/blogs/parentingchildwithmentalillness/2018/12/saying-goodbye-with-hope-to-parenting-a-child-with-mental-illness
Author: Melissa David
I am needing to know where i can find a placement for my child until he can get help his behavior is really bad
God bless you and God bless your children. You are brave and kind to share your story.
I cannot believe I found this just as I needed it today. I'll be reading through your old posts.
Thank you for your openness and honesty! You are an inspiration Melissa!
I have truly enjoyed reading your honest, vulnerable, heartfelt, and insightful pieces. Thank you for sharing a bit of your story and your experience. Wishing you and your wonderful family lots of love moving forward.
Leave a reply