Don't Harm Yourself Over Finding Happiness – Let it Find You
We all want to be happy. However, many of us fight a battle that makes happiness not an easy thing to hold onto. We tend to stress over the journey to finding happiness or to finding ourselves. Some people cut or burn themselves because they are lost on this path and are at a place in their lives where they think they need to have all of these answers. When these answers aren't crystal clear, it can cause unneeded anxiety and stress.
You can't always search for happiness or devote your life to finding the ideal person you want to be. Sometimes those answers find you first and it's up to you to open your eyes and realize it.
Help Yourself Be Happy, But Let Happiness Find You Too
Every morning before work, I listen to Elvis Duran and the Morning Show. There was a guest on the show who was talking about this topic and about the stress associated with finding exactly who need to be to be happy. Many people think they need to know exactly what their passion is or find the perfect job right away. For some reason, people think it's a race to find the happiness needed to complete their life.
However, I've learned that it takes time and experience before you understand what makes you truly happy. It takes falling down and learning from that fall before you stand up and recognize what made you get back to your feet. That in itself brings you happiness you may not have had before if you had been searching.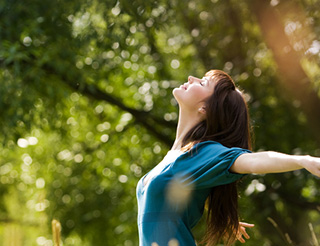 During my years of self-harm, I was struggling to figure out who I was while everyone around me knew exactly what college they wanted to go to and who they wanted to be after receiving that degree. I think that one of the reasons teenagers turn to self-harm is because they are struggling during this difficult time in their lives. It's a transition and transitions are not always easy.
Stop Stressing Over the Search to Find Yourself
Adjusting to transitions can cause major stress and for those who don't know how to deal with this stress, harming their skin may seem like a good outlet when we know it is not. Many times after you mark your skin, the feeling of contentment disappears more quickly than hoped for. After that feeling goes away, you often get angry with yourself and may turn to self-harm as an answer again.
It's important to know your coping skills during these moments, but you also need to stop and think about the good things that have been going on in your life. You have a house. You have food. You are healthy. You have support. Focus on the happiness that has found you without you realizing it and know that it found you for a reason.
You can also find Jennifer Aline Graham on Google+, Facebook, Twitter and her website is here. Find out more about Noon through Amazon.com.
APA Reference
Aline, J. (2014, May 21). Don't Harm Yourself Over Finding Happiness – Let it Find You, HealthyPlace. Retrieved on 2023, February 2 from https://www.healthyplace.com/blogs/speakingoutaboutselfinjury/2014/05/dont-harm-yourself-finding-happiness-find-you
Author: Jennifer Aline Graham
Thanks for taking the time to talk about this, I feel strongly about it and really like mastering more on this subject. If feasible, as you acquire experience, would you mind updating your blog with much more information and facts? It is very helpful for me.
Thanks for taking the time to discuss this, I feel strongly about it and adore finding out additional on this topic. If feasible, as you acquire expertise, would you thoughts updating your blog with much more details? It is extremely useful for me.
Leave a reply