Healthy Eating Habits Start Young
Last week I took my 16 month old daughter to a local indoor amusement park with a few of my cousins who also have young children. We had a great time doing all the "kiddie" rides like the carousel and train. My daughter has never been a picky eater and everyone knows that food is the way to her little heart. So what do most people like to do when they are trying to befriend her? Feed her. She'll waddle right up to anyone who is eating something with a twinkle in her eyes and her mouth open like a baby bird.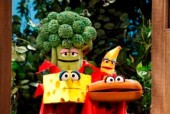 Now I believe in letting your kids try most foods — in small quantities. I think that life is pretty boring if your diet consists of mashed peas and carrots; a paediatrician also recommended to me that it's a good idea to introduce a variety of flavours and textures to your baby early on. There were a few things I've been limiting or not allowing such as chips, chocolate, fries, and candy namely junk food, but everything else has been fair game. Well, that day, some family members fed her some Cheetos (her very first time), and countless fries. That night my daughter got very sick (I will spare you the gross details).
During the fun day at the amusement park, I remember seeing a chubby little boy, perhaps 2 or 3 years old, clutching a giant slurpie and sucking back the sugary treat as if there was no tomorrow. Seeing this vision of the little boy served as a warning sign of things to come if my baby were to continue on this junk food path.
The Growing Concern of Childhood Obesity
According to Trust for America's Health (TFAH), nearly one third of American children between the ages of 10-17 are considered obese. There are a number of factors that contribute to this: a lack of time on the parents to prepare healthy meals, limited household budgets, and a sedentary lifestyle to name just a few.
There is a term called food insecurity which means that children are not receiving nutritional food due to financial reasons. You know that childhood obesity and nutrition is a growing concern when Sesame Street launches its own group of healthy eating muppets, the Super Foods which consists of broccoli, banana, cheese, and whole grain bread. The Super Foods appeared on a Sesame Street episode in December 2010 where they helped Elmo make better food choices. The characters are also featured in their own video where they help families make smart food choices on a limited budget.
What Can Parents Do?
As a working parent, I know the temptations of grabbing some fast food for dinner over cooking a homemade meal. But nutritional researchers say that one of the best ways to instil healthy eating habits in your little ones is to eat together as a family. The benefits of eating together are:
Families make better food choices such as more vegetables, fruit and dairy.
It improves communication between family members and develops good memories and a sense of belonging.
You end up saving more money as it forces you to do some planning and budgeting.
Kids learn how to prepare healthy meals and learn good habits.
One of my favorite things to cook for dinner is actually breakfast food because it's fast and healthy. I like to make something called eggs in a basket. You take a slice of whole grain bread and lightly butter (or margarine) both sides. Using a cookie cutter, you cut out the center of the bread. Place both pieces of the bread over medium heat, and crack an egg in the "hole." Flip over both pieces after a couple minutes to brown both sides. Garnish with shredded cheddar, add a side of veggies, and you're done.
Bon Appetit!
APA Reference
Fung, T. (2011, January 6). Healthy Eating Habits Start Young, HealthyPlace. Retrieved on 2023, December 1 from https://www.healthyplace.com/blogs/theunlockedlife/2011/01/healthy-eating-habits-start-young
Author: Theresa Fung