The Relationship Rejuvenator: Date Night
When I was pregnant with my first baby, my doctor told me that she didn't go watch a movie with her husband for two years after their first child. I thought this was absurd…until I experienced first-hand the late-night feedings, round-the-clock diaper changing, and all-around exhaustion that comes with being a new parent. Your little bundle of joy demands so much attention and care that it's easy to neglect other areas of your life, namely your relationship with your partner.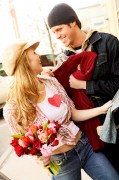 Squeezing in a Few Hours
Couples that don't have kids still experience the same type of relationship neglect —work, family, friends, and social obligations all affect how much "quality time" you spend with your partner. With all of these factors demanding and taking up your time, how do you keep the spark alive? One quick relationship rejuvenator is to make time for a date night once in a while.
And by date, I don't mean lounging at home and renting a movie, or toting the kids along to a family diner. A date means making an effort to dress up a bit and doing something fun together where you can just focus on each other. It could be something simple like going for a coffee and actually having a conversation without distractions. Couples who live together need to make an effort to get out of their sweat pants and regular cohabitation routines; and parents will need to find a sitter for a few hours.
The Power of a Date
My recent date night with my husband was long overdue. Working full-time and looking after our toddler leaves us exhausted most days. So we finally decided we needed a break and dropped our daughter off at grandma's for the afternoon. We tried out a local diner for brunch that we've heard great reviews for its famous eggs benedict, caught a matinee at an old theatre we used to frequent when we first started dating, and finished the date off with a chai latte at a new coffee shop.
We were home in time to have dinner at my mom's, but those precious few hours we spent together definitely revived our relationship. When we have long spells of not having any dates, I can feel the difference in our relationship – we take each other for granted, are less affectionate and bicker more often. Having a date reminds you of all the good things that attracted you to each other in the first place. It's a way of saying, "Hey, I still like and appreciate you."
So how often do you need a date? I guess the answer would be it depends on the couple. Some like to have weekly excursions while others can only manage to squeeze in time once a month or less. A good starting point would be to agree to a frequency and then stick with it.
Lots of people have to work overtime or multiple jobs to make ends meet on top of raising a family, so having a date night might be tough. But if you think about it, most of us spend much more time writing emails, conversing with colleagues, or even doing household chores than we do focusing on our partners. How can we expect a relationship to stay alive without a little time and effort?
A simple date won't solve all relationship woes, but it does put the focus back on the relationship for a few hours and provide an often much needed respite from the daily grind.
APA Reference
Fung, T. (2011, January 12). The Relationship Rejuvenator: Date Night, HealthyPlace. Retrieved on 2023, December 9 from https://www.healthyplace.com/blogs/theunlockedlife/2011/01/the-relationship-rejuvenator-date-night
Author: Theresa Fung