Prolonged Exposure Therapy for Combat PTSD
Various types of psychotherapy are effective at treating trauma survivors and one type of psychotherapy for combat posttraumatic stress disorder (PTSD) is exposure therapy. Exposure therapy has been well-studied within the military population and involves PTSD survivors re-experiencing their trauma. While this may sound terrible, it's actually a very effective way of dealing with trauma. Prolonged exposure therapy currently has the best supporting evidence.
What is Prolonged Exposure Therapy?
Prolonged exposure therapy involves exposure to thoughts and safe situations that remind the survivor of his (or her) trauma. Repeated exposure to these things helps reduce the power they have to cause suffering.
Prolonged exposure therapy for combat PTSD involves four components:
Education – education about trauma and this type of therapy.
Breathing – while everyone breathes, most people are not aware of how their breathing changes in situations of stress. Trauma survivors are taught how to control their breathing when scared or experiencing distress. This can help alleviate some immediate PTSD symptoms.
Real world exposure – exposure to real world situations is known as in vivo exposure. This exposure is to situations that are safe, but that the survivor might have been avoiding because they have previously caused distress by reminding the survivor of the trauma.
Talking through the trauma – just like the survivor is exposed to reminders of the trauma in vivo, he is also talked through the trauma repeatedly. Talking over the trauma in a safe space, with a therapist, allows for greater control over the thoughts and feelings associated with this trauma.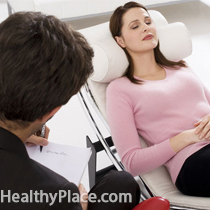 With each part of exposure therapy, small, less stressful things are dealt with first and slowly more traumatic memories and situations are handled. All the components of exposure therapy work together to decrease the distress associated with the trauma. The goal is to give survivors back their power over their thoughts and feelings.
Prolonged exposure therapy for combat PTSD generally lasts about 8-15 sessions of about 90 minutes each.
Evidence for Prolonged Exposure Therapy for Combat PTSD
The Veteran's Administration has rolled out a national prolonged exposure training program because it is considered so effective. In one study, after prolonged exposure therapy was completed with a group of veterans, participants experienced a 42% reduction in PTSD symptoms, a 31% reduction in depression symptoms and increases in quality of life.
Another recent study showed the effectiveness of the nationally-implemented prolonged exposure therapy program. In it, clinically significant reductions in PTSD and depression symptoms were found among male and female veterans of all eras with both combat-related and non-combat-related PTSD.
If you're a veteran looking to try prolonged exposure therapy, locate a Veteran's Administration facility using this facilities locator.
Dr. Croft is the co-author of a heralded book on combat-related PTSD called I Always Sit with my Back to the Wall. Find Dr. Croft on Facebook, on Twitter, on Google+ and on his homepage.
APA Reference
Croft, H. (2014, February 19). Prolonged Exposure Therapy for Combat PTSD, HealthyPlace. Retrieved on 2023, September 28 from https://www.healthyplace.com/blogs/understandingcombatptsd/2014/02/prolonged-exposure-therapy-combat-ptsd
Author: Harry Croft, M.D.