Tips for Vacations when You Have Bipolar Disorder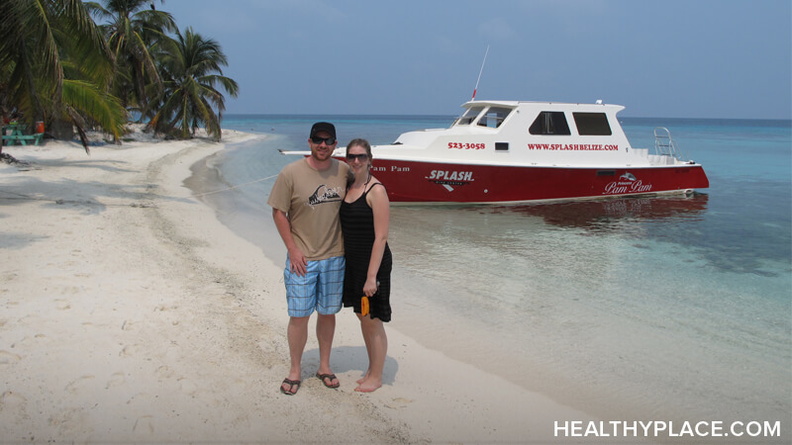 It is that time of the season. Many individuals and families are putting their vacation plans together. For some, a vacation consists of running around at full speed with major anxiety and stress. Others may prefer to try a new activity, such as zip-line or scuba diving. Many with bipolar disorder and myself included, prefer the relaxed, slower than normal pace (warm climates help in the slowing down process). Doing the vacation thing with the least amount of anxiety or stress as possible with bipolar disorder does take a little advance planning (When Bipolar Ruins Your Vacation).
The changes in your normal daily routine can make vacations very difficult for those with depression or bipolar disorder. Add to the lack of daily routines, perhaps some jet lag and time zone changes on one's body clock can be exhausting.
Make a special effort to set up a vacation daily schedule before you leave. Plan to do specific things at specific times of the day (i.e. if you exercise at 9 am on the east coast do it at 9 am on the west coast).
Pay attention to how easy your transportation will be. Avoid long stretches of driving or flying red-eye flights. Sidestep any three-hop flights, no matter how much money they save. The added anxiety about making flights and even the aircraft landings can add major stress.
Vacations can have the benefit of a routine, too. Keep a loose schedule of where will be on two certain days -- arrival and departure. For example, my wife and I enjoy vacationing in New Mexico. We fly in and out of Albuquerque, stay in the same hotel our first and last day of each trip. The hotel is clean, priced right has a pool and hot tub. There is a great restaurant within walking distance.
Plan or make reservations for one or two special activities for the week. Do your research on what your destination has to offer. Enjoy a few things that pique your interest, as weather and availability permits. Schedules are wonderful but when they're too strictly times, they add stress and can be vacation killers. The familiarity of the location helps relieve anxieties of travel.
Enjoy your travels!
APA Reference
Zawistowski, P. (2011, June 7). Tips for Vacations when You Have Bipolar Disorder, HealthyPlace. Retrieved on 2023, December 5 from https://www.healthyplace.com/blogs/workandbipolarordepression/2011/06/vacations-and-bipolar-disorder
Author: Peter Zawistowski
hello im Diane, just read the above about vacations n holidays, i just wnt2 say i agree totally wiv all the comments, im lucky enuf 2 hav bn abroad so many times, i've also done long haul fligfhts but only now i can associate wiv the above cos i've only just been diagnosed wiv bipolar spectrum, so wen things were happening 2 me i didnt knw wat was goin on, but the tips in the above r very helpful n very much appreciated.
Leave a reply