What's After Menopause? 7 Emotional And Physical Conditions To Watch For
After menopause, there are many emotional and physical conditions that a woman might face. The hormonal changes that occurred during menopause can trigger debilitating emotional and physical conditions after menopause begins. Making lifestyle changes, such as using relaxation techniques, can help to combat any uncomfortable symptoms that occur after menopause. But it is crucial to consult your doctor if postmenopausal symptoms start interfering with your daily tasks or relationships.
Read on for seven emotional and physical issues you may experience after menopause.
1. Depression After Menopause
The Harvard Study of Moods and Cycles report that was published in 2006 says that hormonal fluctuations during menopause influence psychosocial factors like depression. Menopause depression symptoms include:
mood swings,
increased irritability,
changes in appetite resulting in weight gain or loss,
memory loss, and
reduced concentration among others.
Contact a mental health expert if these symptoms become overwhelming (See also: "How Can You Avoid Depression in Menopause?").
2. Moodiness After Menopause
Your emotional reactions after menopause may significantly change, making you more irritable at the slightest provocation. Moodiness can manifest with gloomy feelings of sadness, anger or increased irritability. And then you may suddenly feel joyous or content with what is happening around you.
3. Night Sweats after Menopause
Night sweats occur during sleep without a connection related to an overheated environment. While most women experience night sweats during menopause, these may be indicators of other health issues like
low blood sugar,
cancer,
infections, or
neurological disorders.
Again, it is important to discuss any troublesome symptoms you have after menopause with your doctor.
4. Hot Flashes After Menopause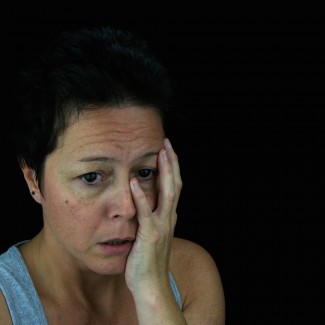 These are the most dominant symptoms of menopause and perimenopause. Hot flashes may manifest as a quick feeling of heat or a red flushed face or neck coupled with sweating. They are mostly caused by changes in circulation although the exact cause remains a mystery.
5. Weight Gain After Menopause
During menopause, hormonal imbalances can trigger an increase in appetite. You may end up opting for sugary and junk foods that lead to weight gain. You can also find it harder to make healthy food choices, which can cause malnutrition or sudden changes in weight.
6. Hormonal Imbalance After Menopause
During menopause, there is a significant decline in production of hormones, including estrogen and progesterone. Hormonal imbalances are the primary triggers of menopausal symptoms as your body tries to adjust to the new state. Hormonal replacement therapy or medications are some remedies that most women try after menopause.
7. Tantrums After Menopause
Tantrums manifest as uncontrolled outbursts of frustration and anger that may lead you to tears. You may also overreact to your workmates, children, or partner at the slightest provocation.
Not Treating the Emotional and Physical Symptoms of Menopause
If left untreated, emotional and physical conditions experienced after menopause can wreak havoc in your relationships, including your intimate relationships, and indeed, on your whole life. Be on the look out for symptoms after menopause so you can make lifestyle changes or seek treatment if they become overwhelming.
References
This post was written by:

Vaileria Dennis is a health and beauty expert and has written various articles on those topics. In recent years, she has had an opportunity to research menopause symptoms and effects. Connect with Vaileria on Facebook or follow her on Twitter.
To be a guest author on the Your Mental Health Blog, go here.
APA Reference
Author, G. (2015, September 3). What's After Menopause? 7 Emotional And Physical Conditions To Watch For, HealthyPlace. Retrieved on 2023, December 5 from https://www.healthyplace.com/blogs/yourmentalhealth/2015/09/seven-mental-and-emotional-conditions-after-menopause
Author: Guest Author
To have a lot of these symptoms . I'm post men.mopause what do I do? now do I need medication? I'm imbalanced?
I am suffring from severe ocd stress fear phobia and severe negative thoughts please guide me to over come from it
i am 83 hrs old and have been dealing with depression after menopause since I was in my fifties. It has caused me to lose a job and now my children. They just gave up on my moods. I have recently lost my husband. I am on medication and have a psychologist and a psychiatrist available along with my PCP and a cardiologist! No one seems to be able to help me. Are these mood swings the way I end my life? I am so tired of the ups and downs and trying to be "normal". I have two degrees in psychology. Do I know too much to help myself?
self talk!!!! read: books on self talk
nice info, menopause isnt that easy especially to cope with depression.
Leave a reply