I Hate the Mentally Ill - My Ex was Bipolar and She was Evil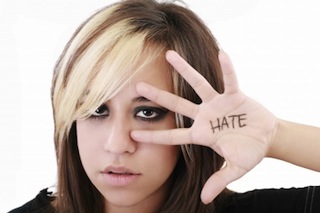 I like my job. I get to write for a living which is something many writers don't get to do. And moreover, I get to write about things that matter to me. Also a great luxury for many writers. These are pleasures as are the vast majority of people I get to meet.
I do have the great displeasure, though, of seeing vehement hatred for those with a mental illness. People who hate show up here, on my blog and elsewhere. People with a hatred for bipolar disorder seem to seek places to express their hatred.
But hatred of the mentally ill is simply another prejudice. Hatred of people with bipolar is the same as racism and just as unacceptable.
People with Bipolar Are Selfish, Whiny, Childish Monsters
No one in their right mind would say, "All [people of race] are selfish, whiny, childish monsters."
They wouldn't say that because it isn't true and it's outlandish to think, let alone say. People of any race are individuals and thus are all different. Enlightened people understand painting them all with any brush is inaccurate, insulting and quite frankly just plain wrong.
It's exactly the same for those with a mental illness. Suggesting all people with bipolar are selfish, whiny, childish monsters (and I have heard much worse) is ridiculous. I am none of those things. I'm a grab-bag of traits, much like everyone else. Except I have an illness.
Why do People Hate those with Bipolar?
There is generally one reason why people hate those with a mental illness: they have had bad experiences with them in the past. And for whatever cockamamie reason, they have generalized that experience onto everyone with bipolar disorder. And for some reason they don't see the ludicrousness of that behavior.
My Ex Was Bipolar; She Was Evil
Lots of these people have bipolar ex-significant others. And some hate their ex-others. Perhaps for good reason; I couldn't say. But here's the thing:
You fell in love with that person at some point and married/had kids with/lived with them, so there really is something good there somewhere.
People hate their ex-others. It has nothing to do with bipolar and everything to do with being an ex.
People also think "men are bad," because of a bad divorce, or "women are conniving," or what have you. Not because of anything intrinsic to the gender but because divorces/breakups are nasty, ill-fated, legally acrimonious affairs.
Unfortunately, when one party has a mental illness the other party often feels perfectly justified in dumping the ills of the world at the feet of the illness. And then at the feet of everyone else with the illness.
Your Bipolar Ex Might Have Been Evil
I have no idea who you were married to, and they may have been the worst person on the planet. In fact, their illness may have made their life and yours a living hell. That person may have needed help and refused it. That person may have done horrible things and blamed it on their disease. That person may have hurt those and those you love. Quite possible.
But that's not about being bipolar, that's about the individual.
I will accept this illness makes people unpredictable and challenging, like many illnesses. I will accept the fact being with a person with an illness (any illness) is hard. I will accept that we hurt people, and sometimes that hurt has to do with bipolar disorder.
I will not, however, accept any insult you want to throw at me simply because I have the same diagnosis as a person you know. I will not allow you to tell me how I am or who I am. I will not accept your prejudice and I will not accept your hatred.
Enjoy Your Hate
You can hate whomever you like. It's a free country. But do it in front of me at your own risk. I do not buy your nonsense and to me, you are no better than a racist. Go find another place to play. Because I won't let you unabashedly hurt others just because you have been hurt.
APA Reference
Tracy, N. (2011, July 7). I Hate the Mentally Ill - My Ex was Bipolar and She was Evil, HealthyPlace. Retrieved on 2023, June 3 from https://www.healthyplace.com/blogs/breakingbipolar/2011/07/i-hate-the-mentally-ill-my-ex-was-bipolar-and-she-was-evil
Author: Natasha Tracy
I think health professionals should take responsibility here, at least concerning some of the psychiatric labels. Take for example psychologist Simon Baron-Cohen. He says people who have received a borderline diagnosis are evil.
Hi Sandra,
Well thank-you so much. If I can kick stigma in the teeth once in a while, I'm a happy writer.
- Natasha
One of the best antistigma posts I've ever read, and I've followed a *lot* of stigma campaigns. Once again, I'm grateful you exist, and write so well. Thank you!
Hi Sottovoce,
Re-thinking is not a bad thing. It's much better than not thinking any day.
- Natasha
Good article. It actually made me think about how I keep certain personality types at an arms length due to being burned. Looks like I need to change my paradigm. Thank you!
People fear - and hate - what they do not understand - and nothing is quite so terrifying as insanity - crazy even trumps death. At the height of a manic episode I got into it with two very large, strong cops - it took a lot of unhappiness for all of us before they finally subdued me. Even in my deranged state I saw the fear in their eyes. - Prejudice is always ugly, but prejudice against the mentally ill is not hard to understand. - We can't wait for the square shooters to wise up - it is up to US to eliminate prejudice by modeling healthy behavior and painting a complete portrait of mental illness.
That is a blanket statement. Actually, people fear and hate what affects them. Take for instance walking on eggshells constantly around someone with bipolar who gets triggered at every "wrong move." This involves families, friends... or what they call "loved ones."
To be honest, I wouldn't give a damn if I couldn't understand you. If your BEHAVIOR steps into my space and sanity that is your problem, and not the problem of those who "don't understand."
What everyone understands is this: all of us try to control behaviors so we can live with each other and not kill each other.
Now if you need help controlling your behavior because it's the fault of your Bipolar, by all means get help. Just don't make blanket statements along the way about "other" people who apparently can't understand you.
I have severe anxiety around people. I had to take a job that does not involve facing people. I don't get myself into situations where I affect a company or my other colleagues because of my own condition. And I don't expect them to "understand me." I can maybe hope my family and friends understand me, but not if I affect them negatively. I make my own choices and so can you.
I understand those who hate- sometimes I hate myself too, sometimes I hate everyone, literally everyone and wish we humans become extinct so that all the other species we harm live happily ever after...
I have come to believe that everything we think or feel is the aftermath of what happens in our brain, we can't control it, so we're not responsible- it's something like an instinct.
Of course, we ARE responsible for our actions and reactions to these thoughts and feelings, but not for the process of feeling like that- it is one thing for me to say I wish we all become extinct and it is another thing to try to construct an atom bomb so I can make it happen.
Maybe people who hate bipolars as a result of personal experience are sufferers themselves- PTSD is an option for everyone, especially after a broken abusive relationship, maybe what they need is therapy and comfort and some antidepressants and a little bit of oxytocin iv, or maybe there was something wrong with them in the first place, and that is why they chose to stay in such a horrible relationship, that left them with so many scars...
Maybe I am a little sarcastic, but I mean every word I say-or write.
Oorr maybe you need to quit the sarcasm when talking about "other" people as if you are somehow not part of the rest of the world.
Maybe people need to quit focusing so much on their own selves and start looking at others as also people going through their own bullc but have to deal with someone else's because they are the more "important and delicate" one.
Maybe you need to stop seeing the world as "bipolars vs normies" then maybe you'd actually look at your loved ones as human beings and not spectators of your illness. They can have their own mental illness as well - I'm a firm believer everyone has one in a spectrum.
Maybe you need to try and ruminate on what others might be going through in THEIR lives and be genuinely interested in it, than ruminate on how others irritate you or have "done you wrong".
MAYBE you need to look up what it means to have an unhealthy black and white view of the world. You tend to look at people as only either with bipolar or without, good or bad, irritating or pleasant, righteous or immoral, understanding or cold, ... when in reality everyone is a mixed bag of traits.
Why am I saying this? Because I have lived with someone with bipolar for yeaes and have come to the conclusion that those with it who focus too much on themselves rarely consider what others FEEL and therefore also isolate or sabotage themselves with every severed relationship.
Just because you have intense feelings doesn't mean other people have zero feelings. If they don't understand you (right away) think about how many times you have also failed to understand them, how about that? Woah something new isn't it!
Oh and MAYBE those who have had to care for someone with bipolar "unconditionally" need a support system too... or maybe a celebrity to show that it's hard being "the normie caretaker"... yayy. But nah. Not a single pat on the back and any show of frustration just means you are a "bad and uncaring and non-understanding normie." Did everyone forget people are people? Actual humans?
Oh and hey, by the way, I DO have PTSD and social anxiety. I don't go around demanding people give me "unconditional love" or understanding.
Quit thinking "normal" people aka those with "no bipolar" have this magical and heroic ability to stand any adversity without thinking of just giving up on themselves.
My anxiety makes me act awkward and sometimes debilitated in social settings. I don't intend to MAKE people around me hover over me telling me it's ok.
They are not required to be responsible for my life and I am not required to be responsible in making their lives better either. They may be good in social settings but are flawed in something else.
The least anyone can do is I don't know, quit WHINING. And if you need to vent or a helping hand, go to your friends in private, instead of vilifying "normal" people online as if they are a complete race separate from your own.
Everyone has some form of mental illness. Everyone is going through something. Everyone suffers. Get that in your head and MAYBE the truth will make you feel better once you accept it.
She didn't say any of that. And your now the one taking YOUR frustrations out on her because no one ever notices what you go through in your own life. I can tell this because i have a psychology degree. She's speaking directly to the haters. I'm bipolar, PTSD social anxiety and plain anxiety. and happen to have a wonderful husband who is there for me with his own problems. We hold EACHOTHERS HANDS to get through this crazy world because we both need help every now and again. But he is the only person who loves me enough to know it's not my fault. Just like I know his social anxiety and anxiety in general aren't his fault. We remind each other of triggers and just kinda keep to ourselves because people can be nasty. You could of been a lot nicer in your post, but you chose to attack her because your not happy with your own life. Being socially awkward is hard, I know I've been that way my whole life. But I'm not going to take it out on someone else who's simply SAYING: I WONT PUT UP WITH YOU HATING BIPOLARS ON MY PAGE. And she has every right to do that. Don't like it, go somewhere else.
T-
When you participate on forums online, it is a requirement that you portray yourself honestly. Unfortunately, you breached those ethics when you lied about having a psychology degree. A medical professional would know that you aren't observing proper grammar when you start sentences with "and" or "but". Medical professionals are aware that "each other's" requires a space between "each" and "other's"; and that "other's" requires an apostrophe because it is possessive. A medical professional would be aware that it isn't "kinda" or "could of been", but, "kind of" and "could've been". "Your not happy", should be written as, "you're not happy". Lastly, a medical professional would have understood that the person to whom you replied did not comment to the author of the article, but, to someone who commented to the article.
I'm going to assume that the only authority you have to add credibility to your opinion is that you are a person living with various mental illnesses. I'll grant you that as a person who battles your own mental illnesses every day, that you have a unique perspective concerning the struggles that come with living with those mental illnesses. However, the person to whom you responded didn't express a desire to hear any insights into the mind or motivations of those living with bipolar disorder. Neither did he express any interest in your judgment of his character. However, he did express his frustration at another (possibly bipolar,) commentator's seeming failure to recognize that cognitive average individuals sometimes experience extreme negative emotional/physical/financial outcomes as a result of the behavior of persons under the influence of manic/hypo-manic episodes. If you care to respond to that declaration, I'd like to hear how you would suggest that a cognitive average person should cope with behavioral issues from a person experiencing a manic/hypo-manic episode. Would you say that it's reasonable for a cognitive average person to expect someone with BPD to respect the cognitive average person's boundaries, or would you recommend that the cognitive average person allow for flexibility in his/her boundaries? Are there any circumstances in which you would recommend negative consequences for a BPD person who fails to respect a cognitive average person's boundaries? If so, what would you suggest as a fair negative consequence? If not, why not?
See? That's the problem.
You're telling me to be "nicer" with my response when the op was the one starting with the sarcasm about people who hate those with bipolar (she even admitted that herself).
Now answer this, is she the only one allowed to have "reasons" for her to hate on people who hate those with bipolar?
Back to my point: those with bipolar tend to believe they are the only ones allowed to have "reasons" to hate something, anything... while "normal" people are not allowed to have their own "reasons." See where I'm going at?
Newsflash. People don't hate on bipolars for "no reason." They hate them for the reasons I expounded.... which is that you tend to demand everyone focus on what YOU are going through, and the fact that everyone "should" defend you and support you at all times because apparently you are the "only" people who go through cra. In life. Your "feelings" or whatever you're going through isn't any more important than anyone else's.
So you can go sit down [molderated] and let that simmer for a bit.
Also, if you didn't quite get it yet, I also actually had a little advice in there... to stop wallowing in your own self so that not only would you do your relationships a favor, but yourself as well.
And likewise, if you don't like my response you can go elsewhere as well.
I also need to add, yes, I do believe those with bipolar have the capability of practicing on focusing MORE on others. I believe that would HELP, for anyone WILLING to take that different kind of "treatment." Of course, I am not talking to someone in a Manic state (that would be like giving advice to a wall and quite frankly that would be stupid of me).
This is all about how you choose to maintain yourself, whatever you have - I don't believe you are constantly in a manic state to not have any room left in maintaining your condition otherwise why have this forum.
Of course, I'd have nothing to do with it if not for the fact that I'd have to deal with it indirectly (meaning, to live with someone who has bipolar).
If you think all you need is medication in your life and nothing else, that's none of my business. You can take my opinion or leave it.
But I stand on what I said and I'm "allowed" to express my experience in the same way the op is allowed to.
[Moderated] It's sickening how you [moderated] say PTSD is a choice but the rest of us are supposed to blindly accept that bipolar is not. Many people suffer from PTSD because of people like yourself, you don't know or understand every individual's reasons for staying in an abusive situation. An abused child doesn't have the luxury of being able run away from home, and oftentimes women who stay in abusive relationships do so out of fear - in fact the most dangerous time in an abusive relationship is when the victim is leaving. A lot of people who end up in abusive situations as adults have also been abused as children. [moderated]
Most of the mentally ill people i know are trying hard to manage their illness. Too bad the haters aren't trying as hard to manage their stupidity.
says the [moderated] who passes judgmental onto haters by refusing to respect their opinions.
Leave a reply