Bipolar Disorder and Cigarette Smoking: Why We Do It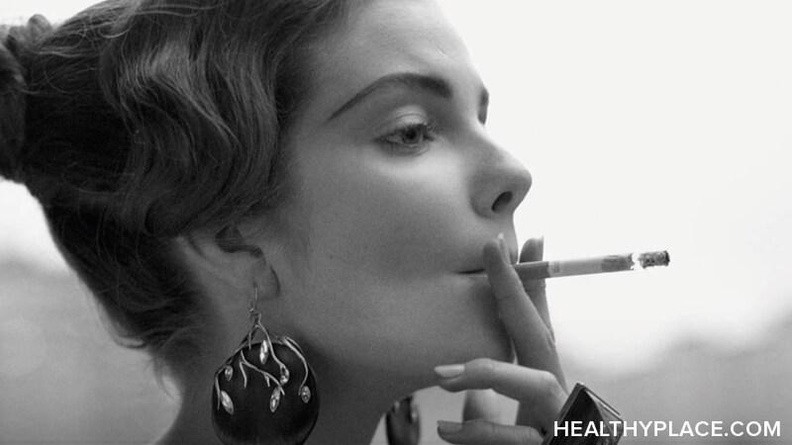 Smoking cigarettes when you live with bipolar disorder is one of the unhealthy habits we are supposed to feel ashamed about and hide from others. However, I believe hiding it makes it all the more tempting and talking about it as if it represents instability does more harm than good.
Instead of providing information that reveals what we already know, that cigarettes and nicotine addiction are harmful to us, I am going to give you my reason for smoking cigarettes, my opinion on why those of us who live with bipolar disorder do it and the reason it is difficult to quit smoking.
Why Individuals Living with Bipolar Disorder Smoke Cigarettes?
I have been smoking cigarettes on and off for the last nine years. When I went to college, my smoking habit became more frequent. In times of hypomania or rapid cycling, my tobacco consumption increases. It is an indicator for me to reel myself back in. However, even when I am not hypomanic, I still smoke cigarettes.
In my situation, having bipolar 2 disorder, smoking cigarettes allows me to gather my thoughts and center myself. It's a habit that many of us living with bipolar have taken on as a way to cope with stress, depression, and overwhelming thoughts. It is not a valid excuse for using a potentially deadly substance, but it is the truth. I have quit smoking cigarettes in the past, and it wasn't the nicotine addiction that got me back into it; it was what the habit of smoking provided me that caused me to light up again.
The Reason Its Difficult to Quit Smoking When You Live with Bipolar
It is difficult to quit smoking for anyone regardless of mental illness, but when you live with bipolar disorder, it is a different type of challenge. It is the fear of losing something that helps you cope with your bipolar disorder. When you live with bipolar disorder, you struggle to release control or allow other individuals to dictate your path. We know that it could cause cancer, and we know that we need to stop, but lecturing individuals into quitting cigarettes makes it more difficult.
I could write out the lengthy list of alternatives to smoking cigarettes, such as e-cigs and Nicorette, but it would be reiterating something that we already know. As unhealthy as consuming tobacco is, I am not prepared to quit. I am not naive to the consequences I may have to pay for this unhealthy habit, but it makes it more challenging to quit smoking when people make you feel as though it represents instability. In my opinion, judging individuals who live with bipolar disorder so harshly for consuming tobacco has the opposite effect.
It is difficult to quit smoking when you live with bipolar disorder, but it is essential that at some point we make an effort to stop. I believe the first step in doing so is asking ourselves why we do it in the first place. If we can confront the reason for the habit, it may help us to find a healthier alternative.
If you have any tips or advice for quitting smoking as someone who lives with bipolar disorder please share them in the comment section below.
APA Reference
Blum, H. (2018, April 21). Bipolar Disorder and Cigarette Smoking: Why We Do It, HealthyPlace. Retrieved on 2019, October 16 from https://www.healthyplace.com/living-with-bipolar-blog/bipolar-disorder-and-cigarette-smoking-why-we-do-it
Author: Hannah Blum