My Obsessively Clean Diary: March, 2001
Quest for Freedom!
~ An insight into OCD ~ Obsessive Compulsive Disorder

Dear Diary,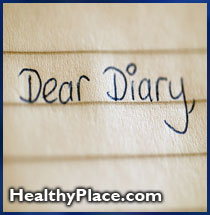 Well firstly, I apologise for my entry being a little late! I seem to have quite a few projects running at the moment. Two of them being with Healthyplace.com. My site's been added to their OCD Community section! Just about all of it's been put up, so hopefully OCD awareness is being promoted a bit further. Plus, I shall be trained to become a Support Host for the OCD Community on Wednesday. I'm really excited about it, and see it as another way to turn what was an OCD negative into a positive.

Yesterday, our weather decided to become more spring-like and reached the dizzy heights of 16 degrees; shame it didn't last - it rained today!

My OCD is doing ok. I realise that I'll never be rid of it though. The last 3 weeks have been good, but today was the end of Phil and my 3 week break and I've been quite stressed about it all day, which, of course, makes my OCD symptoms worse! I hate feeling like this - all tense and nervous, out of control. I feel the need to repeat actions more when feeling like this, arghhh!

My driving has taken a bit of a backseat at the moment, as I need insurance and because I haven't driven for so long, it's very expensive! Sigh, oh well.

Three weeks ago, I went to stay with my mum for a couple of weeks. As you may remember from previous entries, my mums feels very contaminated to me. Well, I did really well and braved it even, by going in mums car! We went to visit my Dad. He's in a nursing home. It's so nice to be able to go and see them both, for a few years I wasn't able to.

Last week, I went on my own into the nearest town by bus. It was a bit scarey, but I did okay. It's hard to believe what I am achieving now when I consider all those years of inactivity. I realise I have come a long way.

I hope if you have OCD and are reading this, you can grab even a little bit of encouragement for yourself, that you, too, can achieve more control over the illness.

I'll say bye bye until next month. Take care and keep smiling!
~Sani~ xx
next: My Obsessively Clean Diary: May 2001
~ ocd library articles
~ all ocd related disorders articles
APA Reference
Staff, H. (2009, January 4). My Obsessively Clean Diary: March, 2001, HealthyPlace. Retrieved on 2023, December 2 from https://www.healthyplace.com/ocd-related-disorders/articles/my-obsessively-clean-diary-march-2001
Last Updated: January 14, 2014