My Obsessively Clean Diary: October 2001
Quest for Freedom!
~ An insight into OCD ~ Obsessive Compulsive Disorder



Dear Diary,

Happy Halloween! It's been a year now since I started writing this OCD Diary! I can't believe that. It seems to have flown by and so much has changed and happened in that time. When I first began writing this, I never dreamt I would still be at my friend's house or that I wouldn't still be with Phil, or that I would have flown to America! Isn't it strange how life has a habit of just "happening" without you realising it?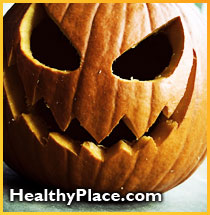 My OCD is ok...ish! except that at certain times I seem to be attatched to the sink by elastic that keeps pulling me back to wash my hands just 'one more time'! It's so frustrating! It's at those moments that I wonder if the OCD meds are still working, I've been on the same ones for over a year now and I can't help but wonder if the effects are wearing off a bit. I get so many e.mails from people who have this problem and have to change them. I really don't want to have to get used to new side-effects though! :o(

I have been working on a new site ~ My Poetry Book. I'm not saying I'm a poet or anything, but when this illness had me virtually housebound, I found that writing my feelings down in the form of poetry helped, and seeing as I've got 90 or so of them I thought I'd something with some of them! Take a look if you like, you might find one you quite like! Inside :o)

I haven't heard anything from you know who! ~ Phil. It will soon be my birthday, but I don't suppose even that will make him get in touch! Just wish I didn't keep having dreams with him in them! If anyone reading this has gone through a separation /divorce and can offer some advise as to how best to get over it, I'd be grateful because I have a real hard job with it, and feel a sadness and pain that is difficult to shake off. :0)

The situation in America with the Anthrax is getting a bit scary and I wonder how fellow OCD'ers are handling it. This is a very "real" contamination threat as opposed to an "irrational" one.

Oh well, guess that's it for now.

I hope you reading this are as well as possible. Take care everyone.

Love and Hugs~Sani~
next: My Obsessively Clean Diary: November 2001
~ ocd library articles
~ all ocd related disorders articles
APA Reference
Staff, H. (2009, January 2). My Obsessively Clean Diary: October 2001, HealthyPlace. Retrieved on 2023, December 3 from https://www.healthyplace.com/ocd-related-disorders/articles/my-obsessively-clean-diary-october-2001
Last Updated: January 14, 2014