5 Reasons To Love Yourself When You Have a Mental Illness
Here's what's happening on the HealthyPlace site this week:
---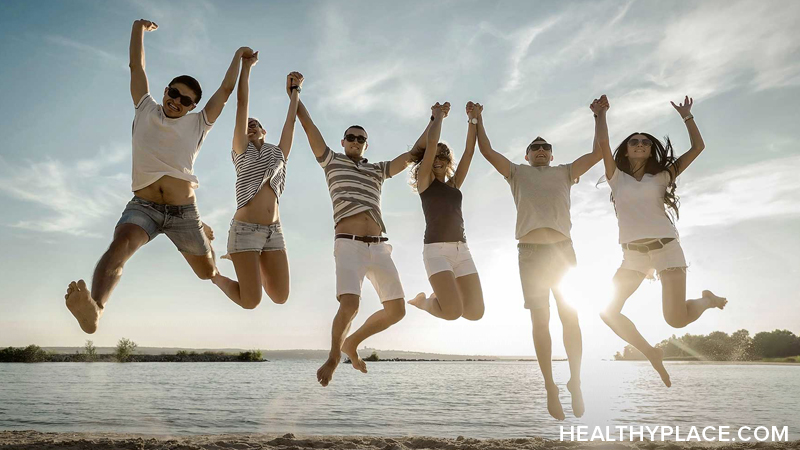 5 Reasons To Love Yourself When You Have a Mental Illness
One of the cruelest things about living with a mental illness is that it becomes your bully. It zaps your self-esteem, and it makes you believe what stigma says about people with mental illness (Signs of Self-Stigma). To help you regain perspective about yourself, here are some reasons to love yourself:
You have hopes, dreams, and goals. Mental illness can make them difficult to realize, but that doesn't mean they don't exist. Life visions don't have a minimum speed limit, and they can't be forced off the road.
You have your own set of values and sense of what's important to you. Having a mental illness doesn't mean you don't believe in anything.
You have unique abilities and talents. Certain things are happening in your brain that can make life difficult, but there's more to you than those things.  
You have character strengths inherent within you. They are a large part of who you are. Your illness is not.
Even on your very worst days, you are you. You're surviving. You have a spark inside you that never stops glowing. Your illness might at times cast a shadow over it, but it can't extinguish that inner glow. By calling on your dreams, goals, values, abilities, talents, and character strengths, you can gradually make that spark ignite into a flame.
Related Articles Dealing with Mental Illness and Loving Yourself
Your Thoughts
Today's Question: How does self-stigma affect you? We invite you to participate by sharing your thoughts, experiences, and knowledge on the HealthyPlace Facebook page and on the HealthyPlace Google+ page.
From the HealthyPlace Mental Health Blogs
On all our blogs, your comments and observations are welcomed.
Feel free to share your thoughts and comments at the bottom of any blog post. And visit the mental health blogs homepage for the latest posts.
------------------------------------------------------------------
From HealthyPlace YouTube Channel
I'm Hannah. I Have Bipolar 2
3 Worst Bipolar Symptoms and How They Affect Me
The worst bipolar symptoms I face are depression, anxiety, and unwanted thoughts. These three symptoms that have caused me to feel hopeless and worthless. (Watch Hannah and subscribe to the HealthyPlace YouTube channel for more great mental health videos.)
------------------------------------------------------------------
Most Popular HealthyPlace Articles Shared by Facebook Fans
Here are the top 3 mental health articles HealthyPlace Facebook fans are recommending you read:
If you're not already, I hope you'll join us/like us on Facebook too. There are a lot of wonderful, supportive people there.
------------------------------------------------------------------
Mental Health Quote
"To eat is a necessity, but to eat intelligently is an art."
Read more eating disorder quotes.
------------------------------------------------------------------
That's it for now. If you know of anyone who can benefit from this newsletter or the HealthyPlace.com site, I hope you'll pass this onto them. You can also share the newsletter on any social network (like facebook, stumbleupon, or google+) you belong to by clicking the links below. For updates throughout the week, circle HealthyPlace on Google+, follow HealthyPlace on Twitter or become a fan of HealthyPlace on Facebook. Also, check out HealthyPlace on Pinterest and share your mental health pins on our Share Your Mental Health Experiences board.
APA Reference
Peterson, T. (2018, October 15). 5 Reasons To Love Yourself When You Have a Mental Illness, HealthyPlace. Retrieved on 2023, November 28 from https://www.healthyplace.com/other-info/mental-health-newsletter/5-reasons-to-love-yourself-when-you-have-a-mental-illness
Last Updated: October 17, 2018