Teaching Mental Health in Schools is Mandatory in Some States
Here's what's happening on the HealthyPlace site this week:
---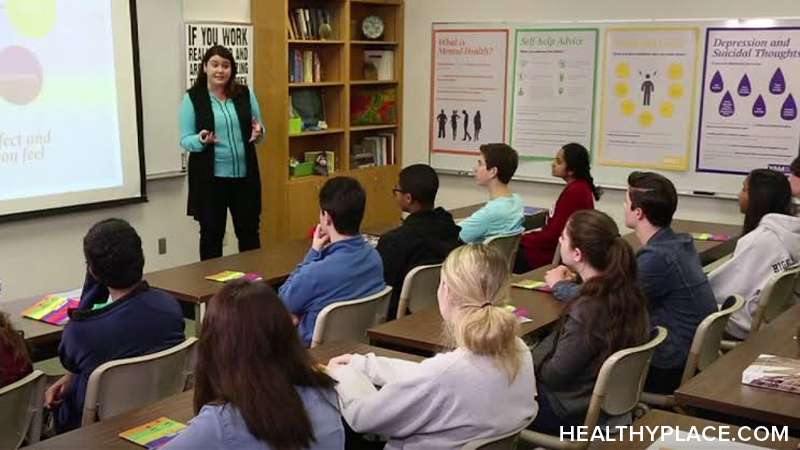 Teaching Mental Health in Schools is Mandatory in Some States
During the 2018-2019 school year, the state of New York became the first state to implement a law mandating teaching mental health to students from elementary school through high school. Specific topics varied by age, but among the important mental health topics students learned in school:
Requiring that mental health be taught in schools has brought another important benefit: the reduction of the stigma that continues to surround mental health. When students see that they're not the only ones who have anxiety or who struggle with body image and eating, for example, they don't feel as isolated and are more likely to seek help. Likewise, students are developing more empathy and compassion as well as an ability to help each other.
Eight other states have joined New York in the 2019-2020 school year, and three more have mental health education laws in the works. Further, 20 states include mental health instruction in their content standards.  With over half of all states now providing formal mental health instruction to kids, we're on the way to equipping a generation with the skills they need to thrive.
References
DiGiulio, S. (2018). This fall, all New York students will be learning mental health. NBC News. Retrieved
September 2019 from https://www.nbcnews.com/better/health/fall-all-new-york-students-will-be-learning-about-mental-ncna911031
TodayShow. (2019). Classroom common sense: making mental health lessons mandatory. NBC News.
Retrieved September 2019 from https://www.today.com/video/inside-1-classroom-making-mental-health-lessons-mandatory-69355077975
Related Articles Dealing with Mental Health Education
Your Thoughts
Today's Question: Do you think that all public schools should be required to provide formal mental health instructions to grades K-12? We invite you to participate by sharing your thoughts, experiences, and knowledge on the HealthyPlace Facebook page.
From the HealthyPlace Mental Health Blogs
On all our blogs, your comments and observations are welcomed.
Feel free to share your thoughts and comments at the bottom of any blog post. And visit the mental health blogs homepage for the latest posts.
------------------------------------------------------------------
Most Popular HealthyPlace Articles Shared by Facebook Fans
Here are the top 3 mental health articles HealthyPlace Facebook fans are recommending you read:
If you're not already, I hope you'll join us/like us on Facebook too. There are a lot of wonderful, supportive people there.
------------------------------------------------------------------
Mental Health Quote
"I know you're sad. So I won't tell you to have a good day. Instead, I advise you to simply have a day. Stay alive. Feed yourself well. Wear comfortable clothes and don't give up on yourself just yet. It'll get better. Until then, have a day."
Read more depression quotes.
------------------------------------------------------------------
That's it for now. If you know of anyone who can benefit from this newsletter or the HealthyPlace.com site, I hope you'll pass this onto them. You can also share the newsletter on any social network you belong to by clicking the links below. For updates throughout the week, follow HealthyPlace on Twitter or like HealthyPlace on Facebook. Also, check out HealthyPlace on Instagram, and YouTube.
APA Reference
Peterson, T. (2019, October 7). Teaching Mental Health in Schools is Mandatory in Some States, HealthyPlace. Retrieved on 2023, December 11 from https://www.healthyplace.com/other-info/mental-health-newsletter/teaching-mental-health-in-schools-is-mandatory-in-some-states
Last Updated: October 18, 2022