Bad Relationships: When To Call It Quits
Here's what's happening on the HealthyPlace site this week:
Bad Relationships: When To Call It Quits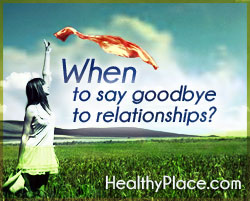 If you have a mental illness, do you find yourself reluctant to end an unhealthy or bad relationship? You're not alone. Even despite being emotionally abused, some with depression, bipolar disorder, severe anxiety and other mental health conditions are afraid to leave. After all, they think, "something is better than nothing" and "who will help take care of me?"
In an article titled "Ending a Relationship: How Do You Know When Enough Is Enough?," our anxiety blogger, Jodi Aman, discusses how staying in unhealthy relationships actually makes your mental health worse. She also shares things you should consider BEFORE making a decision on whether to stay or leave the relationship.
Related Articles
Your Thoughts
Are you hesitant or afraid to leave an unhealthy relationship? Why? And how is it affecting you? We invite you to participate by commenting and sharing your feelings, experiences and knowledge on the HealthyPlace Facebook page.
Most Popular HealthyPlace Articles Shared by Facebook Fans
Here are the top 3 mental health articles HealthyPlace Facebook fans are recommending you read:
If you're not already, I hope you'll join us/like us on Facebook too. There are a lot of wonderful, supportive people there.
------------------------------------------------------------------
From the HealthyPlace Mental Health Blogs
Welcoming our new adult ADHD blogger, Elizabeth Prager. Liz joins Laurie Dupar as the co-author of the "Living with Adult ADHD blog.
On all our blogs, your comments and observations are welcomed.
Feel free to share your thoughts and comments at the bottom of any blog post. And visit the mental health blogs homepage for the latest posts.
That's it for now. If you know of anyone who can benefit from this newsletter or the HealthyPlace.com site, I hope you'll pass this onto them. You can also share the newsletter on any social network you belong to by clicking the links below. For updates throughout the week:
APA Reference
Staff, H. (2013, February 18). Bad Relationships: When To Call It Quits, HealthyPlace. Retrieved on 2023, December 6 from https://www.healthyplace.com/other-info/mental-health-newsletter/bad-relationships-when-to-call-it-quits
Last Updated: October 10, 2023