Can Mental Illness Be Diagnosed with Online Psychological Tests?
Here's what's happening on the HealthyPlace site this week:
---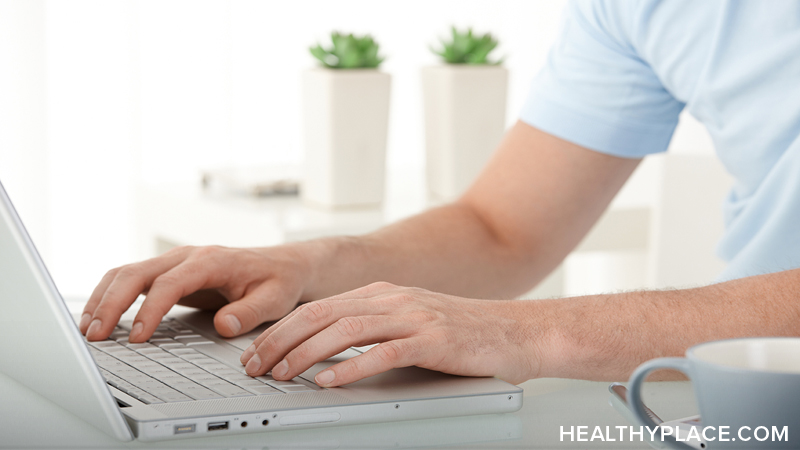 Can Mental Illness Be Diagnosed with Online Psychological Tests?
Online psychological tests help you pinpoint what you're experiencing—and what you are not—to help you decide what to do.  
Today, many people take these online psychological tests because they're wondering if they have a mental illness; which can be agonizing. When you seem to be unusually anxious or in a prolonged low mood, for example, it makes sense to need to know what's going on.
It's important, however, to know that online mental health tests are useful tools, but they aren't meant to diagnose mental illness. These tools:
Let you answer questions about your thoughts, emotions, and behaviors
Help you identify what does and does not apply to you
Give you something concrete to consider rather than remaining stuck in vague worries
Provide specific information for you to look into further
Assist you in deciding whether to seek professional help
Prepare you for a conversation with a doctor or therapist (often, you can print out your test to share with a professional)
Online mental illness tests aren't designed to diagnose people. Only a doctor or mental health professional can diagnose mental illness. Taking a psychological assessment like the 60 offered by HealthyPlace can give you insight into your experiences as well as the confidence to decide whether or not to seek professional help. They can be a practical tool in your mental health toolbox.
Related Articles Dealing with Mental Illness Testing
Your Thoughts
Today's Question: If you've taken online mental illness assessments, how helpful have the results been for you? We invite you to participate by sharing your thoughts, experiences, and knowledge on the HealthyPlace Facebook page.
From the HealthyPlace Mental Health Blogs
On all our blogs, your comments and observations are welcomed.
Feel free to share your thoughts and comments at the bottom of any blog post. And visit the mental health blogs homepage for the latest posts.
------------------------------------------------------------------
Most Popular HealthyPlace Articles Shared by Facebook Fans
Here are the top 3 mental health articles HealthyPlace Facebook fans are recommending you read:
If you're not already, I hope you'll join us/like us on Facebook too. There are a lot of wonderful, supportive people there.
------------------------------------------------------------------
Mental Health Quote
"The sudden moments of sadness hurt you even more because you know you were happy just a little while ago."
Read more bipolar quotes.
------------------------------------------------------------------
That's it for now. If you know of anyone who can benefit from this newsletter or the HealthyPlace.com site, I hope you'll pass this onto them. You can also share the newsletter on any social network (like facebook or stumbleupon) you belong to by clicking the links below. For updates throughout the week, follow HealthyPlace on Twitter or become a fan of HealthyPlace on Facebook. Also, check out HealthyPlace on Instagram, YouTube and Pinterest, where you can share your mental health pins on our Share Your Mental Health Experiences board.
APA Reference
Peterson, T. (2019, October 14). Can Mental Illness Be Diagnosed with Online Psychological Tests?, HealthyPlace. Retrieved on 2023, October 3 from https://www.healthyplace.com/other-info/mental-health-newsletter/can-mental-illness-be-diagnosed-with-online-psychological-tests
Last Updated: October 15, 2019