For Good Summer Mental Health Two Things Are Essential
Here's what's happening on the HealthyPlace site this week:
---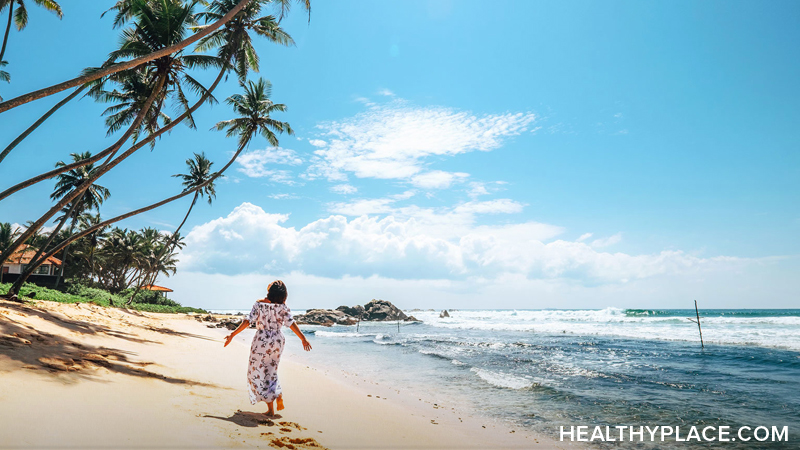 For Good Summer Mental Health Two Things Are Essential
Summer is nearly upon us in the northern hemisphere. It can mean longer days, warmer weather, happiness, and improved moods; however, it doesn't always—especially when it comes to mental health.  
In some cases, mental illness symptoms can worsen in the hot, sunny months. Anxiety, for example, can intensify in the summer for some people (Shedding Light on Anxiety and Sunlight). While mental illness is year-round, you can make your summer mentally healthy and enjoyable. These essentials will provide a mental health boost this summer season.
Two Things to Make Your Summer Mentally Healthy
Discover a Sense of Purpose. What needs to happen for your summer to be meaningful? Answer this personal question, and then determine what you can do to make meaning.  
Have fun. Act purposefully, but also allow yourself to let go and have fun. Being playful and doing things you enjoy boosts wellbeing. By making time and taking opportunities for fun, you can reduce stress, anxiety, depression, and more. To return to the question above: What needs to happen for your summer to include fun?
Even if it seems daunting at first, taking small steps to create purpose and fun this summer will help your mental health and wellbeing bloom.
Related Articles Dealing with Mental Health in the Summer
Your Thoughts
Today's Question: If you notice a change in your mental health in the summer months, what is different? We invite you to participate by sharing your thoughts, wisdom, and knowledge on the HealthyPlace Facebook page.
From the HealthyPlace Mental Health Blogs
On all our blogs, your comments and observations are welcomed.
Feel free to share your thoughts and comments at the bottom of any blog post. And visit the mental health blogs homepage for the latest posts.
------------------------------------------------------------------
Most Popular HealthyPlace Articles Shared by Facebook Fans
Here are the top 3 mental health articles HealthyPlace Facebook fans are recommending you read:
If you're not already, I hope you'll join us/like us on Facebook too. There are a lot of wonderful, supportive people there.
------------------------------------------------------------------
Mental Health Quote
" I am strong because I've been weak. I am fearless because I've been afraid. I am wise because I've been foolish."
Read more abuse quotes.
------------------------------------------------------------------
That's it for now. If you know of anyone who can benefit from this newsletter or the HealthyPlace.com site, I hope you'll pass this onto them. You can also share the newsletter on any social network (like facebook or stumbleupon) you belong to by clicking the links below. For updates throughout the week, follow HealthyPlace on Twitter or become a fan of HealthyPlace on Facebook. Also, check out HealthyPlace on Instagram, YouTube and Pinterest, where you can share your mental health pins on our Share Your Mental Health Experiences board.
APA Reference
Peterson, T. (2019, June 3). For Good Summer Mental Health Two Things Are Essential, HealthyPlace. Retrieved on 2023, November 30 from https://www.healthyplace.com/other-info/mental-health-newsletter/for-good-summer-mental-health-two-things-are-essential
Last Updated: June 4, 2019