Seasonal Affective Disorder (SAD) Tips: Help for SAD
Here's what's happening on the HealthyPlace site this week:
---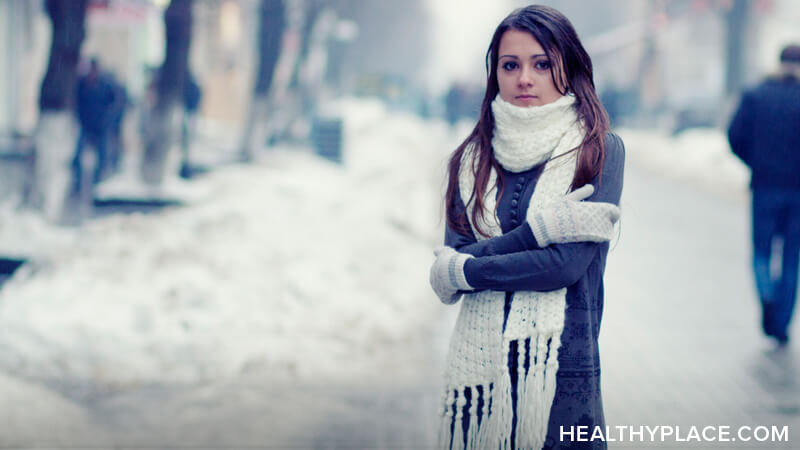 Seasonal Affective Disorder (SAD) Tips: Help for SAD
Autumn is deepening, and for many that means the return of seasonal affective disorder (SAD). SAD is a mood disorder that can be triggered by the lower light of autumn and winter. It can cause depression symptoms like low or persistently sad mood, fatigue, loss of interest in doing anything, weight changes, and a change in sleeping patterns.
You don't have to resign yourself to another winter of depression. Use these tips to boost your mood and overall mental health:
Use a light box daily. Light boxes can maintain your natural circadian rhythm and affect hormone activity to keep your mood, energy, appetite, and sleep at your typical levels. While considered safe for many, they're not recommended for people with certain medical and mental health conditions. Check with your doctor before starting a lightbox routine.
Begin or increase a meditation practice. Meditation has been shown in studies to help with depression (NICCH, 2016).
Create a list of healthy meals and stock up on easy, nutritious staples like rice, beans, and frozen vegetables and fruit. SAD can make it hard to deal with meals and eating, and being prepared can help.
Develop a list of activities like yoga, puzzles, and reading to make it easier to do things when SAD zaps your motivation.
Seasonal affective disorder creates changes in your brain and body. These tips for dealing with SAD can help put you in charge of your biology so you can minimize SAD this year.
Source:
National Center for Complementary and Integrative Health (NICCH). (2016, April). Meditation: In depth. National Institutes of Health (NIH). Retrieved from https://www.nccih.nih.gov/health/meditation-in-depth
Related Articles Dealing with Seasonal Affective Disorder, Depression
Your Thoughts
Today's Question: If you have experienced seasonal affective disorder (SAD), what are your go-to tips to help your symptoms? We invite you to participate by sharing your thoughts, knowledge, and experiences on the HealthyPlace Facebook page.
----------------------------------------------------------
A Family Full of Addicts - Facebook Live
"Drug use has destroyed our lives." Sean, his wife, and their extended family members - they're all addicts. Now he's worried about what that may mean for his two children.
In this Facebook Live video, we talk to Sean about how the cycle of addiction from generation-to-generation has affected his family. Then, we bring on therapist Jason Lynch, MS, LMHCA, LCACA, ADS, CCTP to speak more on that topic.
----------------------------------------------------------
From HealthyPlace YouTube Channel
Ways to Cope with Anxiety During COVID-19
With a resurgence of COVID-19, anxiety is a real problem for many people. HealthyPlace anxiety blogger, Rizzo Bermio-Gonzales, shares some ways to cope with anxiety during COVID-19 that may help you. Take a look and then check out the Treating Anxiety blog for more helpful insights into anxiety and panic.
Subscribe to the HealthyPlace YouTube channel
----------------------------------------------------------
From the HealthyPlace Mental Health Blogs
On all our blogs, your comments and observations are welcomed. This month is National Suicide Prevention Month. See what our bloggers are talking about.
Feel free to share your thoughts and comments at the bottom of any blog post. And visit the mental health blogs homepage for the latest posts.
----------------------------------------------------------
Most Popular HealthyPlace Articles Shared by Facebook Fans
Here are the top 3 mental health articles HealthyPlace Facebook fans are recommending you read:
If you're not already, I hope you'll join us/like us on Facebook too. There are a lot of wonderful, supportive people there.
----------------------------------------------------------
Positivity Quotes for Life with Mental Illness
Positive life quotes remind us that no matter how difficult it is, that "Healing is absolutely possible. Don't underestimate the power of positivity.
Read more positivity quotes here.
----------------------------------------------------------
That's it for now. If you know of anyone who can benefit from this newsletter or the HealthyPlace.com site, I hope you'll pass this onto them. You can also share the newsletter on any social network you belong to by clicking the links below. For updates throughout the week, follow HealthyPlace on Twitter or become a fan of HealthyPlace on Facebook. Also, check out HealthyPlace on Instagram and YouTube.
APA Reference
Peterson, T. (2020, November 10). Seasonal Affective Disorder (SAD) Tips: Help for SAD, HealthyPlace. Retrieved on 2023, December 11 from https://www.healthyplace.com/other-info/mental-health-newsletter/seasonal-affective-disorder-sad-tips-help-for-sad
Last Updated: November 23, 2020