Stigma Can Make Mental Illness More Difficult
HealthyPlace Mental Health Newsletter
Here's what's happening on the HealthyPlace site this week:
----------
Advertisement
Alzheimer's Affects the Entire Family
As a participant in the MINDSET study, Alzheimer's patients and their caregivers can have access to study-related medical care from specialized teams in this field. Participants can continue to see their regular doctor(s) while participating in this study, and medical insurance is not required to participate. Visit AlzheimersGlobalStudy.com to find out if you or your loved one is eligible.
----------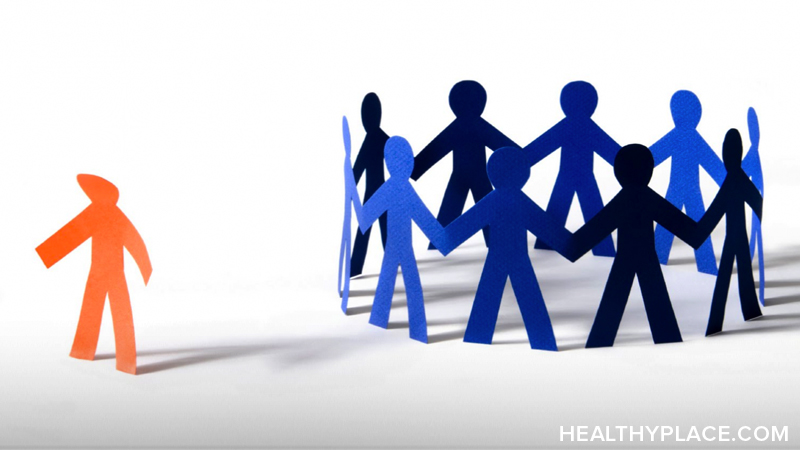 Stigma Can Make Mental Illness More Difficult
Stigma negatively impacts people dealing with mental health challenges. The results of stigma are damaging to someone facing it, but whether it's societal stigma or self-stigma, it doesn't have to ruin someone's life.
Stigma can be described as the thoughts and opinions of others regarding someone living with mental illness. When these thoughts and beliefs are uninformed and prejudicial, this stigma can lead to discrimination. It can be partially because of stigma that people with mental illness sometimes face difficulties in employment, relationships, housing, and more. Challenges of living with mental illness increase when the thoughts that underlie stigma lead to prejudice and discrimination.
Sometimes, people living with mental health challenges stigmatize themselves. This self-stigma is a form of self-bullying (Living with a Mental Illness and Self-Stigma). Mental illness can be hard to live with, and when people berate themselves for having a mental illness, criticizing themselves harshly and using negative labels to describe themselves, their lives become even more difficult.
Separating the brain from the mind is an important step in beating stigma. The brain is an organ that can become ill, whereas the mind is the essence of who we are. When we realize that mental illness isn't who we are, we are on our way to defeating stigma and self-stigma.
Related Articles Dealing with Decision-Making and Mental Illness
Your Thoughts
Today's Question: How has mental health stigma affected you? We invite you to participate by commenting and sharing your feelings, experiences and knowledge on the HealthyPlace Facebook page and on the HealthyPlace Google+ page.
---
---
Share our Stories
At the top and bottom of all our stories, you'll find social share buttons for Facebook, Google+, Twitter, Pinterest and other social sites. If you find a particular story, video, psychological test or other HealthyPlace feature helpful, there's a good chance others in need will too. Please share.
We also get many inquiries about our linking policy. If you have a website or blog, you can link to any page on the HealthyPlace website without asking us beforehand.
Most Popular HealthyPlace Articles Shared by Facebook Fans
Here are the top 3 mental health articles HealthyPlace Facebook fans are recommending you read:
If you're not already, I hope you'll join us/like us on Facebook too. There are a lot of wonderful, supportive people there.
------------------------------------------------------------------
From the HealthyPlace Mental Health Blogs
On all our blogs, your comments and observations are welcomed.
Feel free to share your thoughts and comments at the bottom of any blog post. And visit the mental health blogs homepage for the latest posts.
------------------------------------------------------------------
Stand Up for Mental Health
Thousands Have Joined the Stand Up for Mental Health Campaign
But we still need you. Let others know there's no shame in having depression, anxiety, bipolar disorder, trichotillomania, OCD, ADHD, schizophrenia or any other mental illness.
Join the Stand Up for Mental Health campaign. Put a button on your website or blog (buttons for family members, parents, mental health professionals and organizations too). We also have covers for Facebook, Twitter and Google+.
------------------------------------------------------------------
Latest Mental Health News
These stories and more are featured on our mental health news page:
Pilot Study Shows Meditation Can Help US Veterans Manage Chronic Pain
High School Students Going To Bed Between 10 And 11 P.M. On Weekdays Get Better Grades
Sustained Aerobic Exercise Increases Adult Neurogenesis In The Brain
Concussion Triples Or Quadruples Risk Of Suicide
New Non-Invasive Form Of Vagus Nerve Stimulation Works To Treat Depression
UCI Researchers Link Compulsive Facebook Checking To Lack Of Sleep
CBT And Antidepressants 'Equally Effective' For Major Depression
That's it for now. If you know of anyone who can benefit from this newsletter or the HealthyPlace.com site, I hope you'll pass this onto them. You can also share the newsletter on any social network (like facebook, stumbleupon, or digg) you belong to by clicking the links below. For updates throughout the week:
back to: HealthyPlace.com Mental-Health Newsletter Index
APA Reference
Peterson, T. (2016, June 3). Stigma Can Make Mental Illness More Difficult, HealthyPlace. Retrieved on 2023, December 11 from https://www.healthyplace.com/other-info/mental-health-newsletter/stigma-can-make-mental-illness-more-difficult
Last Updated: June 3, 2016