Suicide: The Ultimate Consequence of Stigma
Here's what's happening on the HealthyPlace site this week:
---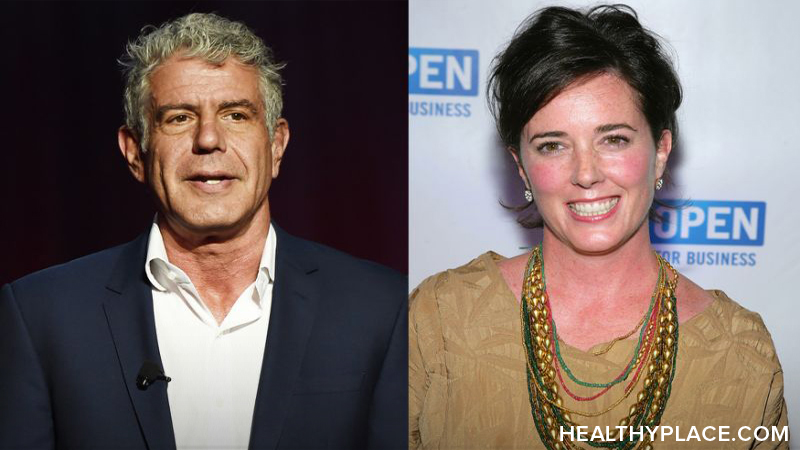 Suicide: The Ultimate Consequence of Stigma
Unfortunately, stigma is real. People are judged for the state of their mental health. People do face loss and die by suicide because of the misunderstandings that drive stigma. The stigma-induced fear of judgment, loss, and other consequences can drive people to withdraw. From deep within themselves, they suffer silently, afraid to reach out, to talk, and to seek professional mental health help.
The ultimate loss that can result from stigma is the loss of life. When people don't receive adequate help for whatever mental illness or mental health challenge they face, the risk of suicide increases.
Kate Spade, Anthony Bourdain: Their Suicides are Proof Stigma is Real
We've seen this, not for the first time, in the recent deaths of high-profile designer Kate Spade and star of the culinary world, Anthony Bourdain. Both died by suicide. Both plastered on fake smiles and showed the world happiness, confidence, success, and positivity. Both were hiding inner pain.
Kate Spade was reportedly suffering from depression and anxiety, according to her husband, Andy Spade, but her sister speculates that Spade's symptoms pointed to bipolar disorder. She supposedly refused treatment because she didn't want to tarnish her "Happy Kate" image. Bourdain battled depression. He saw a doctor once but chose not to follow the doctor's advice. Neither could face the consequences of the stigma that could come from opening up, from admitting that they needed help. Both suffered silently and alone, and in the end, they lost.
Studies show that getting help works. It can save lives. Further, "interventions that reduce self stigma, stigma-stress and shame might successfully reduce suicidality." Stigma is ignorance. People's lives, your life, has value beyond that ignorance. If you need help, please reach out. These resources can help:
Related Articles Dealing with Stigma and Suicide
Your Thoughts
Today's Question: Has stigma kept you from getting mental health treatment? We invite you to participate by sharing your thoughts, experiences, and knowledge on the HealthyPlace Facebook page and on the HealthyPlace Google+ page.
From the HealthyPlace Mental Health Blogs
On all our blogs, your comments and observations are welcomed.
Feel free to share your thoughts and comments at the bottom of any blog post. And visit the mental health blogs homepage for the latest posts.
------------------------------------------------------------------
From HealthyPlace YouTube Channel
I'm Hannah. I Have Bipolar 2
Bipolar and Dating: When Do You Reveal You Have Bipolar?
When it comes to dating with bipolar disorder, there is no perfect time to reveal your diagnosis. However, it is important to get familiar with a person's character and intentions before doing so. Bipolar disorder is not only a personal part of our lives, it is one that makes us extremely vulnerable. (Watch Hannah)
------------------------------------------------------------------
Most Popular HealthyPlace Articles Shared by Facebook Fans
Here are the top 3 mental health articles HealthyPlace Facebook fans are recommending you read:
If you're not already, I hope you'll join us/like us on Facebook too. There are a lot of wonderful, supportive people there.
------------------------------------------------------------------
Mental Health Quote
"Self-care is how you take your power back."
Read more mental health quotes.
------------------------------------------------------------------
That's it for now. If you know of anyone who can benefit from this newsletter or the HealthyPlace.com site, I hope you'll pass this onto them. You can also share the newsletter on any social network (like facebook, stumbleupon, or google+) you belong to by clicking the links below. For updates throughout the week, circle HealthyPlace on Google+, follow HealthyPlace on Twitter or become a fan of HealthyPlace on Facebook. Also, check out HealthyPlace on Pinterest and share your mental health pins on our Share Your Mental Health Experiences board.
APA Reference
Peterson, T. (2018, June 11). Suicide: The Ultimate Consequence of Stigma, HealthyPlace. Retrieved on 2023, December 2 from https://www.healthyplace.com/other-info/mental-health-newsletter/suicide-the-ultimate-consequence-of-stigma
Last Updated: June 12, 2018