Take Back Your Life from Mental Illness: Volunteer
HealthyPlace Mental Health Newsletter
Here's what's happening on the HealthyPlace site this week: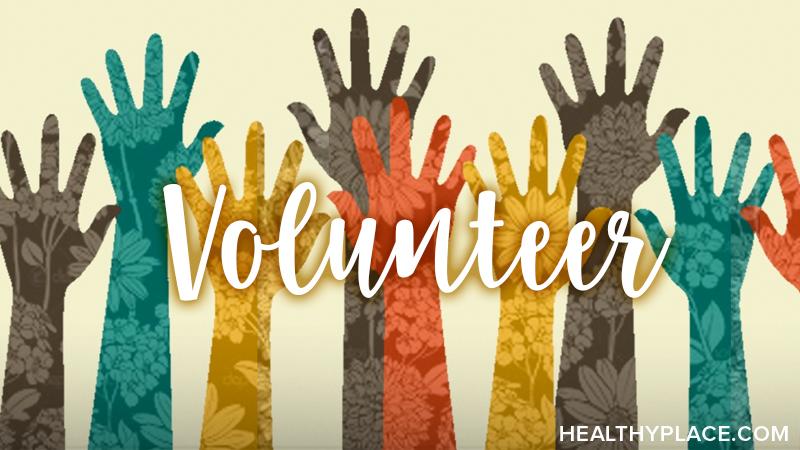 Take Back Your Life from Mental Illness: Volunteer
Mental illness messes with lives. It can make the basic tasks of living seem impossibly difficult, and it can interfere with relationships. Mental illness can even make it hard to find or maintain employment. If mental illness has disrupted your life, consider volunteer work to reclaim your life, your passions, and yourself.
It's not uncommon for people living with mental illness to become isolated and feel alone. Frequently, people hate this isolation and loneliness but have difficulty overcoming it thanks to symptoms, effects of stigma, and more. Here's why volunteering works to break free from the trap in which mental illness tries to keep you. Volunteering:

Interested in volunteering? Check local community centers, religious organizations, mental health organizations, humane societies, or other groups to discover opportunities
Related Articles Dealing with Mental Illness and Volunteering
Your Thoughts
Today's Question: In what ways has doing volunteer work helped your mental health? We invite you to participate by commenting and sharing your feelings, experiences and knowledge on the HealthyPlace Facebook page and on the HealthyPlace Google+ page.
---
---
From the HealthyPlace Mental Health Blogs
On all our blogs, your comments and observations are welcomed.
Feel free to share your thoughts and comments at the bottom of any blog post. And visit the mental health blogs homepage for the latest posts.
------------------------------------------------------------------
From HealthyPlace YouTube Channel
What is it Like Living with Bipolar 2?
What is it like living with bipolar 2 disorder? What has life been like living with bipolar 2? These are two questions I receive and struggle to answer because I do not know what life is like living without bipolar depression. The mood swings, the intense emotions, and wild imagination are elements of my life that I have grown to accept as a part of me.
------------------------------------------------------------------
Most Popular HealthyPlace Articles Shared by Facebook Fans
Here are the top 3 mental health articles HealthyPlace Facebook fans are recommending you read:
If you're not already, I hope you'll join us/like us on Facebook too. There are a lot of wonderful, supportive people there.
------------------------------------------------------------------
Mental Health Quote
"When she is happy, she can't stop talking. When she is sad, she doesn't say a word".
Read more bipolar quotes.
------------------------------------------------------------------
That's it for now. If you know of anyone who can benefit from this newsletter or the HealthyPlace.com site, I hope you'll pass this onto them. You can also share the newsletter on any social network (like facebook, stumbleupon, or google+) you belong to by clicking the links below. For updates throughout the week, circle HealthyPlace on Google+, follow HealthyPlace on Twitter or become a fan of HealthyPlace on Facebook. Also, check out HealthyPlace on Pinterest and share your mental health pins on our Share Your Mental Health Experiences board.
back to: HealthyPlace.com Mental-Health Newsletter Index
APA Reference
Peterson, T. (2017, February 1). Take Back Your Life from Mental Illness: Volunteer , HealthyPlace. Retrieved on 2023, December 8 from https://www.healthyplace.com/other-info/mental-health-newsletter/take-back-your-life-from-mental-illness-volunteer
Last Updated: May 8, 2017