You Can Receive Mental Health Help Remotely
Here's what's happening on the HealthyPlace site this week:
---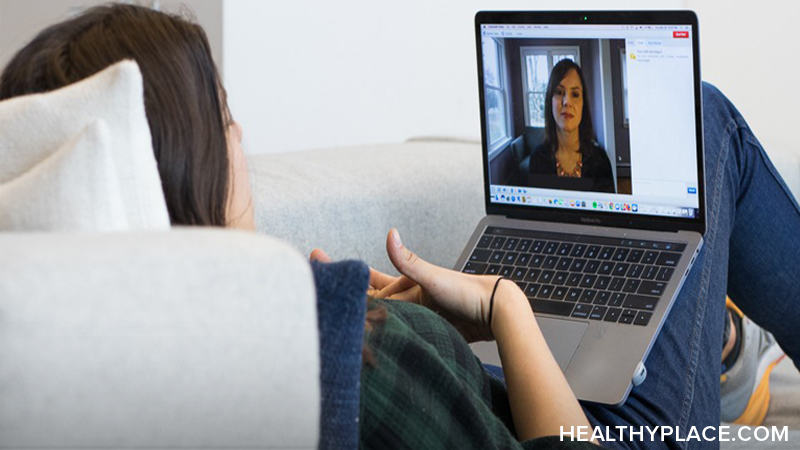 You Can Receive Mental Health Help Remotely
Mental health help is available for anyone needing extra support. Whether you're experiencing coronavirus anxiety or a worsening of another mental health condition due to the COVID-19 outbreak or your needs are unrelated to it, you can connect with professional or peer support when you need it right from home.
HealthyPlace offers mental health resources and support. See HealthyPlace's "Mental Health Information" page for a list of useful articles covering the basics of mental health and mental illness.
Receive Professional Mental Health Therapy Online
If you currently see or have seen a therapist, he or she might offer online sessions. A quick visit to their website or call to their office can let you know. If you don't have a therapist or your therapist isn't offering remote sessions, you still have options. Consider online therapy with an established, reputable service such as
Get Anxiety, Depression Diagnosis and Treatment Online
With a shortage of psychiatrists, it's difficult to book an appointment as a new patient. If you were suffering with depression and/or anxiety and needed treatment, would it be helpful to you to go online, talk to a doctor, be formally diagnosed and then, if needed, receive antidepressant medication in the mail? That's what several new companies are offering. And they do it for less than $100. Some even accept insurance.
Call a HelpLine for Immediate Support
Many organizations offer help and support via phone (some offer online chat or texting connections, too). Some operate 24/7 while others have set times of operation.  Among them:
You don't have to physically connect with someone in order to receive mental health support. Reach out to reputable sources for long-distance human connection and help.
Related Articles Dealing with Mental Health Help
Your Thoughts
Today's Question: How are you staying connected to others for mental health help and support? We invite you to participate by sharing your thoughts, experiences, and knowledge on the HealthyPlace Facebook page.
From the HealthyPlace Mental Health Blogs
On all our blogs, your comments and observations are welcomed.
Feel free to share your thoughts and comments at the bottom of any blog post. And visit the mental health blogs homepage for the latest posts.
------------------------------------------------------------------
Most Popular HealthyPlace Articles Shared by Facebook Fans
Here are the top 3 mental health articles HealthyPlace Facebook fans are recommending you read:
If you're not already, I hope you'll join us/like us on Facebook too. There are a lot of wonderful, supportive people there.
------------------------------------------------------------------
Mental Health Quote
"I'm normal just like any of you. I'm just a little sensitive."
Read more bipolar quotes.
------------------------------------------------------------------
That's it for now. If you know of anyone who can benefit from this newsletter or the HealthyPlace.com site, I hope you'll pass this onto them. You can also share the newsletter on any social network (like facebook or stumbleupon) you belong to by clicking the links below. For updates throughout the week, follow HealthyPlace on Twitter or become a fan of HealthyPlace on Facebook. Also, check out HealthyPlace on Instagram, YouTube and Pinterest, where you can share your mental health pins on our Share Your Mental Health Experiences board.
APA Reference
Peterson, T. (2020, April 6). You Can Receive Mental Health Help Remotely, HealthyPlace. Retrieved on 2023, December 5 from https://www.healthyplace.com/other-info/mental-health-newsletter/you-can-receive-mental-health-help-remotely
Last Updated: April 16, 2020