Impact of Antidepressants in Pregnancy on Unborn Child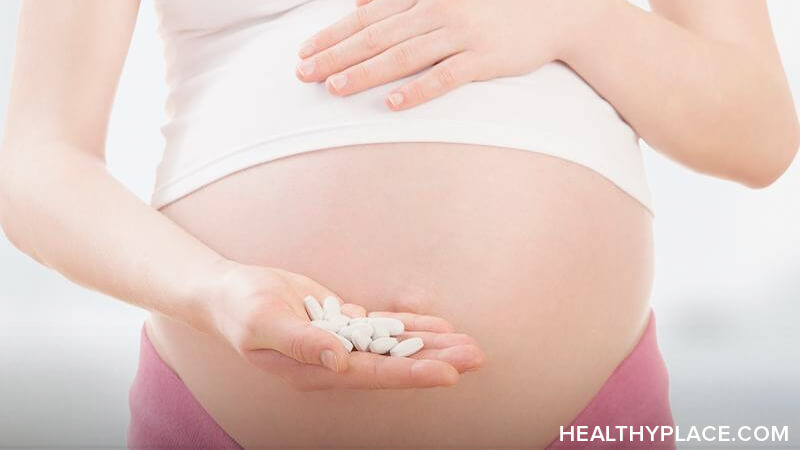 Results of recent studies on antidepressant use during pregnancy are a bit confusing, but do show it's important to consider the mental health of the mother.
In-Utero Antidepressant Exposure
Data on the risk of fetal malformations and adverse peripartum events associated with in-utero exposure to antidepressants are reassuring, especially with regard to the tricyclics and some of the selective serotonin reuptake inhibitors (SSRIs). Prospective data on the longer-term neurobehavioral sequelae associated with such exposure are much more limited, however.
In the last several years, some studies have been published in which researchers tracked neurobehavioral function over a period of months to years in children exposed to SSRIs in-utero. While it's exciting to have some new information in this previously uncharted area, some of the data are inconsistent and have led to confusion among patients and health care providers.
A recent study conducted by investigators at the Motherisk Program at the University of Toronto prospectively evaluated the neurodevelopment of 86 children aged 15-71 months who were exposed to fluoxetine (Prozac) or a tricyclic antidepressant throughout pregnancy.
The study showed no differences in well-established neurobehavioral indices between these children and 36 unexposed children of non-depressed women (Am. J. Psychiatry 159[11]:1889-95, 2002). This study was a follow-up to an earlier study that looked at neurobehavioral function in children exposed to these medications only during the first trimester, and the results were consistent.
Of note, the duration of maternal depression was a significant negative predictor of cognitive function in children; for example, the number of depressive episodes after delivery was negatively associated with language scores. These data support the now well-established finding that an uncontrolled postpartum mood disorder can have adverse effects on the baby's neurocognitive development.
In a study published in April, Stanford University investigators compared the perinatal and neurobehavioral outcomes of 31 children exposed in utero to fluoxetine, sertraline (Zoloft), fluvoxamine (Luvox), or paroxetine (Paxil), with those of 13 children whose mothers had a major depressive disorder and received psychotherapy but did not take medication during their pregnancies.
When evaluated between ages 6 months and 40 months, the SSRI-exposed children had significantly lower scores on psychomotor indices and on neurobehavioral function (J. Pediatr. 142[4]:402-08, 2003).
On the surface, the results of these two studies are somewhat confusing: Among the possible explanations for the different findings are methodologic limitations of the Stanford study. The Motherisk study was a controlled study in which maternal mood during pregnancy and the postpartum period was assessed prospectively. But the mood of women in the Stanford study was not prospectively assessed; a significant number had already given birth when they were asked to recall what their mood was during pregnancy. As a result, the impact of antidepressant therapy on their mood is unknown. This is a major confounding factor because of the considerable data indicating that maternal mood disorders can adversely affect neurobehavioral function in children.
The results of the Stanford study are interesting, but given these methodologic limitations, it is particularly difficult to draw any conclusions from it or to use the findings to inform clinical care. There certainly is nothing in these findings to suggest that women should avoid taking antidepressants during pregnancy.
The Stanford authors, who acknowledged the difficulty in controlling for certain confounding variables and concluded that it should be viewed as a pilot study, should still be commended for their efforts to perform prospective neurobehavioral assessments and address the potential for behavioral teratogenicity--information that is profoundly lacking in the literature.
Multiple studies have shown the importance of keeping women euthymic during pregnancy, in light of the adverse effects of maternal depression on perinatal outcome and the extent to which maternal depression in pregnancy predicts postpartum depression.
In future studies, it will be important to include prospective assessments of both maternal mood and drug exposure, so the two variables can be teased apart in terms of their relative contribution to both perinatal outcome and long-term neurobehavioral outcome.
Dr. Lee Cohen is a psychiatrist and director of the perinatal psychiatry program at Massachusetts General Hospital, Boston. He is a consultant for and has received research support from manufacturers of several SSRIs. He is also a consultant to Astra Zeneca, Lilly and Jannsen - manufacturers of atypical antipsychotics. He originally wrote this article for ObGyn News.
APA Reference
Staff, H. (2009, January 7). Impact of Antidepressants in Pregnancy on Unborn Child, HealthyPlace. Retrieved on 2023, December 9 from https://www.healthyplace.com/other-info/mental-illness-overview/impact-of-antidepressants-in-pregnancy-on-unborn-child
Last Updated: July 3, 2019