Bipolar Self Help, Support Groups: Where to Find One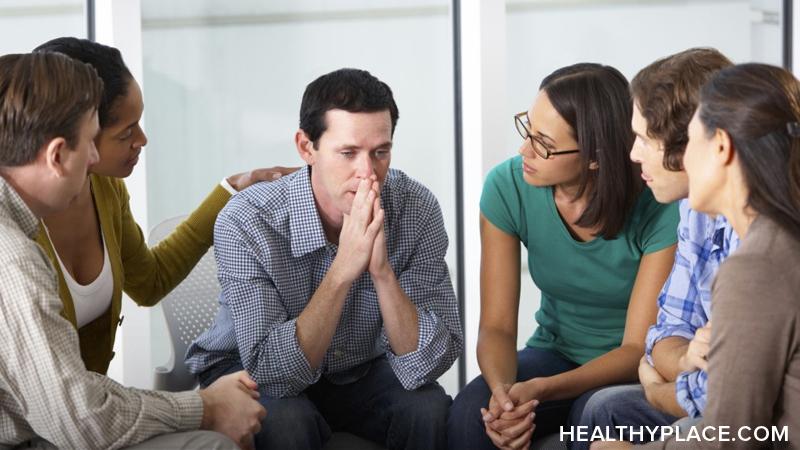 Bipolar self-help and support groups can be found in most towns in the United States and online (see here for more information on online bipolar support groups), and many people find them a very helpful part of their bipolar recovery. Families of those with bipolar disorder can also find support groups and they, too, often find them helpful.
What Are Bipolar Support and Self-Help Groups?
Bipolar support groups are a place where people with bipolar disorder or their family members can meet others like them and discuss the issues associated with their illness. These groups can be led by:
Peers (those with bipolar or a loved one)
Trained group leaders (usually also with lived experience of bipolar disorder)
Professionals, such as psychologists
Bipolar support groups usually last about an hour, sharing at them is optional, and they are typically free of charge.
Benefits of Bipolar Self-Help Groups
There are many benefits to support groups for those with mental illness or a bipolar support group for families.
Firstly, people often feel alone when they deal with mental illness either as a loved one or the person with the illness. People feel like they're the only one who is sick and that they're the "craziest" person in the world or a "freak" (How to Deal with the Stigma of Bipolar Disorder). When you meet others with bipolar disorder and see how alike they all are, there is relief in knowing that you have a community and not one of you is a "freak" or "crazy."
Secondly, people in bipolar self-help groups often share coping techniques with each other. So while one person may share a stressor that he or she is having, another person in the group may suggest a bipolar disorder coping strategy that can work in that situation.
Thirdly, people often develop social bonds in support groups. While some with bipolar disorder isolate themselves on a regular basis, meeting others like them can form friendships that exist outside the support group.
These benefits are very similar to the ones that loved one's experience. They, too, need community and need to meet others like them. They also need to learn coping techniques for dealing with the challenging situations that often arise when being close to a person with a serious mental illness like bipolar disorder.
Where to Find Support Groups for Those with Bipolar and Their Families
You can find a support group near you with these resources:
In the United States, both NAMI and the DBSA run support groups in many places both for people with bipolar disorder and their families. Additionally, they are good sources of information on mental illness. If one is not being run in your area, they can usually help you set one up.
Local mental health groups, charities, and healthcare organizations also often run bipolar and family support groups. To find a support group near you, it's often helpful to check with your doctor. It can also be helpful to use this Behavioral Health Treatment Services Locator (offered by the Substance Abuse and Mental Health Services Administration [SAMHSA]).
APA Reference
Tracy, N. (2021, December 28). Bipolar Self Help, Support Groups: Where to Find One, HealthyPlace. Retrieved on 2023, October 3 from https://www.healthyplace.com/self-help/bipolar-disorder/bipolar-self-help-support-groups-where-to-find-one
Last Updated: January 7, 2022