Nutrition and Mental Health: What You Eat Makes a Difference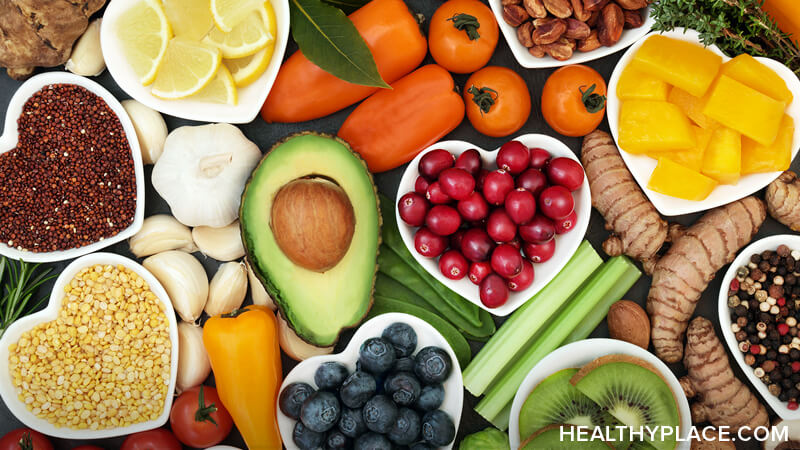 Researchers have determined there's a strong correlation between nutrition and mental health. The foods you eat can have an impact on your mental health, so it's important to take a look at what foods you're eating, how they make a difference, and why (a food and mood diary can help with that).
How Does Nutrition Affect Mental Health?
Having proper nutrition to take care of your mental health isn't a curative, but studies have shown, and dieticians agree, that what you eat does indeed make a difference and that there are good foods for mental health. Therefore, you may want to include a diet change in your mental health and wellbeing toolbox. Having a healthier diet and avoiding junk food, high sugar foods, and high fat foods is a great place to start, but delving deeper, it becomes apparent that there are certain types of food that have a greater impact.
Foods that are rich in vitamins and proteins make the most difference because these are thought to play a role in the brain's production of serotonin, dopamine, and other brain chemicals that contribute to and control moods. Therefore, when the body has a deficiency in certain vitamins and proteins, it may be the cause of low moods and even contribute to mental illnesses such as depression and anxiety. (Want some food mood boosters? Read this)
While the simple solution might seem to be taking a lot of supplements, greater results will be seen when eating the foods themselves because of the way our bodies absorb the nutrients. The concentration of the nutrients coming from an organic source (better) versus a supplement may also be different and therefore have a different range of effectiveness.
What Types of Foods Should I Eat?
One of the keys to nutrition and mental health is eating a variety of healthy options that are, again, rich in vitamins and proteins. Particular vitamins to watch out for are B vitamins, such as B12, which has been linked to helping decrease irritability and depression. Nutritionists and dieticians also recommend non-processed organic fruits, vegetables, and meats because these will have the highest concentration of the needed nutrients.
Books on Nutrition and Mental Health
For further reading on the relationship between nutrition and mental health, here are three books to consider.
Food and Mood: Second Edition: The Complete Guide To Eating Well and Feeling Your Best by Elizabeth Somer, M.A., R.D.: This book examines how the foods you eat affect your mood for better or for worse and why, while also offering tips on the best food combinations to elevate your mood, fight fatigue, and boost brain power.
The Food and Mood Handbook: Find Relief at Last from Depression, Anxiety, PMS, Cravings and Mood Swings by Amanda Geary: Supported by MIND mental health charity, this book acts as a guide to eating better and improving your mood. It also includes recipes and self-help tips from those who participated in the creation of the book.
Optimum Nutrition for the Mind by Patrick Holford: Like the other books, this one examines how food affects the mind and moods. Using scientific evidence, the author outlines how anyone of any age can make a difference in their mental health through nutrition.
APA Reference
Barton, L. (2021, December 30). Nutrition and Mental Health: What You Eat Makes a Difference, HealthyPlace. Retrieved on 2023, December 2 from https://www.healthyplace.com/self-help/food-mental-health/nutrition-and-mental-health-what-you-eat-makes-difference
Last Updated: March 25, 2022