Create a Positivity Jar to Remember Good Times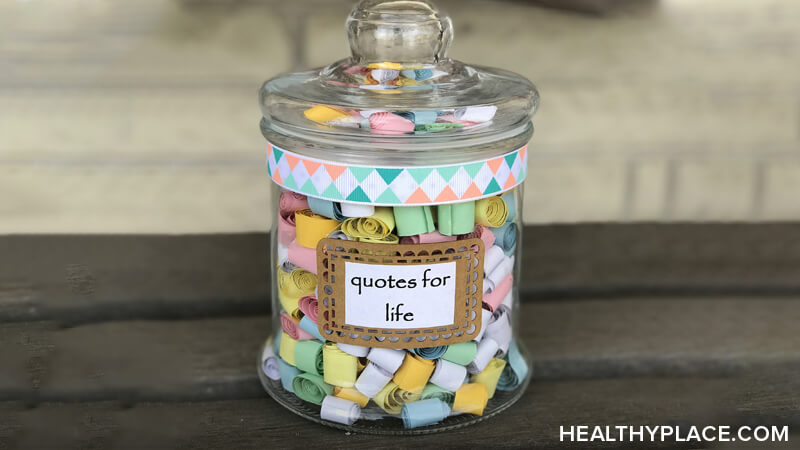 Creating a positivity jar is a great way to remember good times. When we are positive and full of confidence, we often want to bottle that feeling to use as a tonic for more difficult times. With a positivity jar, you can do just that. Whether you're suffering a bout of mental illness or you're simply feeling low, putting together a positivity jar is a creative and therapeutic exercise. It also gives you a tangible store of memories and positive reminders to access while your mind is on the mend.
What Is a Positivity Jar?
A positivity jar is a container filled with all items, quotes and mementos that make you feel good. When starting a positivity jar, you can use a jam jar, flower vase, or just about any vessel that feels special to you. It's important to keep your jar within reach so you can fill it up with pieces of positivity whenever the moment strikes. The idea is to gradually add to your positivity jar, then use its contents to boost your mood whenever you feel the need.  
"Enjoy the little things, for one day you'll look back and realize they were the big things." ~ Kurt Vonnegut
What Goes Into a Positivity Jar?
What you put in your positivity jar is completely up to you. You can either add a positive thought, quote or memory each day, or you can add to it sporadically. What matters is that your jar is filled with words, images and memories that make you feel happy and connected.  
During tough times, it can be hard to summon the creativity for original ideas, so here are some positivity prompts to inspire you ("How to Focus on the Positive When Your Mental Health is a Mess").
Positivity jar quotes and notes: Fill your jar with positivity quotes and notes to look back on when you're struggling. You can include messages from friends, cards you've been given, quotes from your favorite authors or reminders of the nice things people have said to you. These words and affirmations will serve as positive reinforcement for your brain and, eventually, overwrite your negative thoughts.
Photographs: Photos can summon a wide range of emotions – love for the people in our lives, sadness for those we have lost, longing for the times that have passed – but they can also be incredibly grounding, connecting us back to our roots. Choose photos that make you feel cradled and safe, such as photobooth reels of you and your best friend, or snapshots of you and your siblings from childhood.
Books you have read: Jotting down simple notes about books you have read will remind you of all the incredible journeys you have taken in fictional or long-forgotten worlds. You'll also remember the books that have helped you through life's challenges, so you can return to them at any time.  
Goals and aspirations: You may not feel good about your goals and aspirations when times are tough, however, reminding yourself of the times you've been excited for the future will help you remember how to believe in yourself. You can also jot down goals you've achieved (however small).
New people you meet: If you're a writer, keeping notes about the people you meet can be incredibly useful when it comes to creating characters. You can also jot down positive qualities you spot in others to remind yourself that there is beauty to be found in everyone and everything. Keep a note of anyone you find to be particularly inspiring.
Start Your Positivity Jar Today
Creating a positivity jar is like giving yourself a thoughtful gift. You can include all the parts of your life that make you happy, as well as the inspiration you seek from the outside world. If you know someone who is going through a hard time or battling mental illness, a positivity jar is a wonderful token or gift to help brighten up a dark day.
APA Reference
Smith, E. (2021, December 31). Create a Positivity Jar to Remember Good Times , HealthyPlace. Retrieved on 2023, December 11 from https://www.healthyplace.com/self-help/positivity/create-a-positivity-jar-to-remember-good-times
Last Updated: March 25, 2022