Causes of Schizoaffective Disorder
Some believe the cause of schizoaffective disorder is associated with schizophrenia, others think it's related to mood disorders.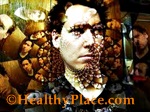 The cause of schizoaffective disorder remains unknown and subject to continuing speculation. Some investigators believe schizoaffective disorder is associated with schizophrenia and may be caused by a similar biological predisposition. Others disagree, stressing schizoaffective disorder's similarities to mood disorders such as depression and bipolar disorder (manic depression). They believe its more favorable course and less intense psychotic episodes, are evidence that schizoaffective disorder and mood disorders share a similar cause.
Many researchers, however, believe schizoaffective disorder may owe its existence to both disorders. These researchers believe that some people have a biologic predisposition to symptoms of schizophrenia that varies along a continuum of severity. On one end of the continuum are people who are predisposed to psychotic symptoms but never display them. On the other end of the continuum are people who are destined to develop outright schizophrenia. In the middle are those who may at some time show symptoms of schizophrenia, but require some other major trauma to set the progression of the disease into motion. It may be an early brain injury--either through a complicated delivery, prenatal exposure to the flu virus or illicit drugs; or it may be emotional, nutritional or other deprivation in early childhood. In this view, major life stresses, or a mood disorder like depression or bipolar disorder, may be sufficient to trigger the psychotic symptoms. In fact, patients with schizoaffective disorder frequently experience depressed mood or mania within days of the appearance of psychotic symptoms. Some clinicians believe that "schizomanic" patients are fundamentally different from "schizodepressed" types; the former are similar to bipolar patients, while the latter are a very heterogeneous group.
Symptoms of schizoaffective disorder vary considerably from patient to patient. Delusions, hallucinations, and evidence of disturbances in thinking--as observed in full-blown schizophrenia--may be seen. Similarly mood fluctuations such as those observed in major depression or bipolar disorder may also be seen. These symptoms tend to appear in distinct episodes that impair the individual's ability to function well in daily life. But between episodes, some patients with schizoaffective disorder remain chronically impaired while some may do quite well in day-to-day living.
---
---
next: Associated Features of Schizoaffective Disorder
~ back to articles on the schizophrenia library
~ all articles on schizophrenia
~ all articles on schizoaffective disorder
~ thought disorders homepage
APA Reference
Gluck, S. (2007, March 2). Causes of Schizoaffective Disorder, HealthyPlace. Retrieved on 2023, December 4 from https://www.healthyplace.com/thought-disorders/schizophrenia-articles/causes-of-schizoaffective-disorder
Last Updated: March 27, 2017