Caring for the Schizoaffective Patient
Hierarchy chart for treatment of a patient with Schizoaffective Disorder.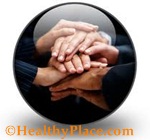 Further Inpatient Care:
Patients may require further inpatient care if they represent a danger to themselves or to others or they are gravely disabled.
Further Outpatient Care:
For best results, patients require medication management and therapy.
In/Out Patient Meds:
As an inpatient who is schizoaffective makes the transition to being an outpatient, stressing the importance of medication compliance is very crucial.

Patients with schizoaffective disorder often lack judgment and insight into their illness. They commonly refuse to continue the medications started in the hospital once they are discharged. This also could be due to adverse effects of the medication, such as sedation and weight gain.
Patients who are schizoaffective begin to feel better as a result of their medications and believe that they no longer need to take them. This leads to the discontinuation of medication and results in the patient returning to the hospital within the next several weeks or so.
If possible, select medications that allow once-a-day dosing or those that are long acting, such as decanoate injections, to help with patient compliance.
Also, discuss compliance with a family member. Always discuss all the risks, benefits, adverse effects, and alternatives of each medication with the patient and family.
Obtain informed consent before starting medication therapy.
Transfer:
Medical surgical hospital, if needed
Residential or group home, if needed
Complications:
Noncompliance with medications is a complication of therapy.
Expressed emotions must be reduced in all areas of a patient's life, including stress-reduction techniques employed to prevent relapse and possible rehospitalization.
Prognosis:
Prognosis lies somewhere between that associated with schizophrenia and that associated with a mood disorder.
Patient Education:
Patients should be educated about the following:

Social skills training
Medication compliance
Reducing expressed emotions
Cognitive rehabilitation
Family therapy
---
---
next: Schizoaffective Disorder: Information for Families
~ back to articles on the schizophrenia library
~ all articles on schizophrenia
~ all articles on schizoaffective disorder
~ thought disorders homepage
APA Reference
Gluck, S. (2007, March 2). Caring for the Schizoaffective Patient, HealthyPlace. Retrieved on 2023, December 1 from https://www.healthyplace.com/thought-disorders/schizophrenia-articles/caring-for-the-schizoaffective-patient
Last Updated: March 27, 2017