St. John's Wort for Depression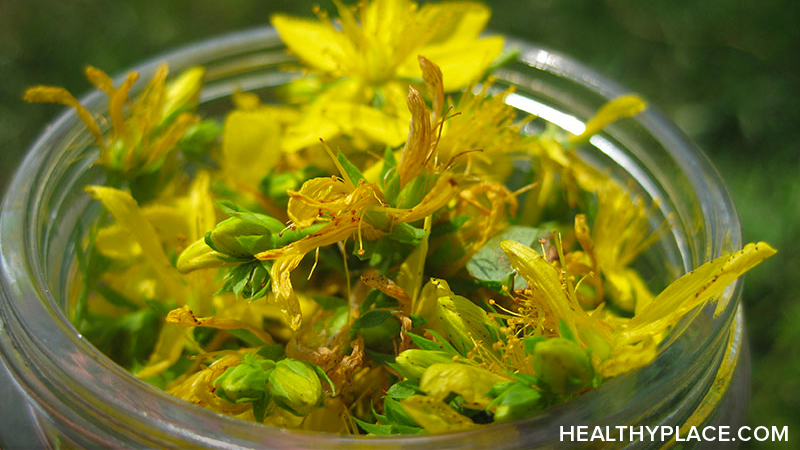 Overview of St. John's Wort as a natural treatment for depression and whether this herbal remedy works in treating depression.
What is St. John's Wort?
St John's wort (Latin name: Hypericum perforatum) is a small plant with a yellow flower that grows wild in Australia and many parts of the world. It is a traditional herbal remedy in Europe, but has only recently been studied scientifically.
How does St. John's Wort work?
The way St John's wort works is not fully understood. However, it is thought to increase the level of chemical messengers (neurotransmitters) in the brain that are thought be in low supply in depressed people.
Is St. John's Wort effective?
There have been a lot of studies comparing the effectiveness of St John's wort with pills that don't have any effect (placebos) and with antidepressant drugs. These studies show that St John's wort works as well as antidepressant drugs for people with mild to moderate depression.
Are there any disadvantages?
A problem with herbal remedies compared to manufactured drugs is that the dose of the active ingredients cannot be precisely controlled. Like all drugs, St John's wort can have side effects, but these are fewer than for antidepressant drugs. The Therapeutic Goods Administration has warned that St John's wort can interact with a number of other medicines. It can reduce the effects of these medicines, or increase the effects once St John's wort is stopped. St John's wort should not be taken in combination with antidepressant tablets prescribed by your doctor for depression. If you are taking any other medication, check with your doctor first.
Where do you get St. John's Wort?
St John's wort is sold in tablet form at health food shops and many supermarkets. St John's wort is also sometimes added to food products (such as herbal tea or breakfast cereal), but there is no evidence that it is effective in this form.
---
---
Recommendation
If you do not want to use an antidepressant drug prescribed by a doctor, and you do not have severe depression, St John's wort might be a useful alternative in treating depression.
Key references
Kim HL, Streltzer J, Goebert D. St. John's wort for depression: a meta-analysis of well-defined clinical trials. Journal of Nervous and Mental Disease 1999; 187: 532-538.
APA Reference
Staff, H. (2008, November 4). St. John's Wort for Depression, HealthyPlace. Retrieved on 2023, December 5 from https://www.healthyplace.com/alternative-mental-health/depression-alternative/st-johns-wort-for-depression
Last Updated: July 11, 2016