What Do Children Need?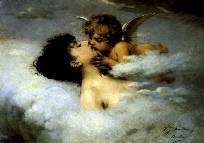 Dear Kristen,
A few weeks ago, we were sitting in the living room. You were playing with Jacob and I was working on a report. I looked up at you and realized that we had hardly said two words to one another for hours. I asked you, "Krissie, what do you think you need to have a happy childhood?" You looked puzzled for a moment and then asked, "Do you mean, what do I need to be the happiest kid in town?" I smiled and replied, "Yea, honey, that's it. What do you need?" You hesitated for a minute and then replied, "You, mom. I just need you." How those words touched me, flooded me with feeling. They reminded me of the tremendous responsibility parenting carries. At the same time, I am graced with the knowledge of how very significant I am in this vast world, in the eyes of a small child. Thank you sweetheart.
Love, Mom
---
continue story below
---
next: What Will You Remember?
APA Reference
Staff, H. (2008, December 28). What Do Children Need?, HealthyPlace. Retrieved on 2023, September 25 from https://www.healthyplace.com/alternative-mental-health/sageplace/what-do-children-need
Last Updated: July 18, 2014