Fear of Flying: Summary
Home Study
Achieving Comfortable Flight
Taking the Anxiety Out of AirlineTravel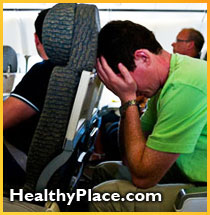 Here is a self-help program for those who are having trouble remaining comfortable during a commercial flight or who now avoid flying because of their fears. You'll learn about how some of the causes of fear of flying, and why flying anxieties are so tough to control. Then you will learn a step-by-step approach to flying comfortably.
WHAT PEOPLE FEAR ABOUT FLYING
panic attacks
weather
closed in spaces
clouds
heights
turbulence
crowds
takeoffs
stuffiness
landings
nausea
flying over water
embarrassing self
traveling more than a certain length of time
being trapped (door closing)
trusting pilots
being out of control
trusting air traffic controllers
crashing
trusting airline industry
dying trusting
the mechanics
being far away from loved ones
trusting the integrity of the plane
How This Self-Help "Fear of Flying" Program Was Created
I had the opportunity to design the first national program for the fearful flier (sponsored by American Airlines). This program is based on that successful seminar and on my years of experience working with people desiring to fly comfortably again. We have also developed a take-home course for those who are afraid to fly, called Achieving Comfortable Flight.
next: How Safe is Commercial Flight?
~ back to Anxieties Site homepage
~ anxiety-panic library articles
~ all anxiety disorders articles
APA Reference
Staff, H. (2009, January 12). Fear of Flying: Summary, HealthyPlace. Retrieved on 2023, September 30 from https://www.healthyplace.com/anxiety-panic/articles/fear-of-flying-summary
Last Updated: June 30, 2016