A Manic Depression Primer: Homepage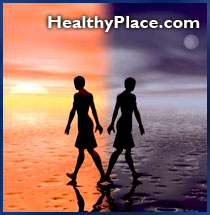 The bipolar (also called the manic-depressive) illness, caused by as yet unknown imbalances of neurotransmitters in the brain, is know to wreak havoc with countless lives in this country and all over the world. My interest in the illness stems from the fact that my father (now deceased) had it (the illness first manifested itself when I was around fourteen or fifteen). Needless to say, it placed significant emotional burden on me and my family. In retrospect however, I realize that a lot of the pain and suffering (for us anyway) was due simply to misinformation and/or lack of information about the illness. Although things are improving, especially in the U.S. and in the western hemisphere at least, I feel that the bipolar illness (unfortunately) still remains taboo and a cause of much unnecessary suffering for the patient and for the family/caregivers involved. This website is my minuscule effort to correct this situation.
During graduate school in the late eighties, I had the privilege of meeting Dimitri Mihalas, then a distinguished professor of astronomy at the University of Illinois at Urbana-Champaign (and a member of the National Academy of Sciences). Though he suffers from the illness, he feels that he has actually "gained" instead of "losing" to it. He has also been a pioneer in attempts to increase public awareness of (and therefore decreasing the stigma associated with) the bipolar illness by the act of being completely open about it. Soon after a major, life-threatening episode of depression (which was treated successfully with medication), he set upon himself the task of composing a primer on manic-depression. Because of his openness, the primer is quite personal and many have thus found it to be useful in gauging their own experience with the illness. It also contains a great deal of useful information, particularly about the spiritual aspects of recovery, and contains a bibliography for those who want to learn more. Someone who read it described it as a "life saver" for her.
Anurag Shankar, Bloomington, Indiana, 2003
Contents in A Manic Depression Primer:

next: Depression and Spiritual Growth: Introduction
~ bipolar disorder library
~ all bipolar disorder articles
APA Reference
Staff, H. (2008, December 30). A Manic Depression Primer: Homepage, HealthyPlace. Retrieved on 2023, December 1 from https://www.healthyplace.com/bipolar-disorder/articles/manic-depression-bipolar-disorder-primer-homepage
Last Updated: March 31, 2017