Suicide and Bipolar Psychosis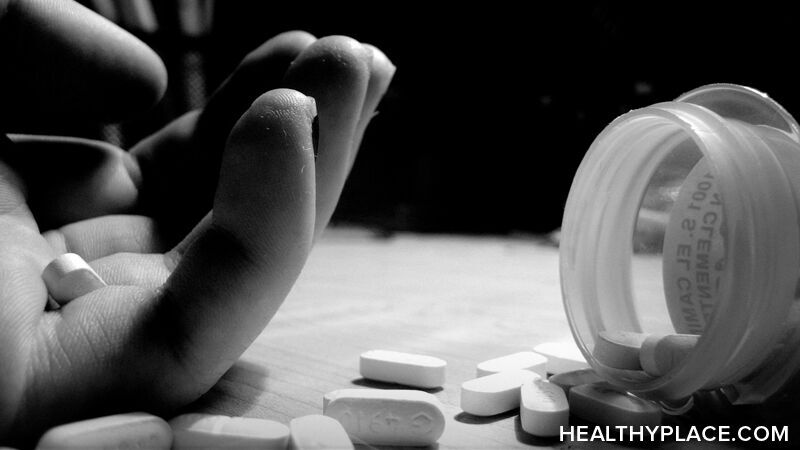 The difference between suicidal thoughts from depression and psychotic suicidal thoughts from bipolar psychosis, psychotic bipolar depression.
This is an area where it's very hard to tell the difference between suicidal thoughts and psychotic suicidal thoughts. Suicidal thoughts of wanting to die and then the thoughts of how you are going to do it would certainly meet my idea of bizarre, but within the psychotic realm they are not considered bizarre as they are coming from the normal feelings of helplessness and worthlessness associated with suicidal depression.
These thoughts tend to repeat themselves over-and-over and can last for days and even months, but there are no voices or visions from the outside that would indicate hallucinations- nor are there signs of delusions as the feelings are not false- they fit the mood. Once again, this is part of the bipolar psychosis continuum. Suicidal thoughts are on the left of the gray area.
Psychotic Thoughts: Voices Are Telling Me to Kill Myself
When a person starts hearing voices telling them to kill themselves or believes that the government is plotting to make them commit suicide, the person has crossed over into psychosis.
I have been suicidal, off and on, with psychotic thoughts for all of my adult life. My experience of suicide is psychotic because I hear voices such as, "You don't belong here. You need to get out of here. You should be dead." I see myself get killed by cars and mauled by dogs. This is quite different than the intense pain, shame, hopelessness, and fear that can come with suicidal depression. When the "I" becomes the "you," it's often the point that bipolar depression becomes psychotic bipolar depression. And, as I mentioned earlier in the article, my hallucination in the car where I thought I had cut my wrists was very vivid and completely bizarre as it's pretty impossible to cut your wrists while you're driving and not remember it, no matter how depressed you may be!
Here is a recap of bipolar depression with psychosis:
Though the thoughts with depression are very uncomfortable and often scary, they are not psychotic in that they match the mood and make sense in terms of your current feelings.
It is more common to have psychosis with depression that is combined with mania (a dysphoric mania or mixed episode) than isolated psychotic depression.
Depressed psychotic symptoms often have hallucinations and delusions around the concepts of decay, disease, and death. These symptoms are very mood congruent.
APA Reference
Fast, J. (2021, December 28). Suicide and Bipolar Psychosis, HealthyPlace. Retrieved on 2023, December 8 from https://www.healthyplace.com/bipolar-disorder/psychosis/suicide-and-bipolar-psychosis
Last Updated: January 7, 2022