Face The Fear And Do It Anyway
'Do the thing you fear most and the death of fear is certain.' – Mark Twain
The best selling book Feel the Fear And Do It Anyway by Susan Jeffers is a must read for anyone suffering with anxiety. Her pearls of wisdom are never ending, and she helps the reader build the confidence they need to act.
Facing Your Fear to Get Rid of Anxiety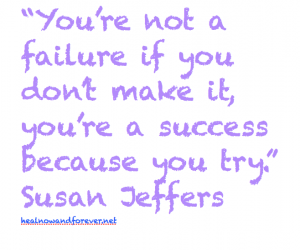 The quickest way to get rid of a fear of doing something, (i.e., speaking in public, driving over a bridge, fear of going to restaurants, going to school, being close to someone) is to do it over and over. Jeffers helps readers prepare to face their fear through exercises showing how they CAN handle it. Then, she encourages you to face it without delay.
We often think that we will do something we have feared once we "are ready." "Ready", we think, is our mind is feeling perfectly confident that we will not feel anxious. We don't have this guarantee, so, unfortunately, this allows not "being ready" to become an excuse. We think we can gain enough confidence and then do something, but our confidence comes and builds up as we try it.
True, a bit of confidence can have us trying it in the first place. (And Jeffers helps with that.) But most often when people tell me accounts of finally doing something they have been afraid of, they often say, "I just did it, before I could think about it." So it wasn't as if they had more confidence, it was that they did not take the time to allow the fear to talk them out of it.
Be Anxious, But Try It Anyway
I was talking to a woman yesterday who put off telling someone something for years. Everyday, thinking, "Today is going to be the day." but delaying it yet again.
Fortunately, she had a clear impression that the other person would enjoy hearing it (and I did, too). So why did she hesitate? She had a fear of being vulnerable. When delving into it, she saw that this fear was ridiculous, that there was nothing of substance to be afraid of, and she made a plan to make the long awaited call as soon as she left my office.
She only needed to break the ice. Doing something unfamiliar takes a bit of gumption. We can talk our selves out of it very easily, delay trying it. This is how fear keeps us stuck.
But most often the activity is not nearly as bad as we thought it was going to be. We feel a rush a pride when we accomplish it, giving us the energy and confidence to try again. Doing it again and again, it becomes familiar and the activity has new memories and association often leaving no room for the fear!
Ready or not, make yourself ready, and just try it!
How do you get yourself to do something you are afraid of?
By Jodi Lobozzo Aman
I blog here: Heal Now and Forever Be In Peace
and here: Anxiety-Schmanxiety Blog,
share here: Twitter@JodiAman, Google+
inspire here: Facebook: Heal Now and Forever Be in Peace,
Get my free E-book: What Is UP In Your DOWN? Being Grateful in 7 Easy Steps.
APA Reference
Lobozzo, J. (2012, September 19). Face The Fear And Do It Anyway, HealthyPlace. Retrieved on 2023, October 1 from https://www.healthyplace.com/blogs/anxiety-schmanxiety/2012/09/face-the-fear-and-do-it-anyway
Author: Jodi Lobozzo Aman, LCSW-R
Your means of explaining all in this piece of writing is truly pleasant,
all be capable of easily be aware of it, Thanks a lot.
I use it often that I'm not yet ready to do something, but it is usually when it involves someone else too. If something depends only on me, or might have only repercussions on myself, I think I'm always ready and fear wouldn't stop me.
Being not ready is when I didn't prepare others enough to the next step, when I still have a role to play before getting to the next step, something that can make it easier for others to accept.
Exactly what i need to do! Thanks Jodi!
Jodi, great post and a great reminder to not let fear dictate our actions. Sometimes I just do something I've put off--like make a phone call--without thinking--just pick up the phone and start dialing--and it helps.
I once read -- Avoidance strengthens fear. And it's true. There's an actual physiological shift that happens when we 'avoid' -- and it affects the chemicals in our brain! And there is only one remdy -- To reverse the impact -- we must do the thing we fear!
Great reminder Jodi! Thanks.
Leave a reply