Five Anxiety-Reduction Techniques and Why I Love Them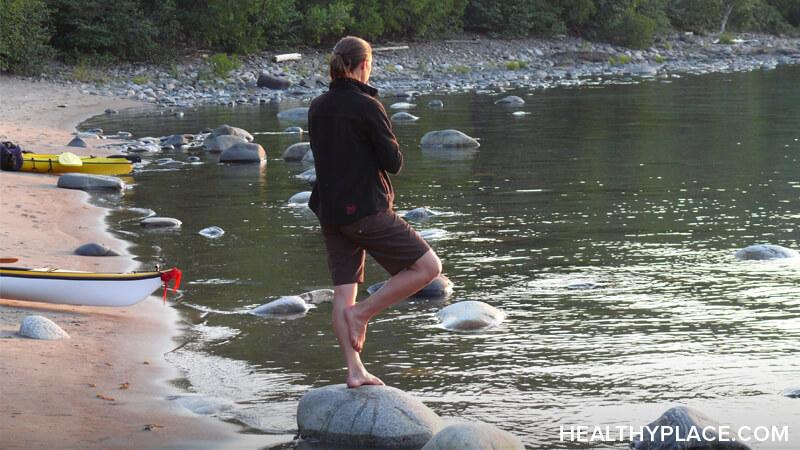 I'm frequently asked about my favorite anxiety-reduction techniques. On one hand, choosing approaches to overcoming anxiety is difficult because there are so many different tools and techniques. Also, each and every one of us is a distinct individual and our experience with anxiety is unique. That said, I do, indeed, have favorite anxiety-reduction techniques. Here's a look at my favorites and why I love them.
In this video, I share some things to consider when choosing anxiety-reduction techniques. I invite you to tune in.
My Top Anxiety-Reduction Techniques
1. Mindfulness
Mindfulness is more than an anxiety-reduction technique; it's a way of life. When I'm anxious, my thoughts run amok. Many people find they overthink things when they're anxious, leading to increased worries and fears. Mindfulness—using your senses to connect to the concrete world around you—calms anxious thoughts and emotions.
2. Acceptance and Commitment Therapy (ACT)
When I accept external circumstances and internal thoughts, I find that I no longer fight things that won't change. I can then make action plans to move forward to create a life beyond the boundaries of anxiety. I've seen ACT help others and I respect what any of us can do with this approach.
3. Solution-Focused Therapy (Solution-Focused Brief Therapy)
This provides a very linear, concrete approach to anxiety reduction and other challenges. Simplified, with this approach you identify what is wrong, how intense on a scale from 1-10 the problem is in your life, and what steps you can take immediately to change your position on the scale. You break your anxiety into manageable pieces and work your way to better positions on the scale.
4. Exercise
This one isn't an anxiety-reduction technique unique to therapy, but it is, indeed, therapeutic. I notice a significant difference in my mental health, including my anxiety, if I have several consecutive days without exercising. I've also seen regular exercise decrease anxiety in people in my life. When people choose activities they enjoy and make a point of doing them multiple times a week, they usually report that they feel anxiety lessen over time.
5. Taking Action
Taking action is an anxiety-reduction technique and a confidence booster. When you take little action steps every day to work your way out of anxiety and into the life you want, you are purposefully doing things to get rid of anxiety. Taking action is empowering. What small steps can you take every day, or even every hour within a day, to reduce your anxious thoughts and feelings?
What My Favorite Anxiety-Reducing Techniques Have in Common
The methods I love above all other anxiety-reduction techniques share important characteristics.
They are a way of being with yourself and your anxiety.
They are about doing, acting in small but powerful ways to overcome anxiety.
They're active rather than passive.
They incorporate your visions and values for an anxiety-free life.
They are adaptable to individual needs and differences.
These techniques are my favorite anxiety-reduction techniques because they work exceedingly well for me as well as for others I've worked with. However, like any therapeutic approach to anxiety (like cognitive-behavioral therapy, dialectical behavior therapy, etc.), they don't work the same for everyone. Everyone will have his or her own favorites. The important thing is to discover your favorite approaches and to put them to work for you and your life.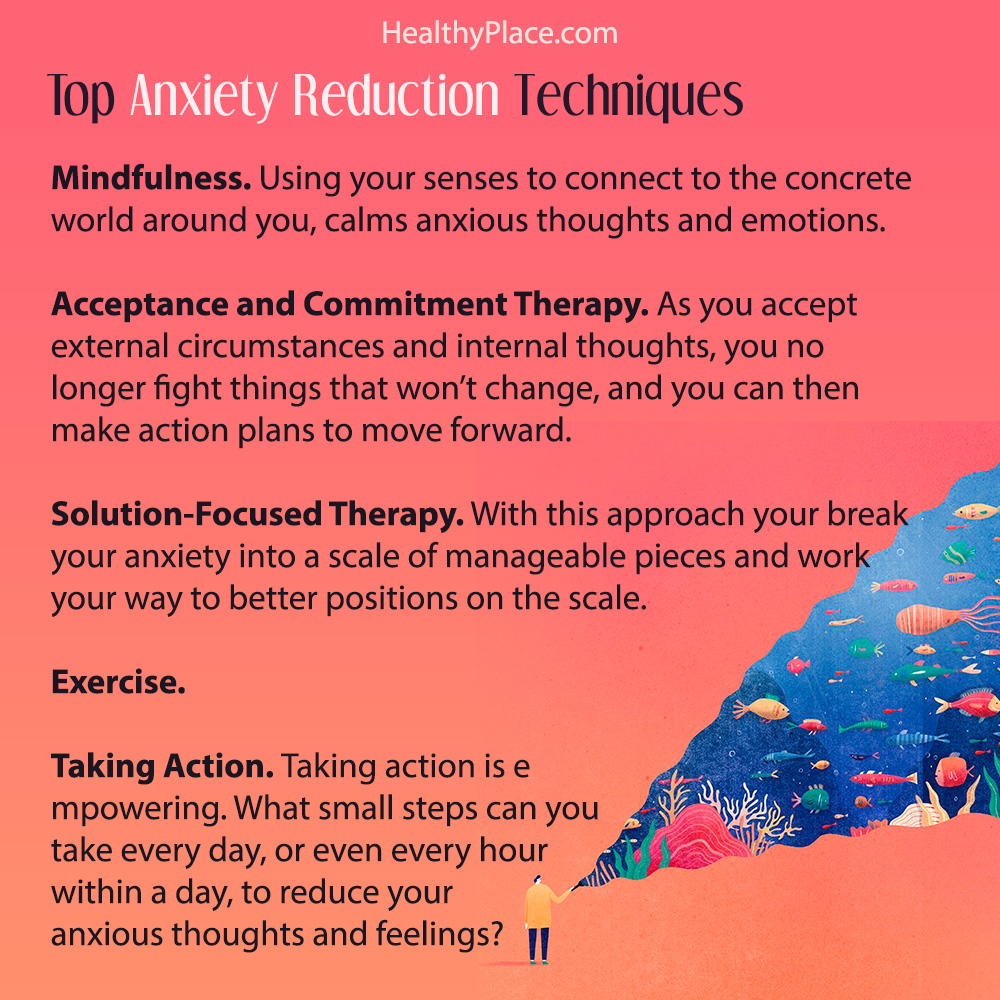 APA Reference
Peterson, T. (2018, March 29). Five Anxiety-Reduction Techniques and Why I Love Them, HealthyPlace. Retrieved on 2023, October 4 from https://www.healthyplace.com/blogs/anxiety-schmanxiety/2018/03/my-favorite-anxiety-reducing-techniques-and-why-i-love-them
Author: Tanya J. Peterson, MS, NCC, DAIS