Crapshot: Gambling Addiction and Borderline Personality Disorder
Shortly after I moved into the downtown Indianapolis area, I started betting on horse races at a bar (off-track betting, OTB). I realized I now had not one, but two addictions when I joked about buying a horse and naming it "Beer Money." While I'm in recovery, I still speculate about how my symptoms of borderline personality disorder (BPD) fueled my gambling addiction. Thankfully, I caught it early.
BPD and How a Gambling Addiction Starts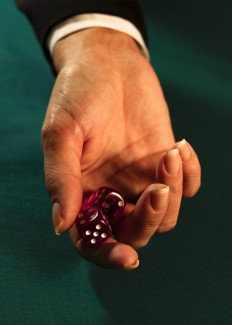 In the case of a gambler with BPD, preoccupation with gambling manifests as obsession. It becomes a form of escape from the disorder's pain. The already precarious relationships are risked, and the person may try to manipulate others into bailing them out and grow despondent when they don't.
Recovery is possible, but first we need to know the symptoms.
You can also find Becky Oberg on Google+, Facebook and Twitter and Linkedin.
APA Reference
Oberg, B. (2014, August 31). Crapshot: Gambling Addiction and Borderline Personality Disorder, HealthyPlace. Retrieved on 2023, September 25 from https://www.healthyplace.com/blogs/borderline/2014/08/crapshot-gambling-addiction-and-borderline-personality-disorder
Author: Becky Oberg
They might locate something that can save you
some cash.
yeah I got me deep into debt, no job, have full spectrum BPD and probably some unknown co-existing disorder (apart from the few already known), social anxiety with no view on safely returning to work any time soon and basically no idea how to get myself sorted.
I think I will sooner become successful in future suicide attempts than successful in sorting myself out. It seems there is no help available, I have 50miles to the nearest GamblingAnonymous meeting...oh I would have to leave home and travel more than few miles at once...no way I would even imagine this.
No response from psychiatric centre - I have sent the personal questionnaire but never heard back, the doctor (psychiatric) that used to have occasional appointments with me (3-4 times a year) seems to be happy to get me off her back as I "missed" my appointment back in December last year (phoned the surgery beforehand to let them know I won't make it) as she never sent me any more letters with further appointments.
All in all it's kind of "funny" craze where you have no idea how to break the loop and get yourself fixed.
Good Luck to me hahafuckingha
Horse racing is a favorite betting choice for many. People love to bet on horse which they think is a strong contender of win. However, it is really tough to make consistent winnings by placing bets on horse racing. So, make a habit of looking at the regular racing forms which are available at the newsstands, track, bookstores and the internet. This can help you to place bets on the right horse, which will make you earn a lot of money.
Debbie says I was gambling on lotto and was hoping for money to go home to mississippi on but it's not happening and I feel like quitting gambling for a while. your comments meant a lot to me and I cant wait to read the gambling addiction section too.
Leave a reply