The Rhythm of Pain During Depression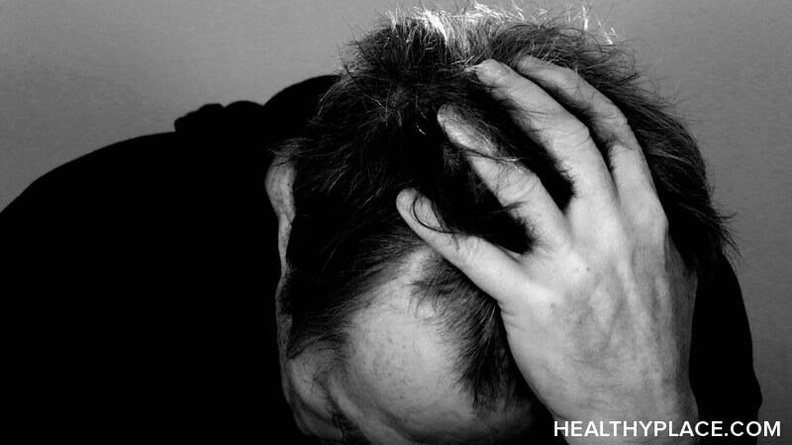 I can feel suicide flicking at the edges of my consciousness.
This morning I woke up wanting to die. Before my eyelids fluttered and my logic circuits sparked I knew it was going to be a horrible day.
I tried to listen to the inane morning chatter on the radio knowing that a morning radio personality is never depressed. But somehow the words and sounds would only penetrate my outer epidermis. I was uncomfortably hot and wet from the night sweats I had been having in response to one of my meds so I had to move. My body was too heavy and my eyes too filled with tears to be successful. With much suffering I peeled the covers from my body.
I
Had Been

Remitting

I am stabbed by the fact that I had three good days this week. I thought I was turning some sort of magical corner. I thought I was getting a handle on my meds. I thought I would learn to smile again. I thought I was starting a path where I didn't want to die.

But I'm not. Three days is three days. I'll take them over no days of remission, of course. But somehow it stings more, it hurts more, it tears more, when they are ripped away. It feels like I walked up a flight of stairs just so I could be pushed down them again. The stairwell feels so long and jagged.
The Rhythm of Daily Pain
There is something about consistent pain and suffering that gets you into a rhythm. I hurt today. I want to die today. I want to stab myself today. The sun rises, the sun sets and the pervasive thoughts remain the same. I hurt today. I want to die today. I want to stab myself today.
Pain Hurts More When it Follows Hope
But a bright spot, where the pain ebbs slightly brings hope. I hate hope. I hate hoping that something is changing. I hate hoping that I'm getting better. I hate hoping that magic is happening.
Because it isn't, I'm not, and of course, magic isn't real.
The Mirage of Hope
I have been so profoundly ill for such a long time that hope just feels like a cruel joke. It's a mirage of everything I want only to find myself being drowned in sand. It hurts remembering what it's like to be so sick. It's devastating to think I've lost again. A mini tragedy: the reoccurrence of extreme suffering.
It could be worse. It can always be worse. There could be knives and blood and doctors and hospitals. But that doesn't make me feel any better. My cheeks are too wet for me to feel better. The pain tastes so fresh and acrid, burning a hole through my tongue.
The Pain Rhythm Returns
But I have had this morning before. I have had this morning innumerable times before. This doesn't make me feel better either but it does remind me that I know the rhythm of pain. I can get back into the routine of suffering. Where I try to ignore it. Hide it away. In the closet. In a box. Under lock and key.
Which never works. But works better than nothing.
APA Reference
Tracy, N. (2010, July 12). The Rhythm of Pain During Depression, HealthyPlace. Retrieved on 2023, December 8 from https://www.healthyplace.com/blogs/breakingbipolar/2010/07/the-rhythm-of-pain-during-depression
Author: Natasha Tracy
i remember the hetarbreak part. Originally i was diagnosed with major depression then later i was correctly diagnosed with bipolar and given the life sentence.' it sucks knowing that i may never be 100% what i want to be. I guess i'll have to work extra hard at creating meaning in my life but sometimes it's just so much easier to give up when bipolar's coupled with alcohol addiction and anxiety.. Some days though i get surges of strength and feel proud of myself
Hi Pete,
Try to take a deep breath.
It sounds like you need to take things one step at a time. I understand you're feeling overwhelmed right now, but try to just take one issue at a time and deal with that.
I understand the desire to get away from doctors. I feel like that too a lot of the time. But doctors are necessary. No one can assess you and address medical issues other than a doctor. You need to see one who can look at your issues and together you can make a plan on how to deal with them.
Perhaps you can also get in touch with a mental health support group in your area. People there have been through what you're going through and might be able to suggest a good doctor to see, or options to consider.
And it sounds like you really need someone to talk to. Maybe you could see a therapist for that. Many times when we're overwhelmed with our lives and the decisions we have to make talking to a professional can clear the air.
And if you really feel like you can't take it, and you're not going to make it, there's always the hospital. They may have an outpatient program you can participate in.
Pete, there is no magic solution. You have to take one step at a time and get help. Just pick one small thing and work on that. And then go to the next thing. Don't be overwhelmed by them all together.
Good luck.
- Natasha
I JUST WISH I COULD GET OVER ALL THIS I AM 35 AND THEIR ARE JUST DAYS THAT I DONT WANT OR FEEL LIKE GETTING UP TO DO ANYTHING I AM SO SACLUDED MYSELF FROM THE WORLD FOR ALMOST 3 YEARS NOW , I DONT TALK TO FAMILY OR DONT EVAN HAVE MUCH FRIENDS CAUSE AFTER I MOVED TO AN AREA JUST 20 MILES FROM WARE I USE TO LIVE INY REALATIONSHIP OF 4 YEARS BROKE UP 2 MONTHS AFTER GETTING INTO MY NEW HOME JUST PAYED IT OFF IN DECEMBER,STARTED AND STOPPED COLLEGE AND DONT EVAN GO OUT UNLESS I HAVE TO CAR IS BROKE LISC,SUSPENDED AND JUST HAVE SO MANY DIFFERENT HELTH PROBLUMS I DONT EVAN CARE TO GO TO THE DOCOTORS ANYMORE CAUSE OF THE BAD HELTH NEWS THAT I WOULD GET I DONT NEED MORE BAD NEWS IT WILL JUST MAKE ME STAY THE WAY I AM SOMEONE ANYONE CAN SEND ME SOME KINDA OF HELP PLEASE DO ,CHILLENWITMYBOZ@GMAIL.COM
Hi Oddity,
I agree, the cycling is brutal. It's something that not a whole lot of people talk about because many remain in one state or the other.
- Natasha
Hey Natasha,
New reader, newbie commentor here. I understand what you mean when you say that pain hurts more when it follows hope. At times, I wish I was constant in my moods... that I was consistantly depressed rather than shifting all the time. The inconsistency of it all gets to me because as soon as I'm feeling amazing, I crash and I feel worse than if I had just been depressed the whole time. Knowing that you had something... you could almost hold it in your hand, and then it's taken away within an instant... it IS a cruel joke. It's a terrible feeling that I wouldn't wish on my worst enemy.
I really hope you feel better, and I wish you all the best.
Oddity (Ash)
Hi Herb,
Thanks for the suggestion. That does look like an interesting study and I would love to know the outcome. For me though, I don't think it's quite right as it involves writing on bipolar even more than I do now, which I'm just not up for.
Others who use online support groups or writing to express feelings should check it out though.
- Natasha
Hi Cathy,
It's unfortunate that people identify with this, but they do. We live through these times. And yes, the pain is bad.
But we live through them. An in and an out. Painful. But there.
- Natasha
your words...so true...it is a cruel joke...especially trying to find the reason to go on embracing the Recovery focused movement. My mind says that it was better in the dark dashed hopes. The pain is bad.
Cat - thank-you for your kind words. Take care of yourself too.
- Natasha
Tolbert - yes, I do believe my writing helps others, it's one of the big reasons why I do it here. It can be challenging for me to handle some of the feedback but the people I help make it worth it.
Yeah, I like to think I'm important. Not to worry.
- Natasha
understand all too well --- the times of hope always laced in the background with bracing for the next round of suffering -- whether it be my own depression or my husbands bipolar. we have been riding the rollercoaster for over 10 yrs now and have just come to accept it for what it is -- but it still hurts. Natasha -- plz take care of yourself -- you are in our prayers, always. keep on keepin on -- you are a precious gift, not just to us but to many -- i have no doubt about that.
Wow. "Hope just feels like a cruel joke."
How well I remember the times of staring out my bedroom window, my only canvas was the rain-slicked darkness and a distorted image of my 'part-self' looking back at me.
It is said that "hope is the anchor of the soul" and should steady a thrashed-about ship in the roughest of seas...yet I felt that the anchor of my soul was pulling me down, drowning me, suffocatng me...and all hope was gone.
You describe your feelings and emotions so well. Please always keep witing, it is theraputic. Your writing can and will help so many others who are trapped in the darkest closets of life.
In the meantime, take care of YOU...that is task #1...YOU are important.
Leave a reply