Bipolar and Displays of Emotion
People with bipolar display emotion perhaps more than most. For example, there are few places in this small city in which I haven't cried. And some of those displays of emotion are entirely linked to bipolar disorder. If I wasn't bipolar, I wouldn't have had them. However, some displays of emotion are not tied to bipolar at all, and yet, no one seems to understand this.
Bipolar Displays of Emotion
I'm the first one to admit that I display emotion more than most. It's usually tears (every emotion seems to pop out my eyeballs) but sometimes it's anxiety (where I get short, snappy and controlling). I admit it. My bipolar makes me outwardly emotional.
Non-Bipolar Displays of Emotion
That being said, there are displays of emotion that are just plain normal. Displays of emotion that your average person would exhibit happen too.
The problem is, people attribute even these displays of emotion to bipolar disorder.
"Go Take Your Meds"
It's incredibly dismissive when a person attributes your genuine, real emotions to an illness. When someone writes off what you're saying and just responds with, "Go take your meds," it's incredibly hurtful and minimizing. We have feelings too! And those feelings should be allowed expression, just like with everyone else.
Why I Can Never Get Mad
Watch this video to see why people with bipolar disorder and displays of anger.
Understanding Bipolar Displays of Emotion
Because here's the thing, I know when my display of emotion is directly triggered by bipolar disorder 99% of the time. I know when my sobbing makes no sense. I know when my anxiety is out of control. I know when things are caused by an illness in my brain. And I usually know when my emotions are realistic. I usually know when my emotions are just me being me. And I need that to be acknowledged and respected.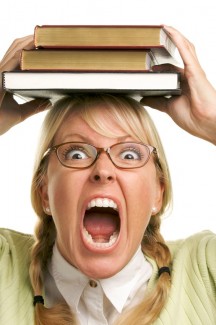 Now I do understand, that from the outside, it might be tough to tell the difference. Sometimes it's compassion that makes someone else attribute our actions to bipolar. I get that. But really, if in doubt, the most reasonable thing to do is ask me.
"Natasha, can you tell me why you're feeling that way right now?"
Because then I can tell you, "I'm feeling out of control because of the bipolar. I'm sorry."
And keep in mind, I really do try to keep my displays of bipolar emotion out of other peoples' ways. I have no desire to have my bipolar spit up all over you. I try to make it so that my displays of emotion are reasonable – to the best of my ability.
Long story short, we just want to be treated like everyone else. Yes, I admit, sometimes we're not like everyone else, but then, sometimes we are, and we deserve to have our realistic feelings heard and dealt with just like you would with anyone else.
You can find Natasha Tracy on Facebook or Google+ or @Natasha_Tracy on Twitter or at Bipolar Burble, her blog.
APA Reference
Tracy, N. (2014, October 21). Bipolar and Displays of Emotion, HealthyPlace. Retrieved on 2019, September 21 from https://www.healthyplace.com/blogs/breakingbipolar/2014/10/bipolar-and-displays-of-emotion
Author: Natasha Tracy
Hi Jill,

I have felt that way more times than I can count and I have felt suicidal more times than I can count. But I can honestly say, there is something on the other side of that.

I recommend you read something I wrote about being too tired to fight any longer here: http://natashatracy.com/bipolar-disorder/im-tired-fighting-bipolar-disorder/

Please note that link goes to my personal site and is no way affiliated with HealthyPlace.

I hope that helps.

- Natasha Tracy
Leave a reply