When Bipolar Depression Lasts for Years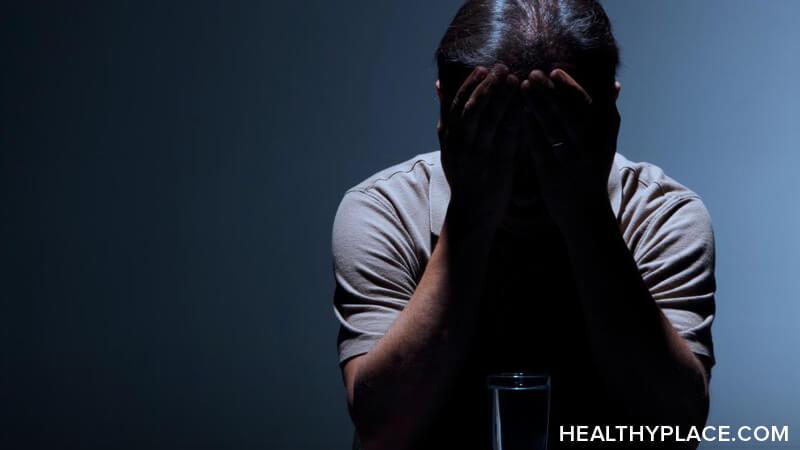 Bipolar depression can last for years. Now, I know, bipolar disorder is a cyclical illness – i.e. you cycle through various states like hypomania, mania, depression and euthymia (no symptoms). This is true. But it is also true that a person can get trapped in one of the mood states. This isn't necessarily the most common manifestation of bipolar disorder, but it does happen. And usually, if you're trapped in a particular mood state, it's bipolar depression that lasts for years.
Years of Bipolar Depression
Yes, I'm one of those people who has been in a bipolar depression for years (of various severities). Occasionally, it's been interrupted by a mixed mood or a hypomania, but those tiny punctuations are dwarfed by the massive bipolar depressions that surround them.
And believe me, in those years of bipolar depression I have tried every medication cocktail known to man. We've tried everything there is so we've had no choice but to go back to previous medications (and, actually, we're having some success with that).
Why Would Bipolar Depression Last for Years?
Of course, no one knows why a particular person experiences the exact symptom profile in bipolar disorder that he or she does. So if you're stuck in years of bipolar depression, I certainly can't say why you are when the person with bipolar disorder next to you isn't.
That said, there are some things we do know:
The later you got treatment, the worse your prognosis
The earlier you got sick, the worse your prognosis
The more episodes you have, the more likely future episodes are
The more your bipolar disorder cycles the worse your prognosis
The more medications that fail, the more it indicates that future medications will fail (note that this does not mean all will, it likely just suggests a longer medical trial period)
Bipolar disorder moods feed on themselves by changing your brain physically, the more changes, the more depressed you are
External stressors/traumas worsen prognosis
Socioeconomic factors also affect prognosis
I think of it like this: When you're in a depression, you're in a ditch. It starts as a shallow ditch – one you could walk out of with the right directions. Then, over time, the ditch gets deeper. That's when you start needing others to help get out of the ditch. And then the ditch gets so deep that you need a ladder to get out. And at some point, the ditch is so deep that it can be very difficult to find a ladder tall enough to bring you back up.
In looking at the above, it seems that depression breeds depression. It is a self-replicating state.
Dealing with Years of Bipolar Depression
I really hope that you're not dealing with years of bipolar depression – but I know some of you are. Here's what I think you need to know about years of depression in bipolar disorder:
Bipolar depressions can be treated and do end/lessen. I'm the first person to admit that I lost all hope that anything would ever touch my depression after years. But here's the thing – a medication cocktail did. You don't have to feel the hope of this (I know many can't feel hope) but listen to my words because things do
All those scary assertions, above, are true, but they can be dealt with. I know if you're a person who got treatment late and has experienced many failed treatments (like me) it feels like everything is stacked against you, but you can still get better. What I said about the brain is true. Bipolar depression does things like shrink parts of the brain; but, the good news is that treatment (both medication and appropriate therapy) can actually reverse And therapy can help you mitigate stressors. (Socioeconomic factors, though, are notably hard to address.)
Bipolar depression treatment takes time. I know you want to be well. I know you want to be well right now, or, you know, preferably yesterday, but bipolar depression treatment isn't like that. Finding a cocktail that works after years of depression is a long and painful process but it is one that works, eventually, for most people.
I can't tell you what treatment will work for you after years of bipolar depression, what I can tell you is that treatment is out there. I can tell you there is hope.
But I can also tell you that turning around years of bipolar depression is a hard thing to do. Long-term depression has got a lot of downward momentum and finding something to alter that is a tall order. I think it's important to understand this. Not because it's an easy thing to hear, but, rather, because it will set your expectations appropriately. It you expect to get better in the next month and don't, you'll be even more depressed. But if I set you up for a year or more of work (which is what might be needed), you'll be prepared for some failure before success.
I'd admit all day that if you're in a years-long bipolar depression, the numbers aren't in your favor, but you know what is? You. Your tenacity. Your strength. Your desire to get better. That's all stronger than numbers. So don't give up. I know you might want to, but if I could find relief, then so can you.
Hope Even with Years of Bipolar Depression
Tune in to be offered hope even if you're experiencing years of depression.

Sources
Aldinger, Fanny, and Schulze, Thomas G, Environmental Factors, Life Events, and Trauma in the Course of Bipolar Disorder. Psychiatry and Clinical Neurosciences. 2016.
Berk, Michael et al, Does Stage of Illness Impact Treatment Response in Bipolar Disorder? Empirical Treatment Data and Their Implication for the Staging Model and Early Intervention. Bipolar Disorders. February 2011.
Di Marzo, S, et al, The impact of the number of episodes on the outcome of Bipolar Disorder. The European Journal of Psychiatry. March 2006.
Leverich, Gabriele S et al, Early Physical and Sexual Abuse Associated with an Adverse Course of Bipolar Illness. Biological Psychiatry. February 2002.
Lyoo, In et al, Lithium-Induced Gray Matter Volume Increase As a Neural Correlate of Treatment Response in Bipolar Disorder: A Longitudinal Brain Imaging Study. Neuropsychopharmacology. March 2010.
Maj, Mario et al, Previous Pattern of Course of the illness as a predictor of response to lithium prophylaxis in bipolar patients. Journal of Affective Disorders. November-December 1989.
Obrocea, Gabriela et al, Clinical Predictors of Response to Lamotrigine and Gabapentin Monotherapy in Refractory Affective Disorders. Biological Psychiatry. February 2002.
Perlis, Roy et al, Predictors of Recurrence in Bipolar Disorder: Primary Outcomes From the Systematic Treatment Enhancement Program for Bipolar Disorder (STEP-BD). The American Journal of Psychiatry. February 2006.
Post, RM et al, Early-Onset Bipolar Disorder and Treatment Delay Are Risk Factors for Poor Outcome in Adulthood. The Journal of Clinical Psychiatry. July 2010.
APA Reference
Tracy, N. (2018, April 26). When Bipolar Depression Lasts for Years, HealthyPlace. Retrieved on 2023, December 11 from https://www.healthyplace.com/blogs/breakingbipolar/2018/04/when-bipolar-depression-lasts-for-years
Author: Natasha Tracy
Girl, you just basically told the story of my life. I'm 41 years old. I was diagnosed with bipolar disorder 5 years ago. And unfortunately where I live the Healthcare system is a disgrace and the real help isn't available unless we have the money or insurance coverage to pay for the right therapy and the right professionals. I'm honestly suffering, and have been stuck in my bipolar depression for my entire life but most severely being the past decade or so. It's now become so debilitating that I cannot have any life at all. I can't even spend time with or around family and friends, or strangers for that matter. I've lost the strength and tenacity and desire even because honestly the Healthcare is so disappointing, it's so bad I can honestly say, I wouldn't trust the Healthcare system in this province, to save my life. It's a sad true, I could go on more about that but I'd run out of space LOL... But reading your story really helps my heart. I feel like quite a damaged human whose life will now just consist of existence with a constant suffering battle with mental health and there feels like very little hope for me. It's also very hard to be taken seriously for the illnesses I have. I also have misophonia, self diagnosed since no one even seems to know nor care about what it is. I've had it all my life I just didn't know what it was until recent years. All the same, because of you, I will try to hang onto that last thread of hope that there is help for me and that I will get it and may be able to get out and live a normal kind of life. As of now I'm isolated to myself 98% of my time, I'm also a single/only parent been raising my son on my own, he's 16, also has alot of the same mental health issues but he's stronger and he has been able to get some help while its most crucial in life, so he hopefully doesn't end up with long term untreated and undiagnosed issues, making it harder to get better, like myself being in my mid 30s before even getting a diagnosis and improper treatment since then, it feels like it may take another half of a lifetime for me to get well. Here's to having a chance, and thanks to people like you for sharing your story and knowledge and inspiring us, the lost ones, LOL ♡ one love to all ♡
Hello Ms. Tracy,
I was surfing the internet on a particularly rough evening and came across your blog about when depression lingers. It blew my mind because I've been experiencing a lot of the things that you wrote about. I too have been diagnosed with Bipolar Disorder, type 1 to be accurate. It's been five years since the diagnosis, however, looking back, I've shown symptoms into my teenage years.
My point is this. Now, at 40, I find it hard to function through the depressive episodes. It was easier when I was younger, before I knew what was going on. My family just thought I was moody and I thought I was going crazy. For the last three or so years I have fought through a massive depressive episode and I don't know what to do. The meds help the mania. They don't touch the depression. My doctor tweaks everything each visit , unfortunately nothing works. I've even went as far as having eighteen rounds of electroconvulsive therapy to curb the symptoms. Notta.
The long and short of it is I'm tired. If you have any tips, I'm all ears. Thanks for your article and for reassuring me that I am not alone on this wild ride.
KEEP WRITING!!!!!!!
Hi,
Thanks for this article. My mom suffers from BiPolar. Do you think she should medicate? She won't agree to see someone on an ongoing basis. I would say she has been suffering from this for 30 years. (she is 60)
I was diagnosed with BPD at 34. Lithium (and therapy) really helped. But now, at 64, my kidney functions at 45%. My psychiatrist doesn't want to stop the lithium. She retires in 2 years anyway, so should I change therapist and stop the Li?
How to get rid of sweating. I'm bipolar
Leave a reply