Coping with Side Effects of Antidepressants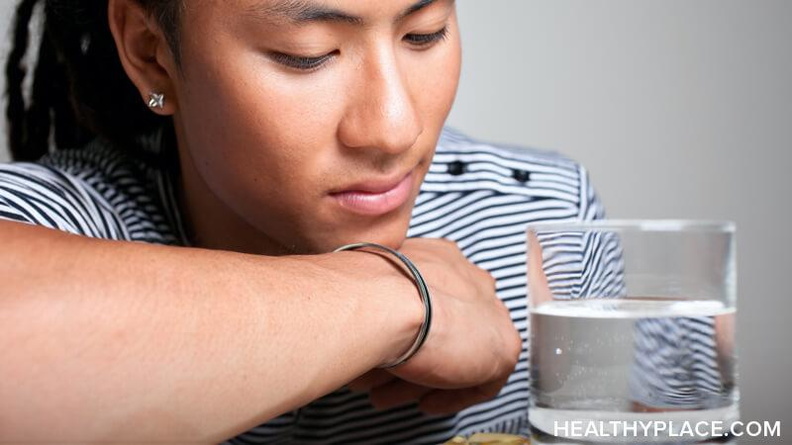 Like me, many of you may also take medications for depression; also, like me, you may be dealing with some antidepressant side effects. While I'm thankful for the improvements antidepressants make in my ability to cope with depression, I am sometimes frustrated by the side effects of the antidepressants. Some of you probably feel the same way. I also realize that many of you may have opted not to take antidepressants because of the side effects they can cause. Today I'd like to talk about how we can take the psychiatric medications that can help us while learning how to manage antidepressant side effects.
How to Manage the Weight Gain Side Effect of Antidepressants
One of the main side effects that can arise with the use of antidepressants is weight gain. I have experienced this. I am confronting weight gain on psychiatric medications with a healthy diet and exercise, which are two things that are beneficial for those of us who battle depression and for people in general, anyway. I won't advocate a specific diet plan here, but I will say that I eat whole foods, including plenty of fresh fruits and vegetables. I am not "on a diet." I have a healthy way of eating for life.
Exercise is also important. My exercise plan involves cardio, strength training, and yoga. I aim to workout at least five days a week. I get up early and exercise before the rest of my family is awake. That works best for me.
Find a food plan and an exercise program that work for you. Make small changes at first and then work towards bigger goals. You need something that you can stick with for the duration. Eating right and exercising are two ways in which we can manage the weight gain.
As a reminder, always consult your doctor before starting any diet or exercise program.
The Antidepressant Side Effect of Decreased Libido
Another common side effect of antidepressants is decreased libido. I have also dealt with this. First of all, don't be afraid to discuss this with your psychiatrist or other health care professional. There are some medications that are less likely to cause this side effect. Unfortunately, they did not work for me; however, they may work for you.
If you find that your medications are still causing decreased sexual desire, don't despair. There are ways to boost that part of your life. Be honest with your spouse or partner. I told my husband what I was experiencing. I asked him to leave me love notes, give me a shoulder massage, run a bubble bath for me, clean the kitchen a couple of nights a week, turn off electronics and just talk to me, and other similar things that show love and help me to feel less overwhelmed and more like being romantic. Ask your significant other to do things for you that demonstrate love.
It's also important to prepare for a romantic evening. Setting a proper tone in the bedroom is important: candles, mood music, lingerie. Antidepressants might make a healthy sex life a challenge, but it is still attainable.
Some other potential side effects of antidepressants are nausea, dry mouth, dizziness, and irritability. I have not experienced any of these. Have you dealt with these or any other side effects as a result of taking antidepressants? How did you cope?
APA Reference
Smith, J. (2017, August 21). Coping with Side Effects of Antidepressants, HealthyPlace. Retrieved on 2023, December 7 from https://www.healthyplace.com/blogs/copingwithdepression/2017/08/coping-with-side-effects-of-antidepressants
Author: Jennifer Smith
I really struggle with exhaustion and libido loss. Oon previous meds I've suffered badly with wrought gain so this time round my psych out me on one that is known to not cause it. Unfortunately due to other health issues it's now causing massive weight loss and I'm now struggling with the opposite extreme and can easily go days without eating more than a couple of apples after forcing myself to even eat those. Finding the right balance is difficult. I'm also having to deal with itching skin and peeling dry skin in places that is very difficult to control, not to mention aching joints. Trying to work out the best easy to combat all of these effects at the moment but it isn't easy.
I'm sorry you're having to deal with all of this. It can be a painstaking process to find the right treatment.
Leave a reply