A Strategy for Dealing with Schizoaffective Anxiety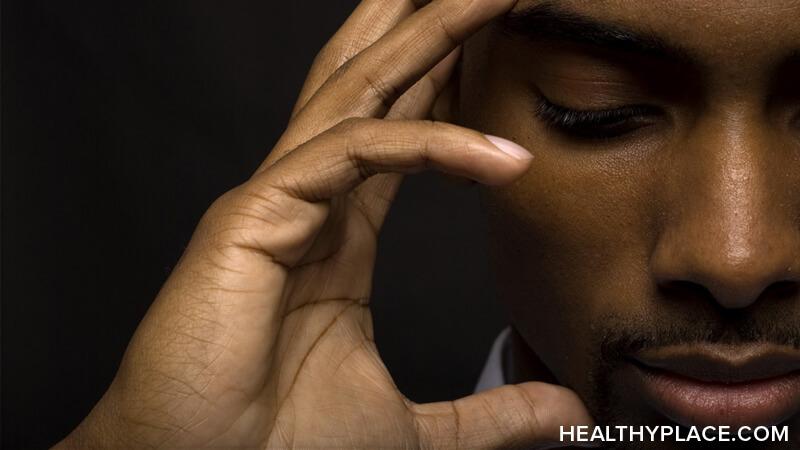 Dealing with schizoaffective anxiety is important to me because anxiety has taken so much away from me. I'm afraid to do so many simple things, like driving in the rain or washing my hair. There are other things I can't do because I have anxiety--I used to be a voracious reader but now I'm so restless I can't get lost in a good book anymore. However, my husband Tom and I have come up with a strategy based on my cognitive behavioral therapy (CBT) homework that I'm hoping will help in dealing with schizoaffective anxiety, and maybe it can help you, too.
A Hopeful Idea for Dealing with Schizoaffective Anxiety
I have an idea to share for dealing with schizoaffective anxiety. A lot of my CBT homework asks me to write down the worst case scenario of the situation I'm facing, and then to write down the more likely outcome. So, Tom and I came up with the idea that I could do this in my head when I'm stressing out about something. For example, if I'm about to drive in the rain, the worst case scenario might be that I'll get into an accident and kill someone. I know that sounds morbid, but that's where my head goes, so I have to be honest with myself. And it's okay if the worst case scenario is really unpleasant, because the more likely outcome, which is what I should really focus on, is that everything will be fine because I'm a very careful driver and I know how to drive in the rain.
You should know that Tom and I came up with this strategy two days ago. But it's an exciting and hopeful idea. True, I haven't been working with it for a very long time and so it's a bit of a challenge to apply it. It's especially hard to use when I've just started freaking out about something because my adrenaline is high and I can't think clearly.
Here's an example: I just got some bloodwork done and I haven't gotten back the results yet. One of the medications for schizoaffective disorder I'm on has the side effect of raising blood sugar levels. So a couple of days ago, I was freaking out that the results of the bloodwork would show that I have diabetes. That was my worst case scenario. After I calmed down a bit, I reminded myself that I've lost weight since I got my last bloodwork done, I've been exercising more, and I've been consuming less sugar. I probably don't have diabetes.  
Strategies for Dealing with Schizoaffective Anxiety Take Practice
I'm going to have to keep working with this new strategy for schizoaffective anxiety to become good at it. It does already seem to be working, though. Hopefully, I'll get to the point where I can use the strategy when I first start freaking out about something. As my therapist said when we were talking about dealing with schizoaffective anxiety, freaking out about one thing after another is exhausting.
APA Reference
Caudy, E. (2018, August 23). A Strategy for Dealing with Schizoaffective Anxiety, HealthyPlace. Retrieved on 2023, June 9 from https://www.healthyplace.com/blogs/creativeschizophrenia/2018/8/a-strategy-for-dealing-with-schizoaffective-anxiety
Author: Elizabeth Caudy