Schizoaffective Medication and a 20-Pound Weight Gain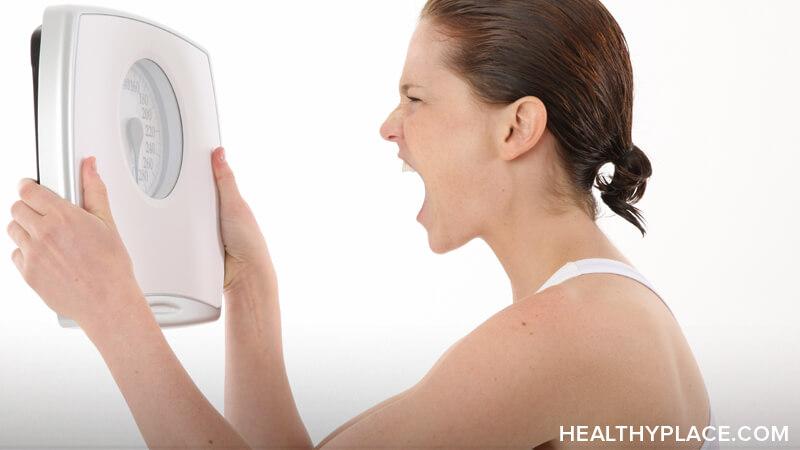 My doctor and I increased my antipsychotic medication twice over the past year—once in September of 2018 and once again this past January. I've gained 20 pounds since the initial increase in September. I know I've written about weight gain due to medication for my schizoaffective disorder before, but it's still a problem.
I'm Grateful for My Schizoaffective Medication but I Resent the Weight Gain
Even though I've gained 20 pounds, I'm still grateful for the psychiatric medication change. We made the change last year in September to help with my schizoaffective anxiety, and we increased it again earlier this year to get a handle on the voices I hear in my head because of my schizoaffective disorder.
Even though I'm grateful for the medication change, I resent the weight gain. I know there are other antipsychotics out there that don't cause weight gain. Well, I've tried them, and the antipsychotic I'm currently on—notorious for causing weight gain—is the only one that works for my schizoaffective disorder.
I finally noticed in a real way that I had gained weight when I went shopping for jeans. The sizes of slacks that fit were bigger than at any time before in my life—and I've had schizoaffective disorder for over 20 years. There were a lot of signs leading up to noticing the weight gain this time around, though. The sleeves on one of my t-shirts were snug. Rings were too tight. I even weighed myself and was shocked by the number on the scale. But it didn't hit home that I'd gained a lot of weight until I was under those awful fluorescent lights looking in the mirror in the department store fitting room.
I have to admit, it doesn't help that I'm not someone who puts a lot of effort into her appearance. I bathe, I take care of my hair, and I wear jewelry. But I don't wear makeup and I don't make a lot of effort to wear clothes that are "flattering."
There's more representation of plus-size models in the media these days. That's great. But they seem to always have their hair done or are wearing a full face of makeup. Us fat folks have to put extra effort into our appearance to look "presentable," and that's not fair.
I'm Much Healthier Taking Schizoaffective Medication Than I Would Be Without It
I know I'm much healthier on the antipsychotic that keeps me sane than I would be skinny and unmedicated. I do try to exercise and cut back on carbohydrates and sugar. But this is a really bad time of year for watching what you eat, what with the holidays.
All I can do is the best I can do. I'm on a medication that causes extreme weight gain. I may complain about it but, at the end of the day, I choose to accept the weight gain over other schizoaffective disorder symptoms.
APA Reference
Caudy, E. (2019, December 12). Schizoaffective Medication and a 20-Pound Weight Gain, HealthyPlace. Retrieved on 2023, December 3 from https://www.healthyplace.com/blogs/creativeschizophrenia/2019/12/schizoaffective-medication-and-a-20-pound-weight-gain
Author: Elizabeth Caudy