How My Newborn Niece Helps My Schizoaffective Disorder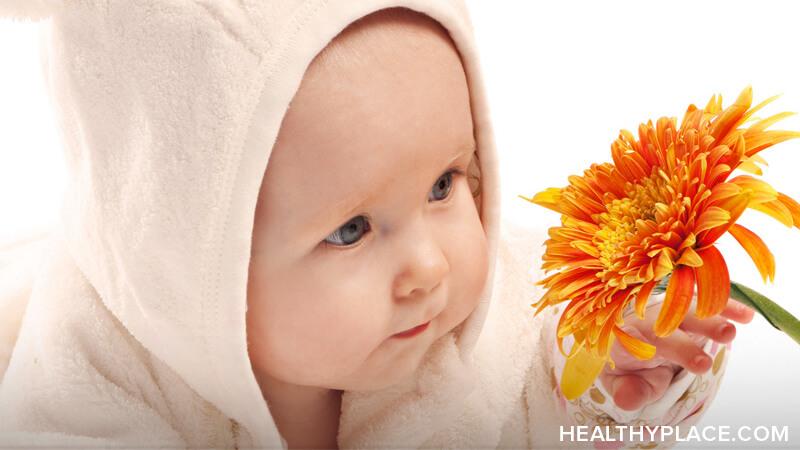 A blessing was recently bestowed upon my family--my brother, Billy, and his life partner, Sandy, had a baby girl, whom I adore. Even though they live in California and I live in Illinois, and even though I haven't yet met Baby, watching videos of my niece has quickly become one of my coping skills for my schizoaffective anxiety.
Watching Videos of My Niece Helps My Schizoaffective Disorder
I'm serious that watching the videos Sandy, an amazingly talented professional photographer, and Billy have made of their little girl is a coping skill. If I'm feeling stressed out and my schizoaffective anxiety is rearing its ugly head, all I have to do is go to the "family thread" of text messages and find a video of Baby.
I immediately fell in love with a video Sandy made right after our little one was born, and they were still in the hospital. Billy sang "You Are My Sunshine" as Baby was sleeping and then gave her a kiss. But the thing that really gets me about this video is how Billy just intently watched her sleep after he finished his song.
The videos keep coming, and a recent one really touched my heart. Billy is holding his baby, and she's now able to hold her head up. She's making, well, baby sounds, and Billy is answering her. It is so dear.
Even Though I Love Kids, They're Not for Me, Partially Due to Schizoaffective Disorder
I wrote an article a long time ago about why I don't want kids ("Schizophrenia, Schizoaffective Disorder, and No Kids"). I thought that I didn't like kids, but I loved playing with and taking pictures of Sandy's daughters when they came along to Door County last year for the family trip. I realized that I do like kids, but I still don't want children of my own.
For one thing, Tom and I agree we don't want a family. We are our family. I'd rather be married to him than have kids. But don't get the idea that it's just Tom's preference. Taking care of my schizoaffective disorder is a full-time job, and, besides that, I just don't have the energy for my own kids. I'm not saying other people with schizoaffective disorder or schizophrenia shouldn't have children. This is just my personal choice due to the way schizoaffective disorder affects me.
But that's the great thing about being an auntie. I get to enjoy kids without being responsible for them. I wish Billy, Sandy, Baby, and Sandy's girls lived closer so I could see them more often. But it's so lucky for me that we live in this age of digital communication; even if it's not the same as seeing our little angel in person, I can watch her laugh, play, and grow.
APA Reference
Caudy, E. (2021, July 22). How My Newborn Niece Helps My Schizoaffective Disorder, HealthyPlace. Retrieved on 2023, December 8 from https://www.healthyplace.com/blogs/creativeschizophrenia/2021/7/how-my-newborn-niece-helps-my-schizoaffective-disorder
Author: Elizabeth Caudy