What Schizoaffective Disorder Without Health Insurance Is Like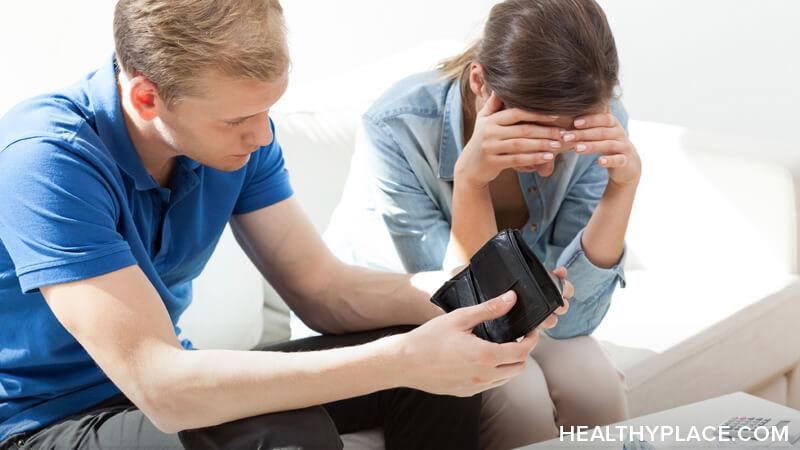 For the past three months, I haven't had insurance for my prescriptions or necessities such as blood work. During April and May, with no insurance even for doctors' visits, including therapy, I experienced one of the most stressful periods I've ever lived through. Here's what it was like.
Why I Didn't Have Insurance for My Schizoaffective Disorder
I lost the health insurance to pay for treating my schizoaffective disorder through my husband Tom's job. He got fired. Luckily, he was eligible for unemployment payments. Also, luckily, I'm on Social Security Disability due to my schizoaffective disorder, so I qualified for Medicare Part B. That covers doctors' visits. But, because of the bureaucracy, it took two months after I applied before it took hold.
Meanwhile, Tom got a new job, though the insurance from his job didn't take effect until July 1. I was going to get a Medicare Advantage package to cover needs such as medication and blood work, but as Tom's new insurance date got closer and closer and the Medicare Part B took its sweet time kicking in, I decided I'd go on Tom's insurance but keep the Part B coverage in case Tom lost his job again. We decided I didn't require the Medicare Advantage Package, and, in any case, it didn't cover my birth control, and I'd finally found a birth control I really like. I take it to help with my premenstrual dysphoric disorder (PMDD), a very severe form of premenstrual syndrome (PMS).
Not Having Insurance for My Schizoaffective Disorder Has Been a Nightmare
So spring really put my schizoaffective disorder to the test. Tom didn't have a job, I didn't have insurance, and my psychopharmacologist of 20 years is retiring. I'm happy to say that I've found someone else to prescribe my medication, and I really like her.
I'm pretty superstitious (schizoaffective magical thinking, anyone?), so I was afraid to write about this because I feared that it would make Tom's insurance through his job misfire somehow. Maybe that's the kind of thing I should talk about in therapy. Speaking of therapy, I was paying out of pocket for therapy and only seeing my therapist every other week. I'm so looking forward to seeing her every week again. And, counting my blessings, I had enough medication to see me through the insurance dry spell so that I didn't have to pay for it out of pocket.
But it was really stressful and scary not to have insurance--I feel more compassion than ever for the millions who don't have it. And I had to wait three months for my new nurse practitioner to make the medication changes we talked about (one of which requires blood work). And the stress isn't over. On July 1, I had a lot of phone calls to make regarding all the side-tracked appointments--stressful for me because I have schizoaffective anxiety. And in just a few days, I'll start medication changes, which are always stressful even if they're ultimately for the best. But, like Tina Belcher on the TV show Bob's Burgers, I'm a smart, strong, sensual woman. I'll work the rest out. I always do.
APA Reference
Caudy, E. (2021, July 8). What Schizoaffective Disorder Without Health Insurance Is Like, HealthyPlace. Retrieved on 2023, December 6 from https://www.healthyplace.com/blogs/creativeschizophrenia/2021/7/what-schizoaffective-disorder-without-health-insurance-is-like
Author: Elizabeth Caudy
Well Im so glad that you are all taken care of now. I love you!
Dear John, Thanks for your comment. It's such a relief to have insurance again. I love you too! Love, Elizabeth
Leave a reply