Schizoaffective Disorder and Positive Self-Talk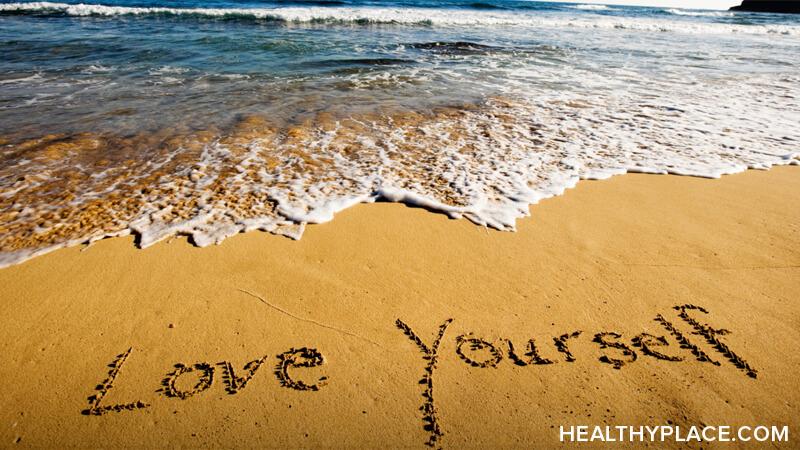 I find it really hard to use positive self-talk to help me through schizoaffective disorder symptoms. I think the reason is that when I try to do so, I feel like I'm "kidding myself." Somewhere, I picked up the idea that depressed, negative thinking is more realistic than positive thinking. Now that I realize I think that, though, I'm working to change the perspective.
Working to Change My Schizoaffective Self-Talk to Positive
Working to change my schizoaffective self-talk came along at about the same time that I received a gift to help with this. My sister Laura gave me a deck of "Positive Thinking" cards, and I've been pulling one out every morning. The cards say things like, "You don't have to have everything figured out," (I really like that one) and "Today is a great day to be happy." I find these cards to be very helpful for positive self-talk.
I also wrote down a new coping thought for my schizoaffective disorder. It's simply, "You're smart. You can do this." This coping thought helps a lot, too.
Still, it is a challenge to rewire my brain to generate positive self-talk. Another reason for this is my awareness of toxic positivity. Toxic positivity is when being positive is presented in such a way that it whitewashes over and invalidates negative experiences and becomes harmful to evaluating them realistically. An example of this, for me, is the idea of "choosing joy." My schizoaffective depression--the mood I'm generally in is mildly depressed--makes it impossible for me to simply "choose" joy. I can't will myself to be happy by choice, and the idea that I can and should be able to do this hurts.
However, as harmful as toxic positivity can be, I think dismissing positive self-talk entirely because of it is an example of throwing out the baby with the bathwater. Yes, toxic positivity exists, and it's bad, but that doesn't mean that trying to be positive is bad.
Schizoaffective Disorder, Positive Self-Talk, and Worry
Another reason I struggle with using positive self-talk is that I have this feeling if I don't worry about doing something difficult, it will turn out badly. I don't know where I got this idea. It's very destructive. For example, I have to drive to a doctor's appointment tomorrow. Driving triggers my schizoaffective anxiety. The positive self-talker in me is saying that it won't be a bad drive because it's only a few blocks. But I still want to worry about it.
So, I'm not going to come to positive self-talk overnight. It's a process.
For more about my difficulties with positive self-talk, watch this:
What is your experience with schizophrenia or schizoaffective disorder and self-talk? Please leave your comments below.
APA Reference
Caudy, E. (2022, January 6). Schizoaffective Disorder and Positive Self-Talk, HealthyPlace. Retrieved on 2023, September 30 from https://www.healthyplace.com/blogs/creativeschizophrenia/2022/1/schizoaffective-disorder-and-positive-self-talk
Author: Elizabeth Caudy
I HAVE SCHIZOPHRENIA AND MY DELUSIONS AND HALLUCINATIONS ARE PRETTY PLEASANT AND ENTERTAINING........I BELIEVE I AM RECEIVING RADIO MESSAGES FROM PLANET DROTAR AND THE MESSAGES TELL ME HOW SO VERY AIRLESSLY LUNAR I AM AND SO DO THE VOICES, WHICH ARE PLEASANT FEMALE VOICES........I ENJOY LISTENING TO THE VOICES AND RECEIVING THE RADIO MESSAGES FROM PLANET DROTAR.........I AM ON ABILIFY, WHICH KEEPS ME CALM AND MELLOW, TRANQUIL AND FULL OF SERENITY.....I TRY TO GIVE MYSELF POSITIVE SELF-TALK AS OFTEN AS POSSIBLE.........
Dear Matthew, Thank you for your comment. When I used to have delusions and hallucinations, I didn't enjoy them at all. I guess if you enjoy yours you won't want to do this, but maybe you could ask your doctor about how to treat your delusions and hallucinations. Just a thought. Elizabeth
I love you Elizabeth! So glad you are growing in this way. It's a blessing.
Dear John, Thank you for your comment. I love you too! I wanted you to watch the video because the earrings you gave me make a "guest appearance." As for the positive self-talk, I'm still working hard at it. I'm glad I have your support! Love, Elizabeth
Leave a reply