The Pandemic Isn't Through with this Schizoaffective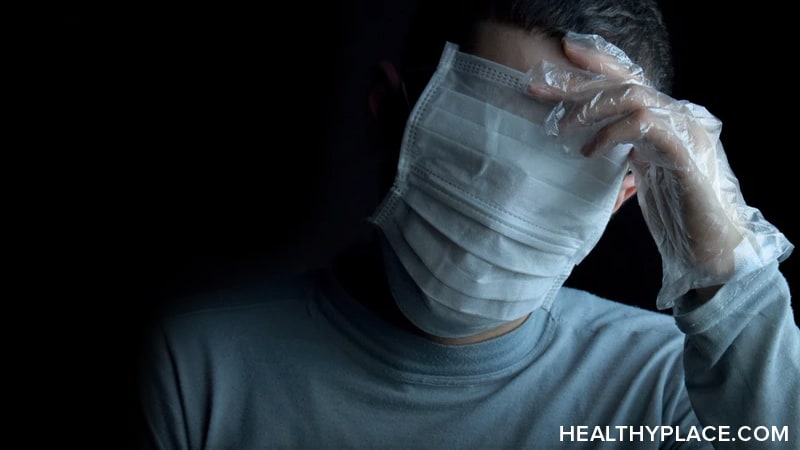 Sometimes, I feel I have to either be vigilant about not contracting COVID or be vigilant about my schizoaffective disorder/mental health. I have to be vigilant about both, of course, but this can be a struggle.
Having Schizoaffective Disorder and Living in the Age of a Pandemic
This article is hard to write because there are so many ways and reasons that COVID affects my mental health. I usually pay very little attention to the news (for the sake of my schizoaffective disorder), but I do know that the pandemic has been affecting people's mental health globally.
A recent event in the latest COVID communications that has been aggravating my anxiety is that now people aren't supposed to wear cloth masks. We're supposed to wear surgical masks or, better yet, KN95s. This has been gaining traction for a while, but I just heard about it. That means I can't wear my Starry Night by Van Gogh mask anymore. I ordered some KN95s over the Internet a few days ago. I also ordered a Tori Amos button to affix to my purse. I'm a little more excited about receiving the button.
COVID is a lot to handle, even if you haven't gotten sick yourself. I don't need to tell you this--I have a past of being paranoid about getting COVID. I've been very good at taking measures to avoid it. I got vaccinated; I got boosted; I wear masks. But by the time my fancy pants masks arrive, the science data (After all, we're supposed to follow the science, right?) might have changed again, and suddenly I can go back to wearing my Van Gogh mask. I don't mean to mock the idea of following the science, especially since I strive to do just that, but it feels a lot like the science is ever-evolving with the crisis, and change never ends.
I'm Schizoaffective, and I've Had Enough of the Pandemic
Another recent event in COVID is that in Cook County, the county home for Chicago and the county where I live, we're now mandated to show our vaccination cards along with identification at restaurants and gyms. It really shouldn't be a big deal, but my schizoaffective anxiety turns it into one. I now keep my vaccination card inside a notebook in my purse. I keep it in the notebook so that it doesn't bend inside my purse. It's the notebook I used to use for making my checklist for when I leave the apartment. Is the space heater off? Is the door locked? Well, since I now keep my vaccination card in the same place, I'm afraid to write out the list because I'm afraid that my vaccination card will fall into the snow. So, I've been making a mental list, which I admit has been working.
I don't want to come off as throwing shade on the government and other people trying to protect me. It comes down to the fact that all of us, people with schizoaffective disorder, doctors, scientists, and elected officials have been dealing with this pandemic for two years now. Everyone's had more than enough. But, guess what? It's too bad if we've had enough. People are through with the pandemic. The trouble is, the pandemic isn't through with us. I've heard other people say that. It's true.
APA Reference
Caudy, E. (2022, February 3). The Pandemic Isn't Through with this Schizoaffective, HealthyPlace. Retrieved on 2023, December 5 from https://www.healthyplace.com/blogs/creativeschizophrenia/2022/2/the-pandemic-isnt-through-with-this-schizoaffective
Author: Elizabeth Caudy
Thank you for sharing this. Truly, dealing with covid has been really tiring because of all the steps we need to consider to protect ourselves and our mental health.
Dear Heidie, Thank you so much for your kind words. It has been very, very hard. Best, Elizabeth
Leave a reply