Obsession and Compulsion: The Double-Edged Sword
I am an addict. Yes, I am in recovery (24 years and counting) but that doesn't mean that my addictive qualities do not rear their ugly heads from time to time. This is most commonly exhibited in the form of obsession and compulsion.
Defining obsession and compulsion
Ah yes, obsession and compulsion, the dynamic duo of the wonderful world of
addiction. When you observe an addict in the midst of their disease you will undoubtedly see obsession and compulsion in all their resplendent glory. It's that insatiable desire to get just one more fix, whatever that fix may be.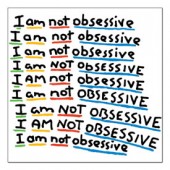 When I was actively using I LOVED to get high. I loved it so much that it was all I thought about. Day and night. Night and day. Add onto this, the actual behavior of seeking and then using the drug, and there you have it, the circle is complete. This pattern repeated itself for years until I finally surrendered to my disease and admitted that I was powerless.
Early in recovery, I didn't understand the concept of obsession and compulsion. I just thought I'd stop using drugs and then everything would be fine. But eventually, I came to realize that true addiction isn't as much about the substance as it is about the behavior. So you see, I could put down the drug, but still exhibit addictive tendencies. Anything my mind can choose to grasp onto is fair game. Work, sex, shopping, eating, and the list goes on. These are all potentially destructive behaviors.
Discovering healthy behaviors
So, can obsession and compulsion be a good thing? At times, I believe yes. As long as the thought and behavior do not have a negative impact on one's life. For example, I love music – always have. Now just because I have 12,129 songs on my iPod doesn't necessarily mean that I have a problem does it? I am continuously buying new music and spend much of my days listening – at home, work, and in the car. BUT, my listening habits do not interfere with my daily routine and do not negatively impact my relationships.
One key element in overcoming the negative aspect of obsession and compulsion is acceptance. When I accept that I have a problem I am able to see more clearly the root of my addiction. Unfortunately this can come at the expense of those we love. But there is hope. It is possible to break free from the shackles of obsession and compulsion. I will be delving into this topic in the future. So how have you been able to come to terms with obsession and compulsion in your life?
APA Reference
Shallowhorn, K. (2012, May 28). Obsession and Compulsion: The Double-Edged Sword, HealthyPlace. Retrieved on 2023, September 23 from https://www.healthyplace.com/blogs/debunkingaddiction/2012/05/obsession-and-compulsion-the-double-edged-sword
Author: Karl Shallowhorn, MS, CASAC