From Mental Health Crisis to Reclaiming Your Future: The Clubhouse
My son, Ben, who lives with paranoid schizophrenia, is in the process of rebuilding his life. After years of feeling buried under symptoms, distracted by hospitalizations, rejected from opportunities, and feeling left behind by friends whose lives had followed more predictable paths unfettered by mental illness, he is also (dare I say it? Yes!) reclaiming his future.
So far, so good.
Living with Mental Illness. Steps toward Recovering Life.
Reclaiming his future. How delicious. How marvelously hopeful. And it's a phrase I heard echoed this week at a breakfast briefing of the International Center for Clubhouse Development (ICCD) in New York City. I love this phrase, because it's not only full of hope, it is full of truth - for those who manage to find their way to a Clubhouse, embrace its community, and take advantage of its opportunities.
Not everyone is so lucky - but the ICCD is working on it.
[caption id="attachment_1163" align="alignleft" width="170" caption="Australian Clubhouse Member and Board Member Speaks to ICCD via Video"]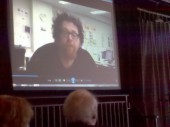 [/caption]
At the breakfast, we heard stories and watched videos from Clubhouse Members from Australia to the US, and met Board Members from all over the world. One of these clubhouses, Bridge House in Connecticut, was an important step in Ben's path back to life. Without his membership in this clubhouse, he might not have gained the experience and confidence to eventually return to school, and then to work. At Bridge House, Ben took things at his own pace. He ran the cash register in the snack bar, edited the literary newsletter, and sometimes just hung out. At times, he chose not to go. But, as one member told me this week: "In the hospital setting I am a patient. In the clubhouse, I am a member, and a person with potential. I see possibility, not limitations."
The ICCD Executive Director spoke briefly after member stories were shared, and he used the phrase that resonates so often: At a clubhouse, we help people reclaim their future. This sums it up beautifully, as it worked this way for Ben.
What is an ICCD Clubhouse?
So, what is a Clubhouse? According to the ICCD website,
ICCD is a global resource for communities creating solutions for people with mental illness. We help communities around the world create ICCD Clubhouses, which are community centers that give people with mental illness hope and opportunities to reach their full potential.

ICCD Clubhouses, now over 300 worldwide, are founded on the realization that recovery from serious mental illness must involve the whole person in a vital and culturally sensitive community. An ICCD Clubhouse community offers respect, hope, mutuality and unlimited opportunity to access the same worlds of friendship, housing, education, healthcare and employment as the rest of society.
So, to the clubhouses I have seen, and those I hope to see as my book tour continues, I say a huge thank you - not as a member, but as a mother. Families living with mental illness in
[caption id="attachment_1165" align="alignright" width="170" caption="Young Adults, Members of Bridge House CT"]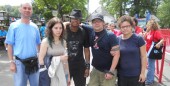 [/caption]
a loved one have learned to never count on results, but we do learn to appreciate each and every good day we get to experience. Those are the days that help us to hope, and to appreciate. And, thanks to having a place to belong again, the Clubhouse experience not only helped Ben - it helped our entire family. How? Because, by giving Ben another community, different mentors, a place to be himself (in a way none of us can really be when under the thumb of our parents, or placed in the role our family assigns to us), opportunity to find his potential again, it freed us to be family again. Relationships most often thrive when each person is valued for his or her own strengths and independence, so the relationship is no longer defined by what one of Ben's past psychologists called "angry dependence."
Families Affected by Mental Illness Benefit Too
Sure, Ben may need us more than your "average" 30-year-old man. However, he needs us a lot less than he did five years ago, and bit by bit we see him take the steps toward supported independence that seemed impossible when we were in the midst of crisis. That road cannot be traveled without steps - no road can, really.
It was at a Clubhouse that Ben began that process - and it's there for him, anytime he wishes to return. Clubhouses do indeed help people to reclaim their futures - and their present as well. They deserve recognition, and our support. And if you know someone who needs the community they offer, please tell them. It made a difference for Ben - and for us.
APA Reference
Kaye, R. (2012, October 21). From Mental Health Crisis to Reclaiming Your Future: The Clubhouse, HealthyPlace. Retrieved on 2023, December 2 from https://www.healthyplace.com/blogs/mentalillnessinthefamily/2012/10/from-mental-health-crisis-to-reclaiming-your-future-the-clubhouse
Author: Randye Kaye