Homework and the Mentally Ill Child - Part 3 of 3
You've struggled through Parts 1 and 2 of the Homework Drama. Now you're wondering--is this just an ongoing saga? Will I be fighting this battle for the rest of my child's educational life? Does it ever end?
Good news--it just might.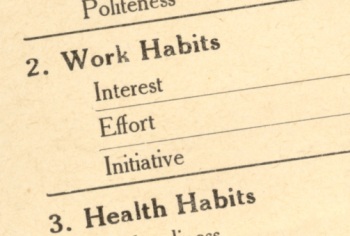 A week or so ago, I asked Bob where his weekly math homework was. I had planned to review it that evening (as had become the custom) and give him time to re-work the problems he'd missed.
"I turned it in today."
Come again?
"I finished it this morning at Adventure Club, so I went ahead and turned it in."
At first, I was annoyed. Bob tends to rush through his work in an attempt to just get it done and out of the way. I was sure he had probably made several careless mistakes that would count against his final homework grade for the week.
And then it occurred to me--he finished an assignment on his own and turned it in. Early. On his own.
Of course I'd like for him to be a straight-A student...but wouldn't I prefer he learn to take responsibility for his own work?
Honestly, I'd be thrilled to tears if he could achieve both. But if I have to choose, I'll take a less-than-perfect report card from a kid who understands it's up to him to earn his grades, not me.
Of course we want our children to learn multiplication tables, but let's be realistic--we have calculators for that. Isn't the more important lesson for our kids self-discipline? Responsibility? Independence?
Since then, I've taken a less micromanaging approach to Bob's homework. Last week, he turned in an incomplete reading log because he neglected to bring it home all week. He had planned to finish it Friday morning before class--but, as he put it, "I couldn't remember everything I read." I let him know that would negatively impact his grade and that this week, he'd be working on the reading log on Monday, Tuesday and Thursday. He didn't argue or make excuses. This week, I've been paying closer attention to his homework. Next week, I'll back down a bit and see if he takes the initiative.
And with that, our hero rides off into the sunset. Hopefully heading for college. Or at the very least, someplace where he can live life to the fullest--on his own.
Take a bow--you've earned it.
APA Reference
McClanahan, A. (2010, October 14). Homework and the Mentally Ill Child - Part 3 of 3, HealthyPlace. Retrieved on 2023, December 6 from https://www.healthyplace.com/blogs/parentingchildwithmentalillness/2010/10/homework-and-the-mentally-ill-child-part-3-of-3
Author: Angela McClanahan
I want to thank you for sharing this. I am a 5th grade Resource Special Education Teacher with a background in Behavioral Modification. We have just completed our first quarter conferences. This is exactly what I have been trying to instill in my students and some of my parents that must have their children bring home A's, to the point of actually writing and doing the homework for their children (some when the children are out playing!!) I really wanted to copy this for my parents without the internet, because it is just what I have been trying to say, but like my students I have brain issues and can't always find the right words. Again Thank You!
Leave a reply