Create Mental Health Safety Contracts for Teens with Bipolar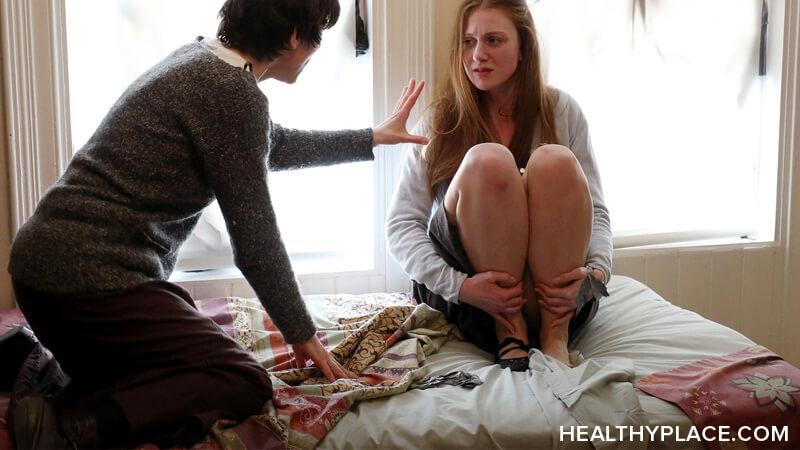 My daughter and I have a mental health safety contract. She violated the conditions of the contract, and I had to call the police. Since my daughter and I have used mental health safety contracts since she was a teenager, we both understood the rules. By having a mental health safety contract, I took what could have been a volatile, extended fight with my adult child with bipolar disorder and turned it into a straightforward contractual arrangement. It made a difficult situation easier.
Mental Health Safety Contracts Defined
At its core, a mental health safety contract is a document that:
Lists the steps a person will take to stay safe during a mental health crisis
Describes triggers that might set the person off
Provides options to soothe the person in distress
Outlines rules of behavior or the environment that will keep the person safe
Contains agreed-upon consequences for dangerous behaviors
Why Have a Mental Health Safety Contract?
Mental health safety contracts help resolve mental health crises. They help keep communication open after the crisis and set the stage for healing. Here are other things mental health safety contracts can do.
It Creates Clear Rules About Behavior and Consequences
When our kids are young and out-of-control, they're easier to handle. A parent can hug them until they calm down or do any number of other protecting practices until the crisis passes. (Don't get me wrong—I know it's not easy—but when my daughter was younger, I had a little more control.)
But teens and young adults are different. They can't be physically restrained. They are less likely to do something because a parent said so. In a crisis, they're apt to argue, fight and manipulate.
By having a written mental health safety contract before a crisis, parents and their older kids can have clear rules about behavior and its consequences.
In my case, my daughter had agreed that she would not put a wall or a door between us if she was suicidal. She could request I not speak to her or touch her until she'd calmed down—but she could not leave the room. We'd both signed the contract to that effect.
Instead, my daughter screamed that she was going to kill herself and locked herself in the bathroom. I went to the door and reminded her of our contract. I explained if she did not come out, I'd call the police. She screamed, "I don't care."
So I called.
It Helps Keep the Relationship Healthy
After the episode was over and we talked, my daughter had to smile. "I pushed it—you did it!"
That was it. No drama. No recriminations. She knew.
By having the contract, the rules were clear. We didn't have to fight about "You shouldn't have—" or, "I was gonna—"
She pushed it. I did it.
It Evolves as Needs Change
Because we've used safety contracts for years, my daughter has gotten used to the rules and consequences of the system. Over the years, the contracts have evolved to fit my daughter's changing needs. (Once they were all about stealing the car—now, locked doors.) But, while the specifics may change, the concept behind them do not—they're a written agreement we both make to keep my child safe when her brain alone is incapable of doing so.
How Our Mental Health Safety Contract Saved My Daughter
How to Make a Mental Health Safety Contract
Put "Mental Health Safety Contract" into your search engine and a number of different templates will pop up. While these form a starting point, I suggest you take them to your therapist and, with your child, the three of you create a plan that works for all of you. By tailoring it to your child and her specific needs, you will have a document that can support you in the midst of a mental health crisis.
APA Reference
Traugh, S. (2017, August 20). Create Mental Health Safety Contracts for Teens with Bipolar, HealthyPlace. Retrieved on 2023, December 6 from https://www.healthyplace.com/blogs/parentingchildwithmentalillness/2017/08/create-safety-contract-for-teen-with-bipolar
Author: Susan Traugh
Do you have an example of a contract? I actually thought of doing this for my dependant and glad that someone actually has tried this! Thank you for sharing
I love this idea. I think this is incredibly helpful for child and caregiver. Putting these kinds of measures in place are empowering because it allows for some peace of mind and also creates a type of bond and connection that can be comforting in otherwise very distressing times.
Thanks, Lizanne. I think you're right about the contract being empowering to our kids. What's nice is that we do all the negotiating during the contract-writing process when everyone is calm and collected. We get to talk about what works and what doesn't and I get lots of ideas about helping my child. Because she feels like a real part of the process, she is much more willing to adhere to her promises--even when she is melting down and distressed--because of the empowerment given to her during the negotiation process. Good luck to you as you move forward with it.
Leave a reply